Blog Entries [10 - 19]
Monday, March 20, 2017
---
Music Week
Music: Current count 27921 [27888] rated (+33), 403 [389] unrated (+14).
More old music than new this week. For one thing, I've been playing CDs from the travel case when I get up in the afternoon instead of things I'd have to work on. Rated count still seems robust as I spent the late nights picking off old Ken Vandermark records I had missed (my rated list here, although this doesn't pick up things where his name wasn't listed first -- a quick count shows 35 of those, including a couple of groups I catalog separately; my chart shows 11 more records I haven't gotten to, including several multi-disc sets). And over the weekend I started listening to the late Chuck Berry's old albums. I must have heard some Berry singles during his heyday, but never owned any of his records until I got to St. Louis and picked up Chuck Berry's Golden Decade (released 1967) and followed up with Vol. 2 (1973) -- though I don't recall Vol. 3 (1974). So I've always known him through compilations, especially the canon-defining The Great Twenty-Eight (1982), and the even better The Definitive Collection (2006), but also the 3-CD Chess Box (1988), which shows the pickings thin out past one disc, but don't disappear entirely.
I mentioned three deaths up top in yesterday's Weekend Roundup post: Chuck Berry, Jimmy Breslin, and James Hull. One more troubling still is pending: Mary McDonough Harren, reportedly in the final stage of her terminal cancer. She is the grande dame of the Wichita peace movement, a founder of the Peace and Social Justice Center of South Central Kansas, and a dear friend over the last 15 years. Her passing will leave an unfathomable hole in our lives.
---
A couple links that popped up on Chuck Berry:
---
New records rated this week:
Jason Anick & Jason Yeager: United (2016 [2017], Inner Circle Music): [cd]: B+(**)
Bat for Lashes: The Bride (2016, Parlophone): [r]: B-
Alex Cline's Flower Garland Orchestra: Oceans of Vows (2016 [2017], self-released, 2CD): [cdr]: B+(***)
Akua Dixon: Akua's Dance (2016 [2017], Akua's Music): [cd]: B+(**)
Jill Jack and the American SongBook Band: Pure Imagination (2016, UpHill Productions): [cd]: B+(*)
Kirk MacDonald Jazz Orchestra: Common Ground (2015 [2017, Addo, 2CD): [cd]: B
Ben Markley Big Band: Clockwise: The Music of Cedar Walton (2016 [2017], OA2): [cd]: B+(*)
Nate Wooley/Ken Vandermark: All Directions Home (2015, Audiographic): [bc]: B+(***)
Old music rated this week:
Chuck Berry: After School Session (1955-57 [1957], Chess): [r]: B+(***)
Chuck Berry: One Dozen Berrys (1957 [1958], Chess): [r]: B+(***)
Chuck Berry: Chuck Berry Is on Top (1955-59 [1959], Chess): [r]: A-
Chuck Berry: Rockin' at the Hops (1960, Chess): [r]: B+(**)
Chuck Berry: New Juke Box Hits (1961, Chess): [r]: B+(*)
Chuck Berry: Twist (1955-61 [1962], Chess): [r]: A-
Chuck Berry: On Stage (1963, Chess): [r]: B-
Chuck Berry: St. Louis to Liverpool (1957-64 [2004], Chess): A-
Chuck Berry: Chuck Berry in London (1965, Chess): [r]: B+(***)
Chuck Berry: Fresh Berry's (1965, Chess): [r]: B+(**)
Chuck Berry: Chuck Berry in Memphis (1967, Mercury): [r]: B+(*)
Chuck Berry: Live at Fillmore Auditorium (1967, Mercury): [r]: B
Bob Brookmeyer: The Dual Role of Bob Brookmeyer (1954-55 [1990], Prestige/OJC): [r]: B+(**)
Cinghiale [Mars Williams and Ken Vandermark]: Hoofbeats of the Snorting Swine (1995-96 [1996], Eighth Day Music): [bc]: B+(***)
Bo Diddley/Chuck Berry: Two Great Guitars (1964, Chess): [r]: B+(*)
Vic Juris: Songbook (1999 [2000], SteepleChase): [r]: B
Barney Kessel With Shelly Manne and Ray Brown: The Poll Winners (1957 [1988], Contemporary/OJC): [r]: B+(*)
Barney Kessel With Shelly Manne & Ray Brown: Poll Winners Three! (1959 [1992], Contemporary/OJC): [r]: B+(***)
Rara Avis: Mutations/Multicelluars Mutations (2012 [2013], dEN, 2CD): [bc]: B+(*)
Rara Avis (2013 [2015], Not Two): [bc]: B+(**)
Reed Trio: Last Train to the First Station (2008-10 [2011], Kilogram): [bc]: B+(*)
The Vandermark Quartet: Big Head Eddie (1993, Platypus): [bc]: B
Vandermark 5: Drink, Don't Drown (1997, Savage Sound Syndicate): [bc]: B+(*)
Vandermark 5: Thinking on One's Feet (1998, Savage Sound Syndicate) B+(**)
Ken Vandermark/Tim Daisy: August Music (2006 [2007], self-released): [bc]: A-
Ken Vandermark/Tim Daisy: The Conversation (2010-11 [2011], Multikulti): [bc]: B+(***)
Ken Vandermark/Paal Nilssen-Love: Letter to a Stranger (2011 [2012], Smalltown Superjazz): [bc]: B+(***)
Witches & Devils: Empty Bottle Chicago (1997 [2000], Savage Sound Syndicate): [bc]: B+(*)
---
Unpacking: Found in the mail last week:
Antonio Adolfo: Hybrido: From Rio to Wayne Shorter (AAM): April 7
Bryan and the Aardvarks: Sounds From the Deep Field (Biophilia): April 28
Ernest Dawkins New Horizons Ensemble: Transient Takes (Malcom)
Duo Baars Henneman & Dave Burrell: Transdans (Wig)
Tristan Honsinger/Antonio Borghini/Tobias Delius/Axel Dörner: Hook, Line and Sinker (De Platenbakakkerij)
Abdullah Ibrahim: Ancient Africa (1973, Delmark/Sackville): March 24
Jentsch Group Quartet: Fractured Pop (Fleur de Son): April 7
Mike Longo Trio: Only Time Will Tell (2017, CAP): March 31
Linda May Han Oh: Walk Against Wind (Biophilia): April 14
Michael Rabinowitz: Uncharted Waters (Cats Paw): April 28
Sult/Lasse Marhaug: Harpoon (Conrad Sound/Pica Disk): advance
Ivo Perelman/Matthew Shipp: The Art of Perelman-Shipp, Volume 1: Titan (Leo)
Ivo Perelman/Matthew Shipp: The Art of Perelman-Shipp, Volume 2: Tarvos (Leo)
Ivo Perelman/Matthew Shipp: The Art of Perelman-Shipp, Volume 3: Pandora (Leo)
Ivo Perelman/Matthew Shipp: The Art of Perelman-Shipp, Volume 4: Hyperion (Leo)
Ivo Perelman/Matthew Shipp: The Art of Perelman-Shipp, Volume 5: Rhea (Leo)
Ivo Perelman/Matthew Shipp: The Art of Perelman-Shipp, Volume 6: Saturn (Leo)
Ivo Perelman/Matthew Shipp: The Art of Perelman-Shipp, Volume 7: Dione (Leo)
Sunday, March 19, 2017
---
Weekend Roundup
Chuck Berry died. Jimmy Breslin died. My uncle, James Hull, died. It's been one of those weeks.
The big thing Trump did this week was to release a new budget proposal. Some reactions:
---
Some scattered links this week in the Trumpiverse:
Zoë Carpenter/George Zornick: Everything Trump Did in His 8th Week That Really Matters:

Released a very skinny budget.
Moved to loosen fracking rules.
Delayed chemical-safety regulations.
Fired 46 US Attorneys nationwide.
Made a formal apology to United Kingdom over wild spying claims.
Put military action against North Korea on the table.

Doug Bandow: Why Is Trump Abandoning the Foreign Policy that Brought Him Victory? Starts by pointing out that Trump was often critical of the neoconservatives who had plunged America into endless war, quoting him as saying, "unlike other candidates for the presidency, war and aggression will not be my first instinct." Indeed, many single-issue neocons like the Kagans were quick to flock to Hillary Clinton, trusting her record for hawkishness. Still, although Trump has been able to torpedo much bruited nominations for the likes of John Bolton and Elliott Abrams, his administration has done a lot of sabre-rattling so far. But the author ("a Senior Fellow at the Cato Institute and a former Special Assistant to President Ronald Reagan") has a selective memory of Trump's campaign -- he also insisted he'd crush ISIS and increase military spending. Unlike anti-war conservatives (like Justin Raimondo) who fell for Trump's promise, I actually considered him more bellicose and more dangerous than Clinton (and I've repeatedly attacked her on just this issue). The reasons: the Republicans Trump would surround himself with would be more consistently hawkish (many Democrats have better things to do), and Trump himself is ignorant of and prejudiced about the world, and much given to macho posturing. A good example of this is the rapidly developing crisis with North Korea; e.g., see two recent Jason Ditz pieces: Tillerson: North Korea Diplomacy Has Failed, and Tillerson: Attacking North Korea Remains an Option; also Charles P Pierce: Don't Poke North Korea with a Stick Just to See What Will Happen.

Julie Hirschfield Davis: Trump, Day After Merkel's Visit, Says Germany Pays NATO and US Too Little: Trump's been complaining for some time about NATO member not paying enough for their common defense, and he's sent Rex Tillerson out to shake down America's supposed allies, so this isn't exactly new. There's much Trump doesn't understand, but one thing is that a big part of the reason the US has so many subservient allies is that the US pays for the deference, not just in allowing the US to base troops on foreign soil but in ways like generous trade deals that help countries develop through exports. Take those perks away and won't people start wondering whether it's all worth it?

Allegra Kirkland: Huck: Trump Should Ignore Travel Ban Ruling, Like Jackson With Trail of Tears: Says a lot when you take inspiration from one of the most shameful facts in American history, but that's where many Republicans are at: until they manage to stock the courts with like-minded conservatives, they invite like-minded executives to run amuck over niceties like law and constitution. Not clear that Trump, a man who has put a lot of stock into using the courts for his own gains, is there yet, or that if he was he wouldn't be facing a widespread revolt from civil servants forced to choose between the legal system and his executive ego.

Ezra Klein: Does Donald Trump know what the GOP health bill does? Conclusion: "maybe not"; more to the point: "the AHCA does literally none of the things Trump says it does."

Nancy LeTourneau: Checking in on Trump's 'Contract With the American Voter': This is becoming a staple piece on the left, dredging up Trump campaign promises and showing how few of them -- especially the relatively decent ones -- have been implemented, or even followed up on. This doesn't seem to phase Trump's actual supporters yet: they have, after all, almost by definition become jaded cynics about the political process, leaving them more inclined to see Trump's failures as subversion by unseen forces. On the other hand, LeTourneau's list includes a lot of "not introduced" Acts, which goes to show how the Republicans in Congress have proceeded their own agenda, regardless of how that fits in with Trump's own promises. Ryan, in particular, seems to view Trump as his stooge, aided by the fact that Trump is too lazy to work on his own agenda, and too hamstrung by the people he's allowed himself to be surrounded by. Still, I suspect the day is coming when we'll consider ourselves lucky anytime Trump breaks a campaign promise.

Josh Marshall: He Seems Nice: Irony still in plan: "he" is Greg Knox, described in a Pence tweet as "a small biz owner hurting under Obamacare." So here's some context: "It shows Knox to be what policy specialists refer to as a 'toxic right wing asshole.'"

Ian Millhiser: Paul Ryan says he fantasized about cutting health care for the poor at his college keggers: "Meet the most insufferable frat boy in human history."

Tessa Stuart: Four Things We Learned About Trump's Tax Returns From Rachel Maddow: Explained much more succinctly than what you got from watching Maddow's program.

Paul Woodward: Donald Trump's deceitful and misleading statements have consequences: This keys off a long quote from John Cassidy: Donald Trup Finally Pays a Price for His False and Reckless Words, but I found Woodward's commentary more to the point:

Donald Trump could accurately assert: "I didn't get where I am today by being honest."

Like many people who believe in the supremacy of will power, he may believe that being faithful to ones own interests and objectives is all that matters.

Trump is consistent in his unwillingness to bend to the will of others. His America First policy is merely an inflation of his Trump First practice.

The idea that Trump might have the capacity to mend his ways -- to see that his dishonesty no longer works -- derives, perhaps, from a misreading of his pragmatism.

Trump isn't bound to any ideology. At the same time, he exhibits no psychological flexibility whatsoever.

Trump believes in his own innate capabilities with which, in his own imagining, he is so richly endowed he has no need to learn anything.

This reminds me a bit of another president not bound to any ideology: Franklin Roosevelt. The difference, of course, was that Roosevelt did learn from his mistakes. He saw, for instance, that his more conservative impulses -- especially his fetish for balanced budgets -- were harmful, while his more generous, more liberal, impulses worked much better. The result was the most progressive administration in American history, but few voters imagined that at the start. They simply wanted to try something different, because the reign of Andrew Mellon and his three presidents had been so disastrous. The election of Trump was based on much the same reaction, but less decisive because disaster was much less universally recognized (let alone commonly understood) in 2016, and because quite a few people understood that Trump and/or the Republicans didn't offer any real solutions -- indeed, they were major problems.
---
Also a few links less directly tied to Trump, though sometimes still to America's bout of political insanity:
Patrick Cockburn: Yemen Is a Complicated and Unwinnable War. Trump Should Stay Out. Should, but thus far Yemen is the war Trump has most dramatically inserted himself in.

Tom Engelhardt: How the Invasion of Iraq Came Home: Actually, his third-tier title, after "Walled In" and "President Blowback." I'm not sure "blowback" is correct, because most of the damage done to America since Trump took office has been self-inflicted: the problem is less that others are attacking so much as we've internalized the scars of fifteen-years of the shocks of war:

It's clear, however, that his urge to create a garrison state went far beyond a literal wall. It included the build-up of the U.S. military to unprecedented heights, as well as the bolstering of the regular police, and above all of the border police. Beyond that lay the urge to wall Americans off in every way possible. His fervently publicized immigration policies (less new, in reality, than they seemed) should be thought of as part of a project to construct another kind of "great wall," a conceptual one whose message to the rest of the world was striking: You are not welcome or wanted here. Don't come. Don't visit.

All this was, in turn, fused at the hip to the many irrational fears that had been gathering like storm clouds for so many years, and that Trump (and his alt-right companions) swept into the already looted heartland of the country. In the process, he loosed a brand of hate (including shootings, mosque burnings, a raft of bomb threats, and a rise in hate groups, especially anti-Muslim ones) that, historically speaking, was all-American, but was nonetheless striking in its intensity in our present moment.

TomDispatch also published Michael Klare: Winning World War II in the Twenty-First Century, on Trump's nostalgia for the days when America actually won wars -- ignoring that times have changed as pre-WWII empires have been rolled back on every front, and that the US is no longer viewed as a country normally content to mind its own business, that only joins wars when attacked, and that doesn't plot to keep and plunder other nations. Indeed, the real problems the US military face today aren't the sort that can be fixed with a few more ships, planes, and troops.

Matea Gold: The Mercers and Stephen Bannon: How a populist power base was funded and built: Robert Mercer is a hedge fund exec, the plural evidently refers to daughter Rebekah, and the article goes into some depth on how they've sowed their millions to promote right-wing causes, especially through Trump strategist Steve Bannon.

While other donors gave more to support Trump's presidential bid last year, the Mercers are now arguably the most influential financiers of the Trump era. Bannon, who went on to manage the final months of Trump's campaign before joining the White House, is the senior architect of the president's policy vision. He is joined in the West Wing by counselor Kellyanne Conway, a friend of Rebekah Mercer who led the family-funded super PAC that backed first Cruz and then Trump in the 2016 race.

People who know them say the Mercers, who soured on traditional political operatives, appreciated Bannon's business savvy and share his belief that the conversation around politics must be changed for their ideas to prevail. For all of their power and privilege, both the family and their longtime adviser see themselves as outsiders, fighting the grip of elite institutions.

One thing I was surprised by here was a $4 million donation to John Bolton Super PAC. I wasn't aware of such a thing, but it probably explains why such a useless and incompetent buffoon keeps managing to get his name in the news.

Gold also wrote a comparable analysis of the Kochs (in 2014): Koch-backed political network, built to shield donors, raised $400 million in 2012 elections; also co-wrote one on the Clintons (in 2015): Two Clintons. 41 Years. $3 Billion.

William Greider: Here's What You Need to Know About the Federal Reserve: "We demand way too much from the central bank -- but that's because our elected politicians have done almost nothing to revive the economy." The Federal Reserve raised short-term interest rates last week, in an effort to throttle back the economy lest it grow to the point where wages actually start to rise. That would normally be bad news for a sitting president, but not for the bankers who sit with this particular one.

Greider also wrote: Trump Is Fighting a New Trade War -- and This One Is Intramural, about the "nasty White House battle [that] has broken out between right-wing nationalists and globalist financiers," asking the question: "Who owns this president -- the folks who voted for him, or the power hitters of big business and banking?" That's actually a novel question for a Republican president: with leaders like the Bushes, Republican voters were merely consenting to oligarchic rule, but didn't Trump promise something else? I'm not sure, but given how readily Clinton and Obama turned against their voters, I hardly expect Trump to show much spine.

Eric Levitz: The Case for Countering Right-Wing Populism With 'Left-Wing Economics': Article spends too much time rebutting a red herring from Zack Beauchamp. My own suspicion is that the key to making an "Left-Wing Economics" argument work is to name enemies and show how those enemies take unfair advantage of working people, especially through their bought influence on government, how their lobbying perverts the course of justice. Not that we needed more examples, but the Trump administration is rife with them. (Trump sure had a field day painting the Clintons that way.)

Richard Silverstein: Knesset Votes to Ban Palestinian Parties, Destroy Israeli Democracy: In 1951 Palestinians still residing in Israel were granted citizenship (a right that was not extended after 1967 as Israel occupied and in some cases annexed additional Palestinian land), and since then Palestinian political parties have been represented in Israel's parliament (Knesset) -- to little effect, of course, as ruling coalitions have very rarely even considered including them, but it's always been a talking point, a big part of the Israel's claim to be a democracy.

This paragraph is meant as an aside, but is noteworthy:

Coincidentally, today a UN body issued a report finding that Israel had become an apartheid state. It further urged that the UN reactivate the methods, resolutions and commissions it used to ostracize South Africa, when it too faced international opprobrium for its racist policies. The new version of the Basic Law further strengthens such findings.
Monday, March 13, 2017
---
Music Week
Music: Current count 27888 [27862] rated (+26), 389 [385] unrated (+4).
Actual new rated count less than above -- I only count 19 records below. I may have missed something below: seems like every record I process means I have to add lines to 4-5 files, and sometimes I lose track of one or more of them. On the other hand, in looking through the database and comparing it to the 20th Century Jazz Guide, I found a half-dozen or so reviews that hadn't been registered, so correcting those added to the count. Thus far I've gone through the Jazz '20-30s file and most of the Jazz '40s-50s, adding stubs for all of the albums I've graded but haven't collected reviews for (basically, records I heard before 2001 or so), and also for all of the artists even if I haven't heard any albums. One side effect of the latter is that I've been checking up on artists I didn't have death dates for, and finding most of them as I go along (and hopefully this trend will change) have indeed died -- some long ago. Still have a long ways to go -- the '60s through '90s files are larger still (though will have more post-2000 records), and there are also separate files for vocals, Latin, and pop. Currently up to 515 pages (254k words).
Almost finished the week without an A- record, but Clean Feed came to the rescue. Actually, two of Christgau's Expert Witness picks came real close: Sunny Sweeney and Whitney Rose. (His other pick, Becky Warren's War Surplus, was an A- back in December.) Jennie Scheinman also came close with an album uncannily similar to Bill Frisell's Disfarmer. Got a letter from Clean Feed today hoping to pinch pennies and switch me over to downloads, which won't stop me from listening but will sure slow me down -- and make me question why bother. I was tempted to give up reviewing back when the Village Voice lost interest in Jazz Consumer Guide, but kept on because labels like Clean Feed kept sending me new releases. That's effectively the difference between a virtuous circle and a death spiral.
---
New records rated this week:
Battle Trance: Blade of Love (2016, New Amsterdam): [bc]: B+(*)
Sam Beam & Jesca Hoop: Love Letter for Fire (2016, Sub Pop/Black Cricket): [r]: B+(*)
DIIV: Is the Is Are (2016, Captured Tracks): [r]: B+(**)
Dinosaur Jr: Give a Glimpse of What Yer Not (2016, Jagjaguwar): [r]: B+(*)
Krzyysztof Dys Trio: Toys (2014 [2016], ForTune): [bc]: B+(**)
Gorilla Mask: Iron Lung (2016 [2017], Clean Feed): [cd]: A-
Norah Jones: Day Breaks (2015 [2016], Blue Note): [r]: B+(**)
Murs: Captain California (2017, Strange Music): [r]: B+(**)
The Radio Dept.: Running Out of Love (2016, Labrador): [r]: B+(**)
Whitney Rose: South Texas Suite (2017, Six Shooter, EP): [r]: B+(***)
John K. Samson: Winter Wheat (2016, Anti-): [r]: B+(*)
Jenny Scheinman: Here on Earth (2017, Royal Potato Family): [r]: B+(***)
Andy Shauf: The Party (2016, Anti-): [r]: B
Swans: The Glowing Man (2016, Mute, 2CD): [r]: B+(*)
Sunny Sweeney: Trophy (2017, Aunt Daddy): [r]: B+(***)
Teenage Fanclub: Here (2016, Merge): [r]: B-
Michael Zilber: Originals for the Originals (2016 [2017], Origin): [cd]: B+(**)
Old music rated this week:
Swans: Public Castration Is a Good Idea (1986 [1999], Thirsty Ear): [r]: B
Peter Van Huffel/Michael Bates/Jeff Davis: Boom Crane (2013 [2014], Fresh Sound New Talent): [r]: B+(**)
---
Unpacking: Found in the mail last week:
Colorado Jazz Repertory Orchestra: Invitation (OA2)
Tom Dempsey/Tim Ferguson Quartet: Waltz New (OA2)
Oscar Hernández & Alma Libre: The Art of Latin Jazz (Origin)
The Jazz at Lincoln Center Orchestra: The Music of John Lewis (Blue Engine): March 24
Matt Otto With Ensemble Ibérica: Ibérica (Origin)
Trio 3: Visiting Texture (Intakt)
Trio Heinz Herbert: The Willisau Concert (Intakt)
Sunday, March 12, 2017
---
Weekend Roundup
Donald Trump likes to talk about how he "inherited a mess": here's one measure of that, a chart of private-sector payroll employment over Obama's eight years:
Note first that the guy who really did inherit a mess was Obama, following eight years of Republican misrule under GW Bush. Also, that by ignoring cuts to public sector employment due to austerity measures mostly (but not exclusively) pushed by Republicans, this overstates the overall jobs gains a bit. Still, Trump's going to be hard-pressed to sustain Obama's rate, given hat he's working with the same "wrecking crew" that sunk Bush. Of course, you may not know all this, because Obama spent very little time bitching about the hole Republicans dug for him: he felt it important to recovery to project confidence, so he consistently understated the recession early on. In doing so, he did himself (and the country) a disservice, as he undercut the political case for more emphatic reforms.
Dean Baker reviews the latest jobs figures: Prime-Age Employment Rate Hits New High for Recovery in February. On the other hand, no false modesty from Trump: Trump keeps claiming he's created US jobs since Election Day. As the title continues: "Not so." Also: Spicer: Trump Says Formerly 'Phony' Jobs Numbers Are Now 'Very Real' For more, see Matthew Yglesias: Sean Spicer's appalling answer about economic data shows how far we've lowered the bar for Trump. Spicer's quip: "They may have been phony in the past, but it's very real now."
---
Some scattered links this week in the Trumpiverse:
Zoë Carpenter/George Zornick: Everything Trump Did in His 7th Week That Really Matters: Sub-heads:

Instituted a new travel ban.
Sent 400 Marines into Syria.
Bombed Yemen more in a week than Obama did in a year.
Broke a federal rule about the jobs report.

I've featured these pieces every week since inauguration, but frankly the "federal rule" broken in the last point is a really stupid one, on the order of misusing a comma in a press release. As the rest of this post shows, there was much more amiss in the Trump world this week -- the purge of federal prosecutors, for instance, which shows the extent to which partisan politics has taken over law enforcement in the minds of Republican strategists.

More fallout on the Paul Ryan's health care hack (graphic right from Talking Points Memo):

Julia Belluz: Scott Gottlieb, Trump's FDA pick, explained: "Trump wants to deregulate the Food and Drug Administration. He chose the right guy for the job."

Anna Lenzer: Trump's Panama Problem And the Panama story didn't even make Matthew Rosza's This week in Donald Trump's conflicts of interest, the juiciest of which was "Trump opened a hotel in the capital of Azerbaijan with 'The Corleones of the Caspian' as his partners." Also this quote from Eric Trump: "The stars have all aligned. I think our brand is the hottest it has ever been."

That quote was pulled from Eric Lipton/Susanne Craig: With Trump in White House, His Golf Properties Prosper.

Les Leopold: 6 reasons why Trump is too weak to save American jobs: All six boil down to the fact that Trump, as a lifelong businessman, inevitably winds up siding with investors in their pursuit of profits over concerns for jobs and livelihoods. The "six reasons" are simply examples of that, and are far from exhaustive.

Dahlia Lithwick: Is Trump's Second Immigration Ban Unconstitutional? Yes, among other things at least as troubling.

Bill Moyers/Henry A Giroux: Our President Is Up to No Good: Actually, two pieces. Giroux's is especially stirring (at least, reading it right after writing the piece on the Olathe shootings below):

Trump's ascendancy has made visible a plague of deep-seated civic illiteracy, a corrupt political system and a contempt for reason that has been decades in the making. It also points to the withering of civic attachments, the decline of public life and the use of violence and fear to shock and numb everyday people. Galvanizing his base of true-believers in post-election rallies, the country witnesses how politics is transformed into a spectacle of fear, divisions and disinformation. Under President Trump, the scourge of mid-20th century authoritarianism has returned, not only in the menacing plague of populist rallies, fear-mongering, hate and humiliation, but also in an emboldened culture of war, militarization and violence that looms over society like a rising storm.

Matthew Nussbaum/Josh Dawsey: Trump's in the White House bubble, and he loves it: "He's a creature of habit . . . and it works for him."

Janet Reitman: Betsy DeVos' Holy War: Some things you may not know:

Betsy DeVos' father, Edgar Prince, made his fortune manufacturing auto parts (including perhaps his greatest innovation, the lighted sun visor), and was one of the single largest donors to the Christian right. "No one in the United States gave more money to James Dobson's Focus on the Family, its Michigan Family Forum affiliate or its Washington, D.C., arm, the Family Research Council, than the late Edgar Prince," notes Russ Bellant, a Michigan author who has written extensively about the religious right. After Prince died in 1995, Betsy's mother, Elsa Prince Broekhuizen, continued funding religious-right causes, as has Betsy's brother, Erik Prince, founder of the military contractor Blackwater. Among the causes the Dick and Betsy DeVos Family Foundation has supported is the Foundation for Traditional Values, which produced multi-media seminars and presentations on "America's Judeo-Christian heritage," including the "biblical roots" of government and our education system.

And some stuff you probably did:

Neither Betsy DeVos, who is 59, nor any of her children have ever attended a public school; her Cabinet post also marks her first full-time job in the education system. Even before her nomination, she was a controversial figure in education circles, a leading advocate of "school choice" through student vouchers, which give parents public dollars to send their children to private and parochial schools.

There is also a quote from Trump calling school choice the "civil rights issue of our time." Admittedly, not a fellow well known for his devotion to civil rights.

Alexandra Rosenmann: Trump supporters call for "liberal genocide" and deportation of Jews at Arizona rally

Harry Siegel: Trump to US Attorney Preet Bahrara: You're Fired: This followed a political purge as Trump and Sessions "ordered 46 United States attorneys to resign immediately." When Bahrara didn't, he was fired. Also see: US Attorney in NY Fired by DOJ After Trump Previously Promised He'd Stay On; also Cleve R Wootson Jr/Amy B Wang: Preet Bharara said he wanted to be a US attorney 'forever.' Well, he was just fired. One unfortunate thing here is that focus on Bharara, whose record on prosecuting Wall Street was checkered at best, has distracted from the bigger story, which is the extent Trump and Sessions have decided to use federal prosecutors for their own political agenda. [PS: Belatedly found one piece that picks up this thread: Elizabeth Warren says Trump pushed out prosecutors to install 'cronies'.]

Mark Joseph Stern: Donald Trump and the Chamber of Secrets: "The president's solicitor general nominee Noel Francisco thinks executive privilege should shield pretty much everything."

Cary Wedler: US Drone Strikes Have Gone Up 432% Since Trump Took Office: On a per/day basis, compared to Obama's much longer term.
---
Also a few links less directly tied to Trump, though sometimes still to America's bout of political insanity:
Thursday, March 9, 2017
---
Midweek Roundup
Top local story here has been wildfire, the predictable result of a very dry winter and three or more days of high winds. On Wednesday, the Wichita Eagle front page, above the fold, consisted of one huge picture of fire and the headline "Unprecedented." The story revealed that about 60% of Clark County (WSW of Wichita, south and a bit east of Dodge City, at population 2215 pretty much the definition of nowhere) has been burnt. That fire spread east into Comanche County (pop. 1891), and there have been more scattered fires near Hays and Hutchinson. For a rundown as of Wednesday, see Tim Potter: Over 650,000 acres burned so far, state says. The wind died down a bit on Thursday, so presumably the worst is over. Note, however, that the annual record broke last week (a bit early, don't you think?) dates from just last year.
---
The big story of the week was that Paul Ryan, with Donald Trump's evident blessing, unveiled his "repeal-and-replace" health care bill. He's managed to disgust both the right and the left, and more than a few people in between. Some reactions:
Some scattered links this week in the Trumpiverse:
Robert L Borosage: Foreign Policy Elites Have No Answer for Trump: "Few entities have been more discombobulated by our madcap president than the bipartisan foreign policy establishment, which former Obama foreign-policy adviser Ben Rhodes once dubbed 'the blob.'" The Blob, in the form of "a bipartisan committee of the impeccably credentialed -- eight men, two women, all white" working under the Brookings Institute trademark, answered Trump with a report rehashing all the nostrums that have worked so badly over the last 10-20-30 years:

The nabobs recommend a measured course, a posture more muscular than "the detachment" of Barack Obama and less reckless than the "over-commitment" of George W. Bush. They detail the elements. We will police the seas and the heavens. We will allow no rival power to claim even a regional sphere of influence. We will be dominant militarily in every theater from the Russian border to the South China Sea to cyberspace.

This requires a major military buildup, including investments in modernizing our nuclear weapons, "long-range strike capability, armed unmanned aviation, ISR platforms, undersea warfare, directed energy, space, and cyber security" and more. Yes, our allies should spend more too, but we should "not ask to much of fragile Europe."

What does this mean on the ground? They recommend dispatching more forces to the Russian border to counter "Russian revisionism," including "a robust US and allied presence in the Baltic States, Central and Eastern Europe and the Balkans." They want greater assistance to Ukraine "to help ensure its prosperity and success," with a promise of "lethal military aid" if Russia escalates its interference.

They propose "increasing engagement" to "restore stability" in the Middle East, ramping up the fight against ISIS and Al Qaeda. They also urge continued deployment of military forces in the Gulf "to keep the oil flowing," even though the United States doesn't need it.

Trump's first erratic weeks in office have already created a horrifying sense that the commander in chief is not in command of himself. But the conventional wisdom of the bipartisan foreign-policy establishment is in many ways even more disconnected from reality than Trump's tweets.

Stephen F Cohen: The 'Fog of Suspicion' and of Worsening Cold War. Also related: Matt Taibbi: Why the Russia Story Is a Minefield for Democrats and the Media

Dan De Luce/Paul McCleary: Trump's Ramped-Up Bombing in Yemen Signals More Aggressive Use of Military: Trump managed to sow enough ambiguity in his campaign it wasn't clear whether he's dial back the reckless and often pointless military adventures of the past 15 years, or escalate them like crazy. Early evidence suggests the latter, which is why so many of these links point to possible wars, but this one deals with an active front, a harbinger of things to come. Also see: Paul McLeary: More US Troops Bound for Afghanistan, as Marines, Comandos, Arrive in Syria. The situation in Syria is further complicated by warfare between ostensible US allies (Turks and Kurds); see: Liz Sly: With a show of Stars and Stripes, US forces in Syria try to keep warring allies apart.

Lawrence Douglas: President Donald Trump is the most powerful cornered animal in the world: I'm not sure we should be reminding him how powerful he is, and quoting Joseph Welch ("have you left no sense of decency?") is rather beside the point.

Katelyn Fossett: The Trouble with Trump's Immigrant Crimes list: Specifically, VOICE (Victims Of Immigrant Crime Engagement).

DD Guttenplan: How Donald Trump Speaks to Ohio's Autoworkers: Some quotes: "When Barack Obama ran, people here were not afraid of his blackness. They saw someone who talked about things that had meaning: getting the health-care system to work. Less focus on foreign wars." And: "I think the vote in Ohio was as much against Hillary as it was for Trump." And: "People still perceive NAFTA and TPP as the root of the problem. Until we say it will never be profitable to oppress other workers, corporations will always move for cheap labor."

Patrick Lawrence: Are We Drifting Toward War With North Korea? Officially, the US is still at war with North Korea, and has been ever since the "temporary" 1953 armistice, although it's gotten to the point where it'd be awful costly to renew it, and there's hardly any cost to maintaining the status quo. At least that's Washington's view. North Korea is far more affected by sanctions and isolation, and has been frustrated at every corner in their efforts to move the status quo. About the only thing they've found that gets the world's attention is threats, which have repeatedly given American hawks the opportunity to advocate military actions. What's new, of course, is Trump, who combines ignorance and antipathy and bully bluster to an unprecedented degree. I doubt he came into office scheming, as Bush did viz. Iraq, to start a war, but he's so unstable, and his security and state picks put so little stock in diplomacy, that any number of situation could flare up out of control. Korea is an obvious one, and Iran is another, and some are even worried about China.

Also note: Jeffrey Lewis: North Korea Is Practicing for Nuclear War: More inflamatory is the subhed: "It's preparing for a nuclear first strike." This is a good example of how Washington foreign policy mandarins exacerbate tension by inflating the threat North Korea poses.

Trita Parsi/Tyler Cullis: Trump Didn't Start the Anti-Iranian Fire: The anti-Iran war lobby goes back many years.

Philip Rucker/Robert Costa/Ashley Parker: Inside Trump's fury: The president rages at leaks, setbacks and accusations

Rucker and Costa also wrote: Bannon vows a daily fight for 'deconstruction of the administrative state': Not sure why he'd use an academic term for deep analysis (Merriam-Webster: "a philosophical or critical method which asserts that meanings, metaphysical constructs, and hierarchical oppositions . . . are always rendered unstable by their dependence on ultimately arbitrary signifiers") when he more likely means "dismantling" or "destruction" -- unless, that is, he's one of those all talk, no action guys.
---
Also a few links less directly tied to Trump, though sometimes still to America's bout of political insanity:
Dean Baker: Progressives Should Support Policies That Help All Working-Class People: This is all good; for example:

On trade this means policies designed to reduce the trade deficit. This issue here is not "winning" in negotiations with our trading partners. It's a question of priorities in trade negotiations.

Rather than demanding stronger and longer protections for Pfizer's patents and Microsoft's copyrights, we should be getting our trading partners to support a reduction in the value of the dollar in order to make our goods and services more competitive. If we can reduce the trade deficit by 1-2 percentage points of GDP ($180 billion to $360 billion) it will create 1-2 million manufacturing jobs, improving the labor market for the working class.

We should use trade to reduce the pay of doctors and other highly paid professionals. If we open the door to qualified professionals from other countries we can save hundreds of billions of dollars a year on health care and other costs, while reducing inequality.

We should also support policies that rein in the financial sector, such as reducing fees that pension funds pay to private equity and hedge funds and their investment advisors. This money comes out of the pockets of the rest of us and goes to some of the richest people in the country. A financial transactions tax, which could eliminate tens of billions of dollars spent each year on useless trades, would also be a major step towards reducing inequality.

Policies that put downward pressure on the pay of CEOs and other top executives would also help the working class. This could mean, for example, making it easier for shareholders to reduce CEO pay. In the nonprofit sector we could place a cap on the pay of employees for anyone seeking tax-exempt status. Universities and nonprofit charities could still pay their presidents whatever they wanted; they just wouldn't get a taxpayer subsidy.

There is a long list of market-based policies that we can pursue to reverse the upward redistribution of the last four decades. (For the fuller list see Rigged). These are policies that we should pursue because it is the right thing to do. It will help the working class of all races, including the white working class.

I've been reading Ira Katznelson's Fear Itself: The New Deal and the Origins of Our Time, which puts a lot of emphasis on how white Southern Democrats supported radical New Deal policies up to about 1938, when many switched sides, most famously joining with Republicans to pass the Taft-Hartley Act which halted the growth of unions and ultimately did them great damage. The South was, at the time, by far the poorest part of the country (well, still is), so as long as New Deal policies were crafted not to upset the South's Jim Crow racial order politicians were happy for the help. However, by the late 1930s, especially with the Wagner Act supporting unionization in 1935, Southern whites started to feel threatened, and decided they'd rather keep their racial order pure and poor than do anything that might help both whites and blacks. It is one of the great shames of American history that one of our few major periods of progressivism was so fraught with racism. (Actually, the same combination hampered Wilson's progressivism, and before that the Populist Party, at least in the South. For that matter, the great expansion of voting rights in the Jackson-Van Buren era was more often than not accompanied by disenfranchisement of free blacks.)

Thomas Frank: Don't let establishment opportunists ruin the resistance movement: I agree that there's a lot of similarity between the anti-Trump resistance and the anti-Obama Tea Party, but there is very little symmetry between left and right, either in the streets or among the partisan establishment (although I suspect the Republicans were more inclined to feed their protest movement because they considered it less of a personal threat -- wrongly, perhaps, if you take Trump to be a Tea Party champion, but for now let's just say that Democratic party centrists have a lot more to feel guilty about).

During the 2016 election campaign, Donald Trump often sounded like a pre-World War II-style America First isolationist, someone who thought the United States should avoid foreign military entanglements. Today, he seems more like a man with a uniform fetish. He's referred to his latest efforts to round up undocumented immigrants in this country as "a military operation." He's similarly stocked his cabinet with one general still on active duty, various retired generals, and other military veterans. His pick for secretary of the interior, Montana Congressman Ryan Zinke, served 23 years as a Navy SEAL.

Clearly, these days Trump enjoys the company of military men. He's more ambivalent about what the military actually does. On the campaign trail, he railed against the folly that was -- and is -- the (second) Iraq War, maintaining with questionable accuracy that he was "totally against" it from the beginning. It's not clear, however, just where Trump thinks the folly lies -- in invading Iraq in the first place or in failing to "keep" Iraq's oil afterward. It was a criticism he reprised when he introduced Mike Pompeo as his choice to run the CIA. "Mike," he explained, "if we kept the oil, you probably wouldn't have ISIS because that's where they made their money in the first place." Not to worry, however, since as he also suggested to Pompeo, "Maybe we'll have another chance." Maybe the wrong people had just fought the wrong Iraq war, and Donald Trump's version will be bigger, better, and even more full of win!

Perhaps Trump's objection is simply to wars we don't win. As February ended, he invited the National Governors Association to share his nostalgia for the good old days when "everybody used to say 'we haven't lost a war" -- we never lost a war -- you remember." Now, according to the president, "We never win a war. We never win. And we don't fight to win. We don't fight to win. So we either got to win, or don't fight it at all."

Well, if you'd just stop to give it a bit of thought, you'd realize that no one ever wins a war. Maybe you lose less bad than the other side does, but everyone comes out worse for the experience. Anyone who thought we won the 20th century's two world wars simply didn't account for everything we lost (admittedly, a pretty widespread problem, given how much money some people who didn't fight made off those wars). And anyone who tells you we won (or could have won if only we'd shown more unity and resolve) wars in Korea or Vietnam or Afghanistan or Iraq simply has their head wedged. What makes Trump so dangerous is his obsession with winning, and worse still his conviction that's he such a big winner -- that the only possible result of whatever he chooses to do will be winning, and indeed that all it takes to "make America great again" is leadership by a great winner like himself.
Monday, March 6, 2017
---
Music Week
Music: Current count 27862 [27834] rated (+28), 385 [391] unrated (-6).
Streamnotes (February 2017) came out last week, actually on March 1 (but I backdated it). March draft file is open now, starting with 17 records listed below. At this point no real direction as to what I'm covering: I picked off a few 2016 releases that I hadn't bothered with before -- ones that got some attention from the EOY lists. Highest rated album from my EOY Aggregate List I haven't heard is Metallica's Hardwired . . . to Self Destruct, in 83rd. Highest point in the list where there are three or more straight unrated records starts at 230: Andy Stott, Wild Beasts, Woods, The Body, then after one I've heard (Clipping) there's The Drones and Fat White Family. Next cluster of 5+ I haven't heard starts at 291: Opeth, Roly Porter, Ty Segall, St Paul & the Broken Bones, Sunflower Bean, Suuns, Tedeschi Trucks Band, Thrice, Wild Nothing, and Zayn.
Also checked out Christgau's picks last week: Syd's Fin closes strong enough I could see grading it up, but three or four plays didn't quite convince me, and I didn't enjoy Nnamdi Ogbonnaya's Drool at all. I gave NxWorries' Yes Lawd! the same grade months ago, but still haven't checked out the John Legend album yet (fwiw, the only Legend album I have heard is a B).
The old Ken Vandermark records I happened to notice on his Bandcamp page as among the few I hadn't heard. A bit disappointed that the two FME records only hinted at how good the band was on two records I had previously rated A-: Cuts and Underground. I need to check more closely for whatever I've missed (though my grade list seems pretty comprehensive).
Achieved a milestone of sorts in the Jazz Guide project: got up to date with my Streamnotes reviews, copying the 20th century ones into a book file which now measures 459 pages, and the later ones into a long text file that I'll eventually fold into the 21st century book. Next step on 20th century is to go through the database files and add all the rated-but-unreviewed albums in as stubs. I knocked the first (and probably shortest) of those files off today, for jazz artists who first appeared before 1940. As with every step on this project, it's been a slow slog.
---
New records rated this week:
AMP Trio: Three (2016 [2017], self-released): [cd]: B
Courtney Marie Andrews: Honest Life (2016, Mama Bird): [r]: B+(*)
Beans on Toast: Rolling Up the Hill (2015, Xtra Mile): [r]: A-
Beans on Toast: A Spanner in the Works (2016, Xtra Mile): [r]: B+(**)
Gianni Bianchini: Type I (2016 [2017], self-released): [cd]: B+(**)
Carlos Bica & Azul: More Than This (2016 [2017], Clean Feed): [cd]: B+(***)
Chicago Edge Ensemble: Decaying Orbit (2016 [2017], self-released): [cd]: A-
Marc Ducret Trio+3: Métatonal (2014 [2015], Ayler): [bc]: B+(**)
The Hotelier: Goodness (2016, Tiny Engines): [r]: B+(*)
Sarah Jarosz: Undercurrent (2016, Sugar Hill): [r]: B+(**)
Lisa Mezzacappa: Avant Noir (2015 [2017], Clean Feed): [cd]: B+(**)
Nnamdi Ogbonnaya: Drool (2017, Father/Daughter/Sooper): [r]: B-
Old 97's: Graveyard Whistling (2017, ATO): [r]: B+(***)
Eivind Opsvik: Overseas V (2016 [2017], Loyal Label): [cd]: B+(***)
Keith Oxman: East of the Village (2016 [2017], Capri): [cd]: B+(**)
Noah Preminger: Meditations on Freedom (2016 [2017], self-released): [cd]: B+(***)
The Reunion Project: Veranda (2016 [2017], Tapestry): [cd]: B+(**)
Hiromi Suda: Nagi (2015 [2017], BluJazz): [cd]: B+(*)
Syd: Fin (2017, Columbia): [r]: B+(***)
Thee Oh Sees: A Weird Exits (2016, Castle Face): [yt]: B+(*)
Keith Urban: Ripcord (2016, Capitol Nashville): [r]: B
Velkro: Too Lazy to Panic (2016 [2017], Clean Feed): [cd]: A-
Ryley Walker: Golden Sings That Have Been Sung (2016, Dead Oceans): [r]: B+(*)
Old music rated this week:
Double Tandem [Ab Baars/Ken Vandermark/Paal Nilssen-Love]: OX (2012, dEN): [bc]: B+(***)
FME: Live at the Glenn Miller Café - Feb. 27, 2002 (2002, Okka Disk): [bc]: B+(***)
FME: Montage (2005 [2006], Okka Disk, 2CD): [bc]: B+(**)
Lean Left: Live at Area Sismica (2012 [2014], Unsounds): [bc]: B+(***)
---
Unpacking: Found in the mail last week:
Chicago/London Underground: A Night Walking Through Mirrors (Cuneiform): advance
MEM3: Circles (self-released): March 24
The Microscopic Septet: Been Up So Long It Looks Like Down to Me: The Micros Play the Blues (Cuneiform): advance
The Ed Palermo Big Band: The Great Un-American Songbook: Volumes I & II (Cuneiform, 2CD): advance
Daniel Weltlinger: Samoreau: A Tribute to the Fans of Django Reinhardt (Rectify): March 31
Sunday, March 5, 2017
---
Weekend Roundup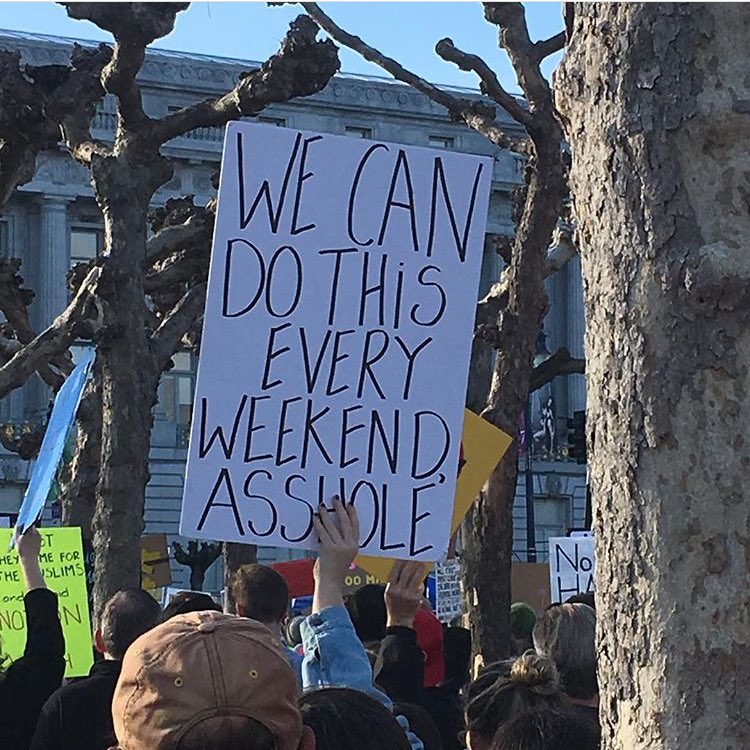 For a while there, I thought I had shot my wad on Thursday's Midweek Roundup, but it didn't take long for the floodgates to open.
I thought I'd start this with a remarkable letter that appeared in the Wichita Eagle by Gregory H. Bontrager, under the title "Trump on our side" (emphasis added):
The same media that is hounding President Trump are the same ideological malcontents that gave President Obama a free pass for eight lost years of American history. Finally, the middle class has a friend in the White House.

If you like welfare, food stamps or unchecked borders, Obama is the man for you. But if you work for a living or own your own business, Trump is on your side. Despite media hype, the age of the working man has arrived, as personified by Trump.

No more apologies will be accepted from America-hating elitists and the clueless children they foster on college campuses.

The American worker will no longer be held hostage to insane regulations by runaway bureaucracies such as the Environmental Protection Agency or rogue tax collectors in the IRS who have been weaponized by Democrats to suppress political opposition.

The Democratic Party cares more about the rights of illegal aliens than your children being able to walk safely down the streets of their own neighborhoods.

Whether they sit on the Ninth Circuit Court of Appeals or the city councils of sanctuary cities, it is time to push aside these apostate Americans and take our country back.
As someone who grew up in a union household, I can't help but be moved by this "working man" rhetoric, although I recognize that close to half of wage-earners in America are women, and that most of the jobs people work at today are in the service sector, more or less removed from the muscle and grime associated with the working men of yore -- hardly a vanished species, but much less prevalent than in my father's and grandfather's days. Nor do I begrudge the right of some people "who own their own business" to think of themselves as "working men" -- those, at least, who actually do some of their own work, as opposed to the ones who merely bark orders and push papers, but I know full well that nothing changes a person like controlling a business' checkbook, especially politically.
Still, what I find unfathomable is how anyone who's not a real estate magnate (or maybe a hedge fund manager) can imagine that Donald Trump -- a man who's spent every waking moment in the last fifty years pursuing his own wealth and celebrating his own ego -- would be on their side, or even give half a shit about them. Even the author's laundry list of phobias doesn't justify his leap of faith.
Most wage earners -- a more accurate if less romantic term than "working man" -- understand that welfare and food stamps are part of a safety net that, when properly supported, protects the lowest earners from disaster. Even people who never directly make use of such support benefit from living in a society which doesn't allow abject poverty to fester. Similarly, most government regulation is meant to protect workers and communities from the sort of abuses that inevitably tempt profit-seeking private businesses. It's easy to see why some short-sighted business owners may take umbrage at inspectors and tax collectors, but aside from lost jobs when badly managed businesses fail, workers generally benefit from policies which keep businesses from cutting corners.
It is true that if you think your problems are caused by policies which limit the greed and avarice of private companies, Trump will (sometimes) be "on your side." And if you see "illegal aliens" as some sort of plague, you may take some pleasure in Trump's callous and cruel demonization of America's most downtrodden immigrants and refugees. But neither of those stances makes you a "working man," nor does it guarantee that Trump will be your champion. For starters, the man is a world class liar and demagogue, as should already be clear from his selective memory of his campaign promises.
The stuff about Obama and the Democrats is harder to explain, other than that the author appears to have indeed been held hostage the last eight years, not by federal bureaucrats but by the right-wing fantasy media. Although appeals to the vanishing middle class have been a staple of both parties, few politicians in recent memory have devoted so much of their rhetoric to the cause as has Barack Obama. One might fault Obama for delivering so little to the middle class: under him, despite a modest tax increase on the rich, income inequality has continued to increase, the safety net has continued to fray, and his signature health care program delivered at best a mixed blessing. But the idea that with Trump replacing Obama "the middle class has a friend in the White House" is patently absurd.
To be clear, the "middle class" most of my generation grew up in -- we're talking 1950s here -- was the product of two things: a strong union movement which lifted both blue- and white-collar wage-earners to the level where they could own houses and send their kids to public colleges, and near-confiscatory (up to 90%) income tax rates on the still well-to-do managers and owners. (Paul Krugman called this "the great compression" -- see The Conscience of a Liberal.) Look for anything like this in Trump's platform: there's not even a hint of anything comparable. Rather, what the Republicans -- and this is certainly why Trump chose to become one -- have pushed ever since Reagan (or Calvin Coolidge or William McKinley or the robber barons who took over the GOP in the 1870s) is the notion that we'll all be better off if only we let businesses pursue profits unfettered by any sense of social responsibility. It should be clear by now that only the very rich have benefited from that theory, and only to the extent that they've been able to isolate themselves from the world they've left behind. The "middle class" is not a natural condition in capitalist society: it exists only because policies have forced a more equal distribution of the national wealth. Take those policies away, and, sure, a few people can become much richer, while a great many slip into increasing poverty. And that's not just theory. That's what has actually happened, to the extent that Republicans have been able to seize power since 1980.
So there's nothing in Trump's platform to make him "a friend of the middle class." But it's just as incredible to think he might be a friend of anyone. Friendship is based on empathy, common understanding, and mutual respect. To achieve that usually requires familiarity, engagement, and interaction. But how much opportunity does someone like Trump get to interact with even "middle class" (much less poor) people when he lives in the penthouse on top of Trump Tower, is chauffeured around town, and flies on private planes around the world -- at least to the few spots where he owns luxury resorts full of deferential employees and frequented by guests as rarefied as he himself is? Even leaving aside his personality, charitably described as narcissistic, no one can reasonably expect him to relate to, much less empathize with, the everyday problems of most Americans.
The letter contains more absurdities, both of fact -- Obama, rather notoriously, deported more undocumented immigrants than any previous president -- and of interpretation -- I can't even imagine the "free pass" he thinks Obama was granted, or what "eight lost years of American history" even means. (Although thanks to Bush and Republican obstruction of Obama we've wasted sixteen years. and counting, that could have been used to counter global warming -- something future generations are sure to judge us harshly for.)
---
The Kansas State Legislature passed a law repealing Gov. Sam Brownback's income tax exemption for business owners, at long last promising to fill a budgetary hole that has plagued Kansas since 2011. Brownback vetoed, the House overrode, but the Senate barely sustained the veto, primarily thanks to Republican Majority Leader Susan Wagle switching her position. Richard Crowson drew the cartoon at right to mark the occasion. Sedgwick County Commissioner Richard Ranzau took exception to the cartoon, noting that depicting Wagle as a "female dog" was tantamount to calling her a, well, you know. Ranzau is probably the most outrageously reactionary politician in Kansas, at least in recent years. Of course, it isn't his fault that his name resonates as some lesser known Nazi extermination camp, one you can't quite put your finger on. Still, one would be less likely to make the connection if he had somewhat more moderate take on politics. See Crowson thanks Ranzau for showcasing cartoon.
---
Robert Christgau forwarded this tweet by James F Haning II, proclaiming it "perfect":
Donald Trump is a stupid man's idea of a smart man, a poor man's idea of a rich man, a weak man's idea of a strong man.
There certainly is a lot of projection concerning Trump. There is scant evidence to support many of the traits his fans attribute to him (although, even without tax returns, he does a fairly good job of passing for rich, even compared to the bottom of the top percentile). And rich seems to buttress the notions of smart and strong, especially given that they don't stand up all that well on their own. He has a bully aspect, but that's mostly exercised through lawyers; other than that he talks big, but is known to tone it down when faced with likely opposition (as during his campaign stop in Mexico, where he offered none of the slander and fury of his post-visit immigration rant). As for smart, he's clearly not even remotely a smart man's idea of smart. Whether stupid men are that stupid is another question: he clearly has a knack for exploiting some people's insecurities, and for projecting himself as their savior. Part of that comes from a very instinctual, almost bred-in, sense humans have that in crisis they should rally behind the guy who looks strongest -- an instinct that's likely to give you a Napoleon, a Churchill, or a Hitler (most of whom turned out to be disasters). Part is that many Americans have way too much admiration for the rich. And part is the luck of running against people who hardly inspire anyone at all. But much of it is that with Trump we have a man who is extraordinarily self-centered and immodest, so much so he doesn't betray any lack of confidence in his abilities, even though they are manifest to anyone who bothers to look.
---
Some scattered links this week in the Trumpiverse:
George Zornick/Zoë Carpenter: Everything Trump Did in His 6th Week That Really Matters: A regular series that goes beyond chasing tweets. Sub-heads:

Halted a probe into airline-price transparency. "Stocks in major airlines increased 2 percent."
Absolved senior adviser Kellyanne Conway of wrongdoing. Re her promotion of Ivanka Trump's clothing line, contrary to federal ethics rules. "The White House concluded that Conway acted 'without nefarious motive,' and did not announce any disciplinary actions."
Swore in a commerce secretary with serious conflicts of interest. Multi-billionaire Wilbur Ross, who among other things "served as the vice-chair of the Bank of Cyprus, 'one of the key offshore havens for illicit Russian finance.'"
His attorney general recused himself from Russia inquiries. Jeff Sessions, who falsely testified to the US Senate during confirmation that he had no contact with Russian officials.
Announced a special exemption for the Keystone XL pipeline. He also ordered that all pipelines be made with American steel "to the maximum extent possible," which turns out to be not at all. (See Keystone Pipeline Won't Use US Steel Despite Trump Pledge.)
Ordered a review of water regulations. The first step toward undoing clean water rules developed by the EPA under Obama.

Eric Alterman: The Media's Addiction to False Equivalencies Has Left Them Vulnerable to Trump: "Decades of conservative efforts to work the press are paying off handsomely." I've described this as the "Earl Weaver effect": you always argue with the umps, not so much to convince them now as to make them more likely to give you a call later on (thus avoiding another scarifying encounter).

Coral Davenport; Trump to Undo Vehicle Rules That Curb Global Warming: "The E.P.A. will also begin legal proceedings to revoke a waiver for California that was allowing the state to enforce tougher tailpipe standards for its drivers." Also by Davenport: Top Trump Advisers Are Split on Paris Agreement on Climate Change. A few, like Rex Tillerson, recognize that withdrawal will have adverse impact on how the US is viewed throughout the world. After all, it's a pretty clear message: to protect our industry profits, we don't care what the impact is to the rest of the world: fry, drown, whatever. Note that even if the US doesn't formally withdraw, Trump's EPA is already working hard to make climate catastrophe irreversible. Also see: Steven Mufson/Jason Samenow/Brady Dennis: White House proposes steep budget cut to leading climate science agency: maybe if we stop studying the problem, we won't notice when it happens, so won't know who to blame.

Josh Dawsey: Trump's advisers push him to purge Obama appointees: Well, actually they'd like to purge much of the civil service as well as a few dozen holdovers still trying to do their jobs. ("Candidates for only about three dozen of 550 critical Senate-confirmed positions have even been nominated.") A big part of the problem here is that Trump campaigned by totally misrepresenting what Obama's administration had been doing, treating it as all bad and therefore all in need of radical change. But the election didn't change any laws, and policy changes are subject to many checks and balances. No past administration started with a clean slate, and most saw continuity as a virtue. Trump is different partly because he set up the expectation of radical change, and partly because his people have proven unusually incompetent -- I'd say that's largely due to his party having made obstruction its norm for eight years (after making destruction the norm for two terms under GW Bush). Still, the immediately burning issue is that they're steamed about leaks revealing their incompetence. A better solution would be to try to behave in ways that aren't embarrassing to the public, but that's a level of maturity they haven't grown into yet (if indeed they ever will).

Paul Feldman: A deadly pattern: States that went red during 2016 election saw more workplace fatalities: Chart is pretty starkly amazing, with only two states above 3.0 (New Mexico and Nevada) voting Democratic, and only one state below 3.0 (Arizona) voting Republican.

Jon Finer/Robert Malley: How Our Strategy Against Terrorism Gave Us Trump: Actually, the US doesn't have a strategy against terrorism any more, and hasn't since it became clear that reconstructing Iraq along Texas lines wasn't going to pay off. What passes for one is no more than whacking all the terrorists we notice, or people in their vicinity -- the sort of knee-jerk spasms dead chickens are noted for. What gave us Trump was the callousness and ignorance of continuing a hopeless and hapless war despite clear proof that of having no clue. In early Bush days the US could present itself as some kind of friend, and occasionally find acceptance and support, but those days are long gone as the frustration of losing has turned Americans into haters of all things Islamic. I think it was predictable from the start that this approach would fail, but the authors are still committed to the mission no matter how badly it fails.

Todd C Frankel: How Foxconn's broken pledges in Pennsylvania cast doubt on Trump's jobs plan: One thing I'm struck by is how many of the companies Trump's counting on to "invest in America" are Chinese -- not just that their offers are subject to political ploys but that their bottom line depends on getting lower labor costs in the US than they are already getting in China. This doesn't seem like much of a golden opportunity.

David Cay Johnston: Trump's Lament That He 'Inherited a Mess' of an Economy? False! Sad! Various measures of the economy were actually up for the last months of Obama's second term, with the median wage "began rising in 2013 after 15 years of being in the doldrums." This momentum, a far cry from the "mess" Trump has already started blaming for his own incompetence, will likely continue to buoy Trump for months or even a couple years to come, until Trump (like Bush before him) blows it all to hell. For more on this, see: Christian Weller: The truth about Obama's economic legacy and Trump's inheritance.

Paul Krugman: Goodbye Spin, Hello Raw Dishonesty:

At this point it's easier to list the Trump officials who haven't been caught lying under oath than those who have. This is not an accident. [ . . . ]

In part, of course, the pervasiveness of lies reflects the character of the man at the top: No president, or for that matter major U.S. political figure of any kind, has ever lied as freely and frequently as Donald Trump. But this isn't just a Trump story. His ability to get away with it, at least so far, requires the support of many enablers: almost all of his party's elected officials, a large bloc of voters and, all too often, much of the news media. [ . . . ]

But then you watch something like the way much of the news media responded to Mr. Trump's congressional address, and you feel despair. It was a speech filled with falsehoods and vile policy proposals, but read calmly off the teleprompter -- and suddenly everyone was declaring the liar in chief "presidential."

The point is that if that's all it takes to exonerate the most dishonest man ever to hold high office in America, we're doomed.

Krugman also wrote Coal Is a State of Mind: Trump keeps insisting that he'll bring back coal mining jobs, but nothing -- not technology and not economics -- suggests he can, no matter how much political will he puts behind it:

The answer, I'd guess, is that coal isn't really about coal -- it's a symbol of a social order that is no more; both good things (community) and bad (overt racism). Trump is selling the fantasy that this old order can be restored, with seemingly substantive promises about specific jobs mostly just packaging.

One thought that follows is that Trump may not be as badly hurt by the failure of his promises as one might expect: he can't deliver coal jobs, but he can deliver punishment to various kinds of others.

Laila Lalami: Donald Trump Is Making America White Again: The detail points are worth reading, but file this under really bad titles. For one thing, America has never been white, no matter how marginalized the political system made non-whites. For another, while Trump will make America more hurtful for non-whites, nothing he can do will change the racial, religious, and/or ethnic demography of the nation to any meaningful degree. The most he and his fans can hope for is to slow down what they view as a demographic disaster, and perhaps to jigger the system a bit to politically marginalize what they view as undesirable Americans -- that is, after all, the point of the voter suppression laws that are all the rage in Republican legislatures.

Jefferson Morley: Who wins? Donald Trump vs. the Koch Brothers on jobs: I had to read down the article to even find out what Trump was thinking of as his jobs program: turns out it's the BAT (Border Adjustment Tax), which is really just a tariff. The Kochs are organizing against BAT, and they have things Trump doesn't have, like a grass roots organization that has been very successful at getting Republicans elected to Congress. (In many ways Trump sailed to the presidency on their coat tails.) So no, it's pretty much dead in Congress, and there's damn little Trump can do about that.

Paul Rosenberg: America's infrastructure disaster -- and why Donald Trump will do nothing to fix it:

The last time it was issued, back 2013, our infrastructure got an overall grade of D+, with a projected $3.6 trillion investment needed by 2020 -- more than 3 1/2 times the amount that President Donald Trump has promised (mostly from private investors) over a much longer period. Grades ranged from a high of a single B- for solid waste to a low of D- in two categories -- levees and inland waterways. There were more straight Ds than anything else -- for schools, dams, aviation, roads, transit, wastewater, drinking water and hazardous waste. Rail and bridges both rated C+, ports a straight C, public parks and recreation a C- and energy a D+. Even Bart wouldn't be proud of that.

The key problem is that we let business ideologues (mostly but not exclusively Republicans) convince us that government can't do anything competently (except wage war, which kind of proved their point) so we're better off not wasting our money -- just wait for the private sector to fill the need. This is, of course, exactly not how we got all our infrastructure in the first place (the whole point of Jacob S Hacker/Paul Pierson: American Amnesia: How the War on Government Led Us to Forget What Made America Prosper).

Matthew Rozsa: This week in Donald Trump's conflicts of interest: Favoritism from Vancouver to New York City. Rosza also wrote President Pence's problems: Indiana Democrats say VP was "the worst governor we ever had" -- something to bear in mind before you impeach Trump.

Katy Waldman: We All Talk Like Donald Trump Now: Sad! Oh, dear! Even when we satirize him the mental rot is contagious! As if we didn't have enough to worry about already!

Matthew Yglesias: Trump is Mad Online at Obama, Schwarzenegger, and the Foreign Intelligence Surveillance Court: This day (March 4) in tweets. Personally, I'm just gratified that when Trump refers to "McCarthyism" and "Nixon/Watergate" he's treating them as bad things. Nor do I especially mind him dissing Schwarzenegger, recently departed from Trump's former reality show. For more on the latter (possibly the week's least momentus "news") see: Todd VanDerWerff: Arnold Schwarzenegger is leaving The Celebrity Apprentice. He blames President Trump.
---
Also a few links less directly tied to Trump, though sometimes still to America's broader bout of political insanity:
Liberal institutions have already been fatally weakened
: I wouldn't say it's fatal here (yet), but Trump wouldn't have risen without the discrediting of key institutions, like the military in the Middle East and bankers everywhere.
Of course it's a minority affair
: The Tea Party and the alt-right are every bit as vanguardist as the Bolsheviks, but are rooted in venerable Americanisms, like Nixon's "dirty tricks" and Lombardi's "winning is the only thing."
Its cultural style makes no sense to elites
: which in turn makes it hard to counter; it's easy to prove that Trump isn't smart but you won't impress his fans by doing so -- they've spent every moment of the last eight years loathing Obama, suspecting that his brains are merely the engine of deviousness. (Nor did Meryl Streep dissing football gain any traction.)
No form of resistance works
: Have fascists ever been voted out of office, given that one thing they've always been quick to do is to rig the system (much like the Republicans with their voter restriction laws, though often even more brutal). "Nothing ever works until fascism's logic, the logic of empire, stands discredited to the point where no denial and no media coverup is possible anymore." Actually the Axis was only "discredited" by the most brutal military counterattack in history.
Thursday, March 2, 2017
---
Midweek Roundup
Some weeks the shit's piling up so fast you have to get the shovel out a few days early. I have little doubt that there will be this much more by the weekend. Less sure I have the time and energy to keep up the pace.
---
Some scattered links this week in the Trumpiverse:
Glenn Kessler/Michelle Ye Hee Lee: Fact-checking President Trump's address to Congress: The "fake news" media was, of course, much taken with Trump's tone ("so presidential"), which as far as I can tell means he refrained from pooping on stage and flinging it at the Democrats (and for good measure Paul Ryan).

More on the speech:

Michelle Chen: Donald Trump's War on Science: Mostly focused on environmental science, which is a big enough subject, but most likely nowhere near the sum. Stiff upper lip at the end: "At the dawn of the Trumpocene, even under a regime fueled by contempt for truth, facts will still matter." Even more so laws of physics, such as the one that points out that every molecule of carbon dioxide added to the atmosphere increases the amount of heat from sunlight that is retained by the atmosphere.

David Dayen: Crony Capitalism at Work? Trump Adviser Carl Icahn Strong-Arms Ethanol Lobby to Save His Company Millions

William Greider: Is Our President Bonkers?: Maybe, but he came up with a clever con and sold it to just enough Americans.

Fred Kaplan: Money for Nothing: Trump is following through on his campaign promise to increase Defense Department spending, submitting a $54 billion increase over Obama's 2016 budget. Other pieces on the Defense budget:

Anne Kim: Why Trumpism Is Here to Stay: The author's antidote is "broadly shared economic expansion," as this "puts more Americans in a generous mood." But isn't that one thing that we can be sure will not happen under Republican rule? After all, their prime directive is to increase the concentration of wealth among the already rich, even if that means producing less of it overall. You'd think that Trump (if not Trumpism) would lose all credibility soon, but for now they seem to figure they can hang on by decrying the "fake news" that might rat them out.

Daoud Kuttab: US and Israel join forces to bury Palestinian statehood: A point made clear by Netanyahu's very early visit to see Trump, who knows little about the conflict, has no respect for America's customary (albeit hapless) advocacy of international law, nor any concern that the world view the US as a fundamentally friendly world power. Still, could be worse: in 2008 Israel feared that Obama might make a serious effort to pressure Israel into accepting a two-state partition, so started a war against Gaza. Netanyahu knows better than to fear Trump, who's so eager to please he's willing to do things that Israel only says they want (tearing up the Iran deal, moving the US embassy to Jerusalem) that he needs to be gently nudged back to sanity. Still, Netanyahu has a problem: for the next four years, no one will look toward the US to ineptly muddle up the "peace process" -- the idea that Trump will be "an honest broker" is beyond laughable -- but in the meantime people (especially in Europe) will see Israel as it actually is: a deeply racist society and unjust oppressor state.

Also see: Aaron David Miller: Trump's New Ambassador to Israel Heralds a Radical Change in Policy; Jonathan Cook: Trump shows his hand on Israel-Palestine.

Jessica Lipsky: Ben Carson, Rick Perry confirmed to Cabinet posts: On the same day, two of Trump's more ridiculous picks.

Lachlan Markay: Big Steel Sees Gold in Trump's Commerce Secretary Wilbur Ross: Well, of course: after all, Ross made his billions in big steel.

Jennifer Rubin: Why Jeff Sessions is in deep trouble: Sure, he met with Russians, and sure, he lied about it. The former bothers me far less than Nixon's efforts to sabotage Vietnam War negotiations in 1968, or even Reagan's ploy to keep Iran from releasing hostages to Jimmy Carter. After all, what Trump's people were telling Putin is "keep your cool and don't overreact to Obama's sanctions -- when we win we'll be more reasonable." There are innumerable things wrong with Trump and his posse, but his Russia stance was actually saner than what Obama and Clinton were offering. Of course, it's hard not to applaud any scandal that undermines Jeff Sessions, but I'd rather focus on real reasons for getting rid of him, like Sophia Tesfaye: Jeff Sessions drops DOJ lawsuit against discriminatory Texas voter ID case, reverses 6 years of litigation. Not that I condone his lying, but it's no victory for progressives if the only lying anyone gets sacked over is offending the neocon anti-Russia lobby (cf. Flynn, Manafort, etc.) -- in fact, it's fucked up.

By the way, see Glenn Greenwald: The New Yorker's Big Cover Story Reveals Five Uncomfortable Truths About US and Russia. Number one on that list is how much more hawkish against Russia Clinton was than Obama. Way back I argued that she would lose if people came to perceive her as the more dangerous warmonger, and I think that's a big part of what's happening. Of course, her fans didn't think that, nor did more critically balanced observers like myself, but all of her campaign talk about "the Commander-in-Chief test" and her obsession with nuclear launch codes may well have unnerved less informed voters. In any case, until Democrats get over their obsession with vanquishing foes abroad and focus on the real ones that are robbing us bind, they won't be able to mount a credible defense against the class war the rich are still winning within America.

Reihan Salam: Paul Ryan Could Kill Donald Trump's Political Future: "If the president accedes to congressional Republicans' wishes to slash the social safety net, he'll pay a very hefty price." While lots of liberal-leaning pundits have been imploring the so-called sane regular Republicans to rein in the patently insane president, I've been saying all along that the most ominous threat comes from empowering Ryan and his ilk in Congress -- a perception that is finally beginning to sink in. For all their bluster, conservatives have always had to fall back on the promise that their crackpot theories would ultimately be good for all (well, most) people -- and not just the 1% (give or take a little) they shill for. Still, now they have enough power to do some real damage, and the more they exercise that power the more they will discredit themselves.

Jordan Weissmann: Republicans Are Trying to Build a Welfare State That Sucks for Everyone but Mutual Fund Managers

Richard Wolffe: Steve Bannon lifted his mask of death at CPAC; also Sarah Posner: How the Conservative Movement Went All in for Trumpism.
---
Also a few links less directly tied to the ephemeral in America's bout of political insanity:
Tuesday, February 28, 2017
---
Streamnotes (February 2017)
For the second time in three months I let the calendar flip over before posting this column, then had to backdate the post to match the allotted month. I guess I can blame February for not having enough days. It's not like I don't have a full load of albums below.
Still, no time to write a proper introduction. A few 2017 releases this time, more list scrounging from 2016, even a few 2015 stragglers.
---
Most of these are short notes/reviews based on streaming records from Napster (formerly Rhapsody; other sources are noted in brackets). They are snap judgments based on one or two plays, accumulated since my last post along these lines, back on January 28. Past reviews and more information are available here (9286 records).
---
Recent Releases
Rez Abbasi & Junction: Behind the Vibration (2015 [2016], Cuneiform): Pakistani-American guitarist, has dabbled in South Asian (and African) projects but much of his work is squarely within the jazz mainstream. Quartet with Mark Shim (tenor sax, midi wind-controller), Ben Stivers (keyboards, organ), and Kenny Grohowski (drums) -- a combo which hints of soul jazz without sinking into blues. B+(**) [bc]
Africans With Mainframes: K.M.T. (2016, Soul Jazz): Hieroglyphic Being (Jamal Moss) and Nolelan Reusse, first full-length album, title stands for Kemetic Modulating Textures (although Napster calls it Soul Jazz Records Presents Africans . . . -- I don't see K.M.T. on the cover). This is considered Chicago acid house. As Andy Beta wrote of Moss, "for every CD-R of synth squalls there is another full of manic drum machine polyrhythms." He brings his whole kit together here. A-
Oren Ambarchi: Hubris (2016, Editions Mego): Guitarist, percussionist, born in Australia, roots Iraqi Jewish, has fifty-some records since 1998. One piece split into three parts: a fast, complex drumbeat with distorted guitar, an impressive trick that deserves to run on for 40 minutes. A-
Angles 9: Disappeared Behind the Sun (2016 [2017], Clean Feed): Alto/tenor saxophonist Martin Küchen's nonet: three brass (notably Magnus Broo), a second sax (Eirik Hegdal on baritone), piano-bass-drums plus Mattias Ståhl on vibes. A powerhouse group but they seem to have trouble keeping in sync here -- can amaze when they do hold it together. B+(**) [cd]
A$AP Ferg: Always Strive and Prosper (2016, Polo Grounds/RCA): Darold D. Brown Ferguson Jr., like others in the A$AP Mob collective adapted his name accordingly. Second album, packed with cameos without sounding overripe. B+(**)
Autolux: Pussy's Dead (2016. 30th Century/Columbia): LA-based shoegaze group, previous albums in 2004 and 2010 so they're not rushing things. On Danger Mouse's label, produced by Boots. Aesthetic summed up in lyric: "it's so so sad to be happy all the time." B+(***)
Ballister: Slag (2015 [2017], Aerophonic): Avant-sax trio, Dave Rempis (alto/tenor sax) out front, backed by Fred Lonberg-Holm (cello, electronics) and Paal Nilssen-Love (drums). First piece stormed out of the gate, so harsh and loud I had to turn it down to appreciate the drumming. Two more varied pieces followed, adding up to over an hour. B+(*) [bc]
Heather Bambrick: You'll Never Know (2016 [2017], self-released): Canadian standards singer, sixth album since 2003 (plus one as The Beehive Singers). Backed by piano, guitar, bass and drums, with splashes of trumpet and sax. As good as her songs; e.g., "Get Happy" does the trick. B+(**) [cd]
William Basinski: A Shadow in Time (2017, Temporary Residence): Avant-garde composer, works in electronics, has a couple dozen albums since 1998 and has developed a crossover following -- probably a subject for further research (I've only heard one previous album). Two pieces, 20:19 and 22:59, rather dense and a bit ponderous. B
Beans on Toast: Rolling Up the Hill (2015, Xtra Mile): English singer-songwriter Jay McAllister, a folkie more in the American mold of low budget songsters pursuing their political calling -- which in his case includes traveling and singing and drinking. One song calls for the return of Robin Hood ("we need to take what's rightfully ours"), but more typical is his commune where "a lot of nice people being nice to each other/a lot of fun people having fun with each other/a lot of good people being good to each other." A-
Beans on Toast: A Spanner in the Works (2016, Xtra Mile): He's released a record like clockwork every December 1 since 2009, which seems a bit too regular for something involving creativity. Indeed, he comes up somewhat short this time, the melodies suffering more than the outrage, since lord knows 2016 didn't lack for things to take offense at. B+(**)
Bentcousin: Bentcousin (2016, Team Love): Brighton [UK] band, twins Amelia and Pat Innit, "magically born a decade apart" (means in different decades, as their birth straddled the midnight between 1989 and 1990). Both sing, her backing heling him out. Light, folksy pop, even on "F*ck the Queen." B+(**)
Dierks Bentley: Black (2016, Capitol Nashville): Nashville star, ninth album, first two major label releases went platinum, four more gold, this his poorest selling album still briefly topped the country charts (his sixth album to do so). Going through the motions, co-wrote some of the songs, got the usual Nashville production, gave Maren Morris and Trombone Shorty guest shots. B
Gianni Bianchini: Type I (2016 [2017], self-released): Pianist-singer, web bio not very forthcoming but this was recorded in Austin, TX, where he's been known to teach (also in Quito, Ecuador). He plays three fast ones, then slows down and sings a ballad, then goes back and forth, the piano vibrant, the vocals (including one by Karen Tennison) not half bad. B+(**)
Joe Bourne: Upbeat and Sweet (2016 [2017], Summit): Fairly nondescript singer, skips the usual standards in favor of a batch of mostly '60s-'70s pop hits, selected with an unerring knack for things I never wanted to hear again, least of all sung by him -- e.g., "Magic Carpet Ride," "Heartache Tonight," "Just Like a Woman," "You've Got a Friend," "Don't Stop," "Wonderful Tonight." C [cd]
Chris Byars: Two Fives (2014 [2015], SteepleChase): Saxophonist, plays alto here but first distinguished himself on tenor, always a bebop purist, has done several tribute albums of late, this one starts with five originals, then five covers ("Danny Boy" the odd and weakest choice). Sextet: Stefano Doglioni (bass clarinet), John Mosca (trombone), Pasquale Grasso (guitar), Ari Roland (bass), Stefan Schatz (drums). Slippery and elegant. B+(**)
Chris Byars: The Music of Frank Strozier (2015 [2017], SteepleChase): Tribute to another alto saxophonist, b. 1937, still alive, cut a few albums 1960-62, and two more 1976-77 for Danish label SteepleChase. Septet, adding James Byars' oboe to the sextet above. All Strozier tunes, arranged by Byars, who like Strozier plays some flute. B+(**)
Laura Cannell: Simultaneous Flight Movement (2016, Brawl): British violinist, seven or eight records, one in 1997, the rest since 2012. This is solo, some recorder, not much jazz feel so somewhere between abstract folk and avant-classical? B+(*)
Loyle Carner: Yesterday's Gone (2017, AMF): British rapper, father "of Guyanese descent," first record, nothing exciting, although the title tune is catchy and I could imagine it done skiffle. B
The CCM Jazz Orchestra as James Bond: Nobody Does It Better (2013 [2017], Summit): CCM stands for College Conservatory of Music, part of the University of Cincinnati. They have a previous album called In Search of Garaj Mahal, where they cover music from the world fusion jam band. Seemed like a pretty bogus idea, but then I saw Steven Bernstein got a "featuring" credit (also credit for six of eight arrangements. The result isn't exactly Sex Mob Does Bond (a real title, from 2001): it's grander and grosser than that, with all the baggage a true big band can throw at music that deserves such treatment, if it deserves any at all. B+(**) [cd]
Chook Race: Around the House (2016, Trouble in Mind): Australian band, a dash of jangle pop in the alt-rock universe. B+(*)
City Yelps: Half Hour (2016, Odd Box): Garage punk trio from Leeds. Don't understand a word, but can't complain about the energy. B+(*)
Kweku Collins: Nat Love (Closed Sessions): Young (age 19) rapper from Evanston, Illinois, first album after an EP, goes for a dense rhythmic roll rather than a lot of words. B+(*)
CP Unit: Before the Heat Death (2016 [2017]. Clean Feed): Quartet: Chris Pitsiokos (alto sax), Brandon Seabrook (electric guitar), Tim Dahl (electric bass), Weasel Walter (drums). Basically post-rock, post-industrial fusion, less harsh than some of Seabrook's own albums, better beat too, and the sax sharpens the leads. Short at 29:01, but makes up for that in intensity. B+(***) [cd]
Allison Crutchfield: Tourist in This Town (2017, Merge): Singer-songwriter, solo debut after fronting Swearin' and earlier co-founding P.S. Eliot (with sister Katie, who went on to Waxahatchee). B+(**)
Tim Daisy: October Music Vol. 2: 7 Compositions for Duet (2016, Relay): Chicago avant drummer, composed seven pieces, each played with a different duet partner: Andrew Clinkman (guitar), Mars Williams (soprano sax), Fred Lonberg-Holm (cello/electronics), Ryan Packard (drums), Russ Johnson (trumpet), Aaron Zarzutzki (synthesizer), and Clark Sommers (bass). Gets something distinctive out of each. While the first three can be scratchy, the finale (where Daisy plays marimba and turntable) is almost pretty. B+(**) [bc]
Carla dal Forno: You Know What It's Like (2016, Blackest Ever Black): Singer-songwriter, from Australia, based in Berlin, mostly electronics. "The vocal-led pieces are interspersed with richly evocative instrumentals, like Eno's Another Green World reimagined in shades of brown and blue." In other words, much less appetizing, but not without interest. And short: eight cuts, 29:18. B+(*)
Death Grips: Bottomless Pit (2016, Third Worlds/Harvest): Thrash noise band that passes for hip-hop because they rap, probably because they'd have trouble keeping up singing. Over a handful of albums since 2011, they've moved from interesting to annoying to possesing a unique and vigorous sound, one I'm getting acclimated to. B+(*)
Jon De Lucia Group: As the River Sings (2014 [2017], Fresh Sound New Talent): New York-based saxophonist, originally from Massachusetts, plays alto sax, alto clarinet, clarinet, flute, and ruri box here, leading a quartet with electric guitar (Greg Ruggiero), acoustic bass (Chris Tordini), and drums (Tommy Crane). Nice tone and flow. B+(***) [cdr]
Olegario Diaz: Aleph in Chromatic (2015 [2016], SteepleChase): Pianist from Velezuela, studied in America, discography dates from 1992, last four albums on this Danish mainstream label. Mostly originals, formally postbop but with an extra percussionist (Nené Quintero), Alex Sipiagin flashy on trumpet, Bobby Franceschini versatile on tenor sax and flute. B+(**)
Élage Diouf: Melokáane (2015, Pump Up the World): From Senegal, born El Hadji Fall Diouf, toured as half of the Diouf Brothers before settling in Montreal and going solo. The fast ones remind me of N'Dour or Ade, and while he's certainly not in their league, he can sweep you away. A-
DJ Diamond: Footwork or Die (2016, |Duck N' Cover): Chicago DJ Karlis Griffin, third or fourth album. Maybe I'm confused but doesn't the concept behind footwork have something to do with moving one's feet? Lines repeat, squiggles intervene, beats pretty static. B-
Dvsn: Sept. 5th (2016, OVO Sound/Warner Brothers): Canadian r&b duo, singer Daniel Dayley and producer Anthony Paul Jefferies (dba Nineteen85). B+(*)
Mark Ernestus' Ndagga Rhythm Force: Yermande (2016, Ndagga): German DJ, owns a record store in Berlin that specializes in dub imports, released a couple previous albums with Senegalese drum collective Jeri-Jeri, this group growing out of that one. Not such an obvious "rhythm force," the drums mixed way down along with Mbene Diatta Seck's vocals -- yet somehow they draw you in. B+(**)
Bill Evans/Scottish National Jazz Orchestra: Beauty & the Beast (2011 [2016], Spartacus): Tommy Smith's main project for nearly a decade, although he takes a back seat here to the guest, who in turn leads on soprano rather than his usual tenor sax. Evans gained some recognition in the 1980s playing with Miles Davis, and has released twenty-some albums since, but I can't say as I've noticed him much. The piece itself was written by Smith, big band flourishes arrayed into a suite of seven parts. B+(**)
Factory Floor: 25 25 (2016, DFA): British duo, Gabriel Gurnsey (drum machines) and Nik Colk (guitar, electronics, machine-like vocals), aim at "post-industrial" -- I guess that means mechanics toned down to pastoral levels. Not much range but resonates with me. A-
Fantastic Negrito: The Last Days of Oakland (2016, Blackball Universe): Xavier Dphrepaulezz, father a Somali-Caribbean immigrant in Massachusetts, family moved to Oakland when he was 12. After an apprenticeship in drug dealing and robbery, he tried making his way as a musician, to much frustration until he won a prize at NPR for a video and wound up cutting this album of blues-funk -- probably best the straighter the blues, or the more they evoke Led Zeppelin. B+(***)
Nick Finzer: Hear & Now (2016 [2017], Outside In Music): Trombonist, at least one previous record, this a postbop sextet with Lucas Pino on tenor sax and bass clarinet, both guitar and piano, plus bass and drums. Bright and lively. B+(*) [cd]
The Flat Five: It's a World of Love and Hate (2016, Bloodshot): Billed as "a Chicago-based vocal super-group," the only name I recognize there is Kelly Hogan but maybe you'll have better luck: Nora O'Connor, Scott Ligon, Casey McDonough, Alex Hall. Very lightweight, sweet even. B-
Daniel Freedman: Imagine That (2016, Anzic): Drummer, New York native, first album, hornless quintet, the focus on worldly rhythm with Lionel Loueke (guitar), Jason Lindner (keyboards), Omer Avital (bass/oud), and Gitmar Gomes (percussion) -- perhaps the best showing I've heard from Loueke (although his vocals aren't exactly a plus). B+(***)
Satoko Fujii: Invisible Hand (2016 [2017], Cortez Sound, 2CD): One of the most prolific jazz pianists of the past two decades, lately it seems her piano has receded into her explosive big bands and odder avant-folk projects (where, among other things, she's distinguished herself on accordion). But this solo set -- two discs but only 87:33 -- is less a return to basics than a maturing reflection on her craft: where she used to get our attention with pyrotechnics, here she favors richly detailed melodies, and that works as well. A- [cd]
Joana Gama/Luís Fernandes/Richardo Jacinto: Harmonies (2016 [2017], Shhpuma): Portuguese pianist, unconventional trio with Jacinto on cello and both electronics. The music is "inspired" by Erik Satie, performed on his 150th anniversary, which may be reflected in its tight miniaturism, although its post-industrial aura is something else. B+(***) [cd]
Jean-Brice Godet: Lignes De Crêtes (2016 [2017], Clean Feed): Clarinet player, also credited with "radio, dictaphones," leads trio with Pascal Niggenkemper (double bass, objects) and Sylvain Darrifourcq (drums, percussion, zither). Four pieces: "No Border," "No Logo," "No God," "No Fear" -- a remarkable melange of sounds, though it takes some focus to catch them all. B+(***) [cd]
Frank Gratkowski/Alexey Kruglov/Simon Nabatov/Oleg Yudanov: Leo Records 35th Anniversary Moscow (2014 [2015], Leo): Russian emigré Leo Feigin established his avant-jazz label in London in 1979, and from the start had an inside track on the very underground jazz scene in Soviet Russia, most notably introducing the west the Ganelin Trio to the west. Three Russians in this quartet, two alto saxophonists, piano, and drums. Rough and rather angry, most emphatically the pianist. B+(*)
Josh Green & the Cyborg Orchestra: Telepathy & Bop (2016 [2017], self-released): A little short of a big band in the brass section (two each trumpet and trombone), five reeds less brassy too (two saxes, but bass clarinet instead of baritone; also flute and oboe, plus most double on clarinet), but the rhythm section adds accordion to guitar-piano-bass-drums, plus there's a string section. This gives the composer-arranger lots of options, and if you bother to listen closely enough you'll find lots of clever little details. B+(*) [cd]
Rich Halley/Carson Halley: The Wild (2015 [2017], Pine Eagle): Tenor saxophonist from Oregon, got my attention with his 2004 album Mountains and Plains and hasn't let up since. Duets with his drummer son bring his fierce creativity to the fore. A bit of otherworldly wood flute too. A- [cd]
The Hamilton Mixtape (2016, Atlantic): I limited my exposure to the Original Broadway Cast Recording, so never got caught up in Lin-Manuel Miranda's peculiar world. Indeed, I've long viewed Alexander Hamilton as a martinet who aspired to be Napoleon or at least one of his most trusted generals, so I have trouble picturing him as an abolitionist and champion of immigrants. Still, given that we now finally have a president as corrupt and vain as the villain of this play, Aaron Burr, I see some value in turning the tables. I should also note that freed from having to carry a narrative, Mixtape makes a fair case for some of the songs outlasting their context. B+(***)
Jesca Hoop: Memories Are Now (2017, Sub Pop): Singer-songwriter from California, seventh album since 2007, a name I've run across before but hadn't checked out. Reality-based (i.e., folk-ish), just not sure how well this reads as literature, but it impresses me musically, some pop hooks and rhythmic tricks, bits that sound like everyone from the Roches to Kate Bush and like no one else at all. A-
The Hotelier: Goodness (2016, Tiny Engines): Indie rock trio (guitar-bass-drums) from Worcester, MA. Third album, a little heavy on the drums and anguished in Christian Holden's vocals, but if you don't listen closely they sound a fair amount like Hold Steady. Cover art obscured by Napster, but no idea whether that's because nudity offends them, or it's just that the people naked aren't especially attractive. B+(*)
Injury Reserve: Live From the Dentist Office (2015, Las Fuegas): Hip-hop group from Tempe, Arizona, two rappers (Steppa J. Groggs and Ritchie With a T) and producer Parker Corey. First album. A bit scattered, although the most obvious titles ("Yo," "Wow") deliver the beats. B+(**) [sc]
Injury Reserve: Floss (2016, Las Fuegas): Arizona hip-hop trio, lead song is "Oh Shit!!!" and it makes for a pretty infectious sing-along. B+(***)
Kayo Dot: Plastic House on Base of Sky (2016, The Flenser): Experimental rock group from Boston, released their first album in 2003 on Tzadik and are up to ten now. This one topped one 2016 EOY list and was ignored by all the rest. Some kind of prog or psychedelia, time often uncertain, gloom and doom more common. B
Amirtha Kidambi/Elder Ones: Holy Science (2016, Northern Spy): Bandcamp page attributes this to the group, but the singer-songwriter's name appears first on the cover, in smaller print probably because it is longer. She has sung on several avant projects -- The Sound of Animals Fighting, Seven Teares, Darius Jones' The Oversoul Manual, Robert Ashley's Crash. Also plays harmonium here, with Matt Nelson (soprano sax), Brandon Lopez (bass), and Max Jaffe (drums). I know it takes considerable virtuosity to sing to such abstract music, and with that virtuosity comes operatic tics I can't stand, but it's semi-remarkable anyway. B+(*)
Dave King Trucking Company: Surrounded by the Night (2016, Sunnyside): Bad Plus/Happy Apple drummer, third album for this group: Eric Fratzke (guitar), Chris Morrissey (bass), Chris Speed (tenor sax/clarinet), Brandon Wozniak (tenor sax). Mostly postbop, but last cut rocks out. B+(**)
Kirk Knuffke/Jesse Stacken: Satie (2015 [2016], SteepleChase): Erik Satie is one of the few classical composers I've been able to listen to without wretching, partly, I'm sure, because I've never heard anything long or complicated -- mostly short piano miniatures. I suspect these cornet-piano duets take liberties, especially as I look at the timings. B
Kool A.D.: Official (2016, self-released, EP): Rapper Victor Vazquez, ex-Das Racist, releases albums in bunches -- I see ten releses for 2016, but this is the only one I've seen noticed elsewhere. Upbeat, cheerful, I guess they call that hyphy. Seven cuts, 26:20. B+(**) [bc]
Michel Lambert: Alom Mola (2016 [2017], Jazz From Rant): Canadian drummer, most often seen accompanying François Carrier, has a handful of records on his own. This one veers toward classical with its string quartet, but adds percussive roughness, lovely bits of piano (Alexandre Grogg) or sax (Michel Côté), and an intriguing vocal by Jeannette Lambert. B+(***) [cd]
Jihye Lee Orchestra: April (2016 [2017], self-released): Korean composer, studied at Berklee and is based in Boston, composed this to commemorate the 2014 Sewol ferry disaster. She leads a 28-piece orchestra made up of Berklee faculty -- can't read the fine print, but Sean Jones is featured (flugelhorn), and Lee is credited with voice (although I can't say as I noticed). Hype sheet describes this as "lavish, heart-wrenching inspiration" -- not my idea of a recommendation. B- [cd]
Okkyung Lee & Christian Marclay: Amalgam (2014 [2016], Northern Spy): Cello and turntables, one long (36:20) cut, the electronics even squeakier than the cello. B
Jens Lekman: Life Will See You Now (2016, Secretly Canadian): Swedish singer-songwriter, fourth album, has developed into quite the melodist -- reminds me of Paul Simon, both in his skill level and how derivative it all seems, although he could still pick up some rhythmic tricks. He doesn't annoy me like Simon -- seems like a nice, fairly well adjusted guy -- but I also find him easier to be indifferent about. B+(***)
Daniel Levin Quartet: Live at Firehouse 12 (2016 [2017], Clean Feed): Cellist, lines up a neat little chamber jazz quartet here with viola (Mat Maneri), bass (Torbjörn Zetterberg), with no drums but a splash of vibes (Matt Moran). B+(**) [cd]
James Brandon Lewis Trio: No Filter (2016, BNS Sessions): Tenor saxophonist, has a couple impressive albums on a major label, goes low rent here, just bass (Luke Stewart) and drums (Warren Trae Crudup III) to highlight his leads. But then he adds a little rap and scat, the former showing promise, the latter squandering it. B+(**)
Brian Lynch: Madera Latino (2012 [2016], Hollistic MusicWorks, 2CD): Subtitled "A Latin Jazz Interpretation on the Music of Woody Shaw." Trumpet player, has a strong Latin Jazz résumé, draws the support of eight additional trumpet players for this project -- scattered about, but (for example) the opener features Dave Douglas, Etienne Charles, and Diego Urcola. The band consists of the Curtis brothers, Zaccai (piano) and Luques (bass), plus a tag team of up to four percussionists (Pedrito Martinez, Little Johnny Rivero, and Anthony Carrilo on that first cut, but Obed Calvaire plays drums on most of the rest). The rhythm rarely reaches a rolling boil, but this is really a feast for trumpet(s). B+(***)
Martha: Blisters in the Pit of My Heart (2016, Dirtnap): Indie power pop band from County Durham in the north of England, Housemartins territory, self-described as "queer, vegan, and anarchist." Second album, not sure the politics are sharp and clear enough (certainly not up to Housemartins standards), but as group rock goes probably the best I've heard since Parquet Courts. A-
Mark Masters Ensemble: Blue Skylight (2015-16 [2017], Capri): Arranger, runs a non-profit called American Jazz Institute, has recorded close to a dozen albums built on various songbooks from Duke Ellington to Steely Dan. Here he turns his attention to Charles Mingus and Gerry Mulligan with a skeletal 7- or 9-piece big band (four saxes both ways, plus trumpet and trombone on 5/11 cuts. B+(**) [cd]
Chelsea McBride's Socialist Night School: The Twilight Fall (2016 [2017], Browntasaurus): Young (age 24) Toronto composer-conductor-tenor saxophonist, runs a 19-piece big band prominently featuring singer Alex Samaras. Impressed by the music, including a bit built around electric guitar/keyb/bass. Much less so the singer/songs. B+(*) [cd]
Leyla McCalla: A Day for the Hunter, a Day for the Prey (2016, Jazz Village): Folksinging cellist, born in New York, parents Haitian, former member of Carolina Chocolate Drops, second album, some songs in French or Haitian Creole. B+(**)
Cass McCombs: Mangy Love (2016, Anti-): Singer-songwriter from California, ninth album since 2003. Good natured, competent, not especially interesting. B
Merso: Red World (2016, Good to Die): Seattle "dusky post rock quartet," Tristan Sennholz plays guitar and sings. Cover looks prog, and they run the title cut on for 20:49, but it holds up fine. Should also note The Bernie Sanders 2016 EP, actually a two-cut single they released during the primary season. B+(**)
Billy Mintz: Ugly Beautiful (2015 [2017], Thirteenth Note, 2CD): Drummer, started out on avant albums with Vinny Golia, this is more mainstream, a sprawling project which shows many facets. Two tenor saxes (John Gross and Tony Malaby), Roberta Piket on piano and Hilliard Greene on bass, plus guest alto sax on one track. B+(**) [cd]
Moksha: The Beauty of an Arbitrary Moment (2016, Jazzland): Norway-based trio -- Oddrun Lilja Jonsdottir (guitar) does most of the writing, with percussionists Sanskriti Shrestha (tabla, bulbul tarang, voice) and Tore Flatjord (darbuka, djembe, shaker, dhol) -- debut album. Mostly Indian rhythms, the guitar works similar to a sitar. B+(*)
Donny Most: Mostly Swinging (2016 [2017], Summit): Small-time actor, had a cast role on Happy Days, has lately retooled himself into a Sinatra-esque saloon singer -- actually, his "My Darling Clementine" reminds me more of Bobby Darin, but I'm admitting he's credible, the band is big and brassy (Wayne Bergeron leads the trumpets, although they packed in a string section for good measure). B+(**) [cd]
Mostly Other People Do the Killing: Loafer's Hollow (2016 [2017], Hot Cup): Since Peter Evans left bassist Moppa Elliott's "bebop terrorist" quintet, their mischief has gravitating toward pre-bop (one hesitates to call it trad) jazz. And they've been picking up extra members: Ron Stabinsky at piano, Dave Taylor on bass trombone, Brandon Seabrook on banjo and electronics, and most notably Steven Bernstein on trumpet (with or without slide). A- [cd]
The MUH Trio [Roberto Magris/Frantisek Uhlir/Jaromir Helesic]: Prague After Dark (2016 [2017], JMood): Piano trio, bassist and drummer presumably picked up in Prague, although Uhlir came with two songs. Mostly Magris originals, but covers from Herbie Nichols and Don Pullen are telling, and add to a fine outing. B+(***) [cdr]
Tisziji Muñoz: Tathagata Guitar: Whisperings of Peace (2016, Anami Music): American guitarist, b. 1946 in Brooklyn, based in Schenectady, has many dozens of albums since 1978, could be a major SFFR. This one showed up in a EOY list, and I can't find any info or credits (although it seems to be stocked by dozens of retailers. With bass and drums, I think: three long pieces with ripping leads; still interesting in the middle piece when he lets up. B+(***)
Tisziji Muñoz: Heart Ground (2016, Anami Music): Another of the seven albums the guitarist released in 2016, this one adding John Medeski (on piano) to his rhythm section. While Medeski is fast and florid, that doesn't seem to help the guitar. B+(*)
Doug Munro and La Pompe Attack: The Harry Warren Songbook (2016 [2017], GotMusic): Guitarist, did a previous album called A Very Gypsy Christmas which suggests he's a Django Reinhardt acolyte. Group revolves through four sessions, including bass, sometimes violin, plus up to two more guitarists at any given time (four are credited, Howard Alden is the one you probably know). Picks through more than a dozen great songs, starting with "Lullaby of Birdland." B+(***) [cd]
Brad Myers & Michael Sharfe: Sanguinaria (Hopefulsongs) (2016 [2017], Colloquy): Guitar and bass, respectively, several variants each, percussion too. Mostly duo, but song songs have guests on drums and/or percussion. Intricate, pleasant, hopeful. B+(*) [cd]
Qasim Naqvi: Chronology (2016, New Amsterdam): Pakistani, based in Brooklyn where he plays drums in the avant-jazz piano trio Dawn of Midi, tries his hand at electronic music. Six cuts, no times given, strikes me as short. Uneventful too. B
Old 97's: Graveyard Whistling (2017, ATO): Rhett Miller's guitar band when he's not doing something solo, dating back to 1994, this album almost light and frothy, at least once you get past the Jesus/God songs and into "Irish Whiskey Pretty Girls." B+(***)
Oui' 3: Occupy Your Mind (2016 [2017], ITI): Quasi-fusion trio -- Billy Joe Wiseman (sitar, guitars, synth guitars), Lou Castro (fretted & fretless basses), Jim Xavier (drums) -- everyone sings some. Long suit is groove, making this listenable but not very interesting. B [cd]
Keith Oxman: East of the Village (2016 [2017], Capri): Tenor saxophonist, leads a trio with Jeff Jenkins on organ and Todd Reid on drums. Basically a soul jazz move, mostly bright and upbeat. B+(**) [cd]
Jason Palmer: Beauty 'N' Numbers: The Sudoku Suite (2015 [2016], SteepleChase): Trumpet player, leads a quartet with guitar (Mike Moreno), bass, and drums through 16 named sections, adding up to 75:76. Nice trumpet, nicely set up. B+(**)
Hannah Peel: Awake but Always Dreaming (2016, My Own Pleasure): Singer-songwriter from Northern Ireland, second album, electropop but rather glum. B
Florian Pellissier Quintet: Cap De Bonne Esperance (2016, Heavenly Sweetness): French pianist, discography goes back to 2006, fourth Quintet album, a standard alignment with trumpet, sax, bass, and drums. Fast ones boppish, slow ones seductive, throws in an uncredited vocal at the end ("What a Difference a Day Makes" -- a nice touch. B+(**)
Luis Perdomo: Spirits and Warriors (2016, Criss Cross): Venezuelan pianist, well established in Latin jazz but this is a pretty straightforward hard bop lineup: Alex Sipiagin (trumpet/flugelhorn), Mark Shim (tenor sax/EWI), Ugonna Okegwo (bass), Billy Hart (drums). Title piece is an original six-part suite, followed by covers of Clifford Jordan and Hermeto Pascoal. B+(**)
Awa Poulo: Poulo Warali (2016 [2017], Awesome Tapes From Africa): From southwestern Mali, Fulani, a language/people which spans a stretch of the sub-Saharan Sahel from Guinea to Nigeria. B+(**)
Noah Preminger: Meditations on Freedom (2016 [2017], self-released): Tenor saxophonist, has made a strong impression since his 2008 debut, leads a two-horn quartet here with Jason Palmer getting a lot of lead space on trumpet. Covers from Dylan, Sam Cooke, George Harrison and Bruce Hornsby, along with originals with titles like "We Have a Dream," "Women's March," "The 99 Percent," "Broken Treaties." B+(***) [cd]
Primal Scream: Chaosmosis (2016, First International/Ignition): Scottish band, founded in 1982. I've never heard their early albums, which I guess were something else, but from 1997's Vanishing Point on they've been an electropop band, indeed one that sounds like it came out of the 1980s, not as much fun as the Pet Shop Boys but a good deal deeper than Duran Duran. B+(**)
Quantic Presenta Flowering Inferno: 1000 Watts (2016, Tru Thoughts): Will Holland, DJ born in England, based in New York after several years in Colombia, has twenty albums under various aliases, this the third as Flowering Inferno, some sort of reggae/dub concept, slightly removed. Mostly instrumentals, pretty enjoyable; occasional vocals, like the title song, work too. B+(**)
Renegades of Jazz: Moyo Wangu (2016, Agogo): Led by David Hanke, German, spent childhood years in Tanzania. Starts closer to Africa, but in the end turns into little more than a good groove. B+(***)
The Reunion Project: Veranda (2016 [2017], Tapestry): Names listed on the front cover: Tiago Costa (piano), Edu Ribeiro (drums), Bruno Migotto (bass), Chico Pinheiro (guitar), Felipes Salles (tenor and soprano sax, flute, clarinet, bass clarinet), all Brazilians (though at least the best known ones, Pinheiro and Salles, have Boston connections). All contribute songs (as does Jerome Kern). Relaxed, sinuous beat with slinky guitar and tasteful sax. B+(**) [cd]
Stephen Riley & Peter Zak: Haunted Heart (2014 [2015], SteepleChase): Tenor saxophonist, mainstream, has recorded on SteepleChase since 2005, paired here with the pianist for bare bones duets. Riley blows softly, almost a whisper, containing the intimacy, which the piano complements nicely. B+(**)
Stephen Riley/Peter Zak: Deuce (2014 [2017], SteepleChase): More tenor sax/piano duets, recorded the same time as their previous Haunted Heart, this time working a few originals (three Riley, one Zak) into the standards mix. Riley may be the softest tenor I've ever heard, but the understated approach works, especially warming up a standard like "Without a Song." B+(***)
Carrie Rodriguez: Lola (2016, Luz): Singer-songwriter, born in Texas (as was her father, folksinger David Rodriguez), cut some records with Chip Taylor then moved on to a solo career. Mexican roots, of course, which she indulges in more than usual this time. B+(*)
Roosevelt: Roosevelt (2016, City Slang): Marius Lauber, German electropop singer-songwriter, constructs wry songs with lush synths. B+(*)
The Sadies: Northern Passages (2017, Yep Roc): Country-ish band from Toronto, been around since the mid-1990s. Memorable song title: "God Bless the Infidels." Forgettable guest star: Kurt Vile. B+(*)
Sampha: Process (2017, Young Turks): Sampha Sisay, born in London, original singer in SBTRKT, first album after two EPs. Somewhere between trip hop and nu soul, evidently very fashionable -- album has an 86 score at Metacritic -- although most of it slips right past me. B+(*)
Sao Paulo Underground: Cantos Invisiveis (2016, Cuneiform): Sister city group, shares Rob Mazurek (cornet, keyboards, percussion) with Chicago Underground, the locals being Mauricio Takara (mostly drums), Guilherme Granado (mostly keyboards), and Thomas Rohrer (rabeca, flutes, soprano sax, electronics, percussion). Dense, complex, intensely rhythmic, closer to hip-hop than to MPB but even that's a stretch. B+(**) [dl]
Scarcity of Tanks: Ringleader Lies (2016, Total Life Society): Cleveland postpunk group, 7th album since 2008, actually a rather massive effort with 22 songs (5 topping 4 minutes, the longest an unpunkish 5:56) and (even more unpunklike) 17 musicians on the credits list (mostly guitar-bass-drums, a couple keyboards, a bit of violin, some percussion -- recognizable names include Nels Cline, Lee Ranaldo, and Mike Watt). Still sounds punkish. B+(**)
Luke Sellick: Alchemist (2016 [2017], Cellar Live): Bassist, from "the rich and eclectic musical climate of Winnipeg, Canada," after a spell at Juilliard currently based in "Harlem, NYC." Relaxed, friendly postbop, with Andrew Renfroe on guitar, either of two drummers, and a rotating horde of horn players (tenor saxophonist Jimmy Greene probably the best known). B+(**) [cd]
Skee Mask: Shred (2016, Ilian Tape): DJ/producer from Munich, Germany, has managed thus far to keep his name private. First album after a couple singles, basically just sketchy rhythm tracks, slight variances in gloss. Still works fine. B+(**)
Tommy Smith Youth Jazz Orchestra: Effervescence (2016 [2017], Spartacus): Big band, a project of the Scottish tenor saxophonist, playing repertoire from Woody Herman and Dizzy Gillespie to Chick Corea, a very "youth jazz" thing to do. Smith isn't listed among the saxophonists, but as director and producer. B+(**)
Snakehips: All My Friends EP (2016, Sony Music, EP): British electronica duo, Oliver Lee and James Carter, second EP (four cuts, 13:34), shows off some impressive friends: Tinashe, Chance the Rapper, Anderson .Paak, Malika, Tory Lanez. Songs have some depth and resonance, too. B+(***)
Snakehips: Forever (Pt. II) EP (2015, Sony Music, EP): First EP, also four cuts, 14:37, makes a case for their electronic swish and song craft but the featured vocalists are less than famous: Kaleem Taylor, SYD, Sasha Keable, Daniella T.A.O.L. B+(*)
Sneaks: Gymnastics (2016, Merge, EP): DC group, singer Eva Moolchan, bass and drum machine, minimalist postpunk without anger or frenzy or even much flash, compressing ten songs into a rather satisfying 13:45. B+(*)
Dele Sosimi Meets Prince Fatty & Nostalgia 77: You No Fit Touch Am in Dub (2016, Wah Wah 45s): Afrobeat keyboardist, born in London, parents Nigerian, played with Fela (1979-86) and his successors, his 2015 album forming the base for this live dub remix. B+(**)
Dele Sosimi: You No Fit Touch Am (2015, Wah Wah 45s): The previous year's album: hold the dub echo, bring the guitar and horns forward, you're squarely in Afrobeat territory, even if the songs only run 6:10-9:04. Tuneful, political, learned a lot working with the Kuti clan. B+(***)
Hiromi Suda: Nagi (2015 [2017], BluJazz): Japanese singer, based in New York, third album, wrote six (of thirteen) songs, the rest Brazilian including two Jobims and one Veloso. The latter dominate the album, no small thanks to guitarist Romero Lubambo, with Anne Drummond (flute), Julian Shore (piano), bass and drums helping out. B+(*) [cd]
Thee Oh Sees: A Weird Exits (2016, Castle Face): Rock band from San Francisco, dates back to 1997 although their early albums were released as OCS (which seems to have had several meanings). They have a dozen albums since 2008, counting a sub-30-minute follow-up to this called An Odd Entrances. With its long instrumental jams and occasional whiffs of the SF bands who invented the genre, this probably qualifies as psychedelia. Easy to hear why they have a following, not that I'm so inclined. B+(*) [yt]
Throttle Elevator Music: IV (2014-16 [2016], Wide Hive): LA-based quintet, fourth album, can bounce between deep funk and avant noise, and are probably best when they do both. Bassist Matt Montgomery writes the songs, guitarist Gregory Howe produces, both occasionally play keyboards, but most notable are the horns: Erik Jekabson (trumpet, flugelhorn) and superstar Kamasi Washington (sax). B+(**)
Throttle Elevator Music: Retrorespective (2016 [2017], Wide Hive): Expecting a compilation -- not a bad idea given saxophonist Kamasi Washington's recent breakout stardom -- but the cover actually notes "New Songs From" and re-reading the title uncovered a twist. Group gets a new drummer (Thomas McCree) and adds guitarist Ava Mendoza, but more importantly they open up the throttle on the horns. B+(***)
Tinariwen: Elwan (2016, Anti-): From northeast Mali, which is to say the vast Saharan heartland, though they've long since moved on, finding a convivial desert studio in California near Joshua Tree National Park, convenient for various semi-famous musicians (only one I recognize is Kurt Vile) to drop in and dissolve into what's more than ever trance music. Hard to differentiate among their eight albums, but this one lacks the frenzy I recall, yet doesn't suffer for that. A-
Trouble Kaze: June (2016 [2017], Circum-Disc): Kaze was a Satoko Fujii project, with Natsuki Tamura (trumpet), Christian Pruvost (trumpet), and Peter Orrins (drums), with three albums together. This group doubles up on piano (Sophie Agnel) and drums (Didier Lasserre) as well as trumpet, and sounds like someone is mixing some electronics in. Joint credits, five untitled parts. I find the long sub-audible stretches annoying, but the noise (when it appears) isn't without merit. B+(*) [cd]
Yves Tumor: Serpent Music (2016, Pan): Sean Bowie, raised in Tennessee, based in Turin, Italy, second album, electronica that undulates suggestively, unable to get up and dance. B+(*)
Baron Tymas: Montréal (2015 [2017], Tymasmusic): Guitarist, third album, grooveful, Joshua Rager's piano adds to the lushness, guest vocal doesn't help, guest trumpet does. B+(*)
Ryley Walker: Golden Sings That Have Been Sung (2016, Dead Oceans): Singer-songwriter from Rockford, IL -- I keep forgetting that because he regularly scores much higher on British EOY lists. But then I also file him under folk, probably because of his first label (Tompkins Square) and that's clearly wrong, even if his songcraft is rooted in realism. Album ends with a 41:01 live version of "Sullen Mind" which sounds closer to jazz (excluding the rare vocals but with a noise crackup). Probably best to treat the latter as a free bonus (it fills up sides 3 & 4 of the LP). B+(*)
David Weiss & Point of Departure: Wake Up Call (2015 [2017], Ropeadope): Trumpet player, a postbop figure the New Jazz Composers Octet but a hard bopper with the Cookers, fourth album with Point of Departure although the band has no constants other than the leader, and the tenor sax (Myron Walden or JD Allen) and one of the guitar slots (Travis Reuter or Nir Felder) are split here -- Ben Eunson evidently plays throughout, and his blistering solo on the opener sets the pace, which remains torrid throughout. In fact, front cover is illustrated with guitar and trumpet, so that seems to be the concept. A- [cd]
The XX: I See You (2017, Young Turks): Most sources lowercase xx, although typographically the albums always looked to use multiplication signs if you want to get pedantic about it. Looks close enough to uppercase for me. Tough for me to judge: the hooks slip in with barely a notice, aside from one song ("On Hold") which will wind up among the year's most surefire hits. A-
Peter Zak: Standards (2014 [2016], SteepleChase): Pianist, from Ohio, based in New York, has about a dozen albums since 1989, this a trio with Jay Anderson (bass) and Billy Drummond (drums), playing ten standards. B+(*)
Recent Reissues, Compilations, Vault Discoveries
African Head Charge: Return of the Crocodile (1981-85 [2016], On-U Sound): Adrian Sherwood dub project, "unreleased tracks and version excursions" between their debut (My Life in a Hole in the Ground) and their best known (Off the Beaten Path). Mostly trivia, but "Low Protein Snack" is a choice cut. B+(**)
Bitori: Legend of Funana: The Forbidden Music of the Cape Verde Islands (1997 [2016], Analog Africa): Victor Tavares, who left Cabo Verde in the 1950s for Sao Tomé & Principe and returned in 1997 with an accordion, reviving a Cabo Verdean style that had been banned by the Portuguese colonial rulers. B+(***)
J Dilla: The Diary (2001-02 [2016], Mass Appeal/Pay Jay): James Yancey, died in 2006 at age 32 (thrombotic thrombocytopenic purpura), better known as producer than rapper, although he raps on these tracks, meant to be his mainstream debut. Not sure how much was released at the time -- certainly the single "Fuck the Police," which comes with (but doesn't quite earn) a disclaimer. B+(*)
Doing it in Lagos: Boogie, Pop & Disco in 1980's Nigeria (1979-84 [2016], Soundway, 2CD): Uncertain about the years, but that's all the label talks about online. Deep dumpster diving, 21 artists and tracks I've never heard of, the fad of the moment being to mimic American pop, with Peter Abdul doing an amusing Michael Jackson. The disco is pretty mediocre, but this gets more interesting when they start tuning into P-Funk (e.g., Rik Asikpo's "Too Hot"). B
Anna Homler and Steve Moshier: Breadwoman & Other Tales (1985-93 [2016], RVNG Intl): Homler is a performance artist. She developed her Breadwoman character -- a face covered with a loaf of bread -- in 1982, and used it for her first album. Moshier is a composer, mostly working in Liquid Skin Ensemble. Hard to pin this down, a bit like Laurie Anderson only less witty, not to mention less catchy. B+(**)
Arthur Lipner: Two Hands One Heart: Best of Arthur Lipner (1990-2014 [2017], Malletworks Media, 2CD): Vibraphonist, also plays marimba, picks through nine albums here, divided into "acoustic" and "electric" discs. The former is predictably lighter, skimming on its groove, the latter similar with a few more twists. Makes for a couple hours of more than pleasant listening. B+(**) [cd]
Meridian Brothers V: El Advenimiento Del Castillo Mujer (2005 [2016], Discrepant): Vinyl reissue of the Colombian group's first album, recorded in Copenhagen by "core member" Eblis Alvarez, "abstract folk music" sounding remarkably disjointed -- recommended especially to fans of Tom Zé. A-
New York Noise: Dance Music From the New York Underground 1977-1982 (1977-82 [2016], Soul Jazz): Starts roughly where Brian Eno's No New York sessions left off -- Contortions and Mars included here, plus a later cut by DNA's Arto Lindsay -- and follows as "no wave" bands edge closer to a dance pulse, still keep it close and subtle -- no one here wants to be mistaken for disco. B+(**)
Joe Newman Sextet: The Happy Cats (1956 [2016], Fresh Sound): Trumpet player from New Orleans, played with Lionel Hampton, Illinois Jacquet, and for 13 years Count Basie with a couple dozen albums leading his own small groups (while not straying far: one of the best was called The Count's Men). With Frank Wess (tenor sax/flute), Frank Rehak (trombone), Johnny Acea (piano), Eddie Jones (bass), and Connie Kay (drums), plus some extra tracks. Easy swing, maybe too easy. B+(*)
Senegal 70: Sonic Gems and Previously Unreleased Recordings From the 70s (1970s [2015], Analog Africa): In 2009 Adamantios Kafetzis trekked to Senegal with a machine to digitize music which Moussa Diallo had recorded over four decades in Thiès, yielding "300 Senegalese songs that nobody had ever heard before." Five made the cut here, along with some less obscure period bands. Trivia, sure, but picks up over the second half. B+(**)
Sky Girl (1961-91 [2016], Efficient Space): Compiled by two French DJs, Julien Dechery and DJ Sundae, with fifteen songs I've never heard of, plays like a soundtrack to a relationship movie that isn't bad so much as achingly normal. B+(*)
Old Music
Anthony Braxton: Quintet (London) 2004: Live at the Royal Festival Hall (2004 [2005], Leo): Playing "Composition 343" (if you're counting), with Taylor Ho Bynum (trumpet), Mary Halvorson (guitar), Chris Dahlgren (bass), and Satoshi Takeishi (percussion). Took some extra volume to bring out the details, and most of what's interesting here is detail, as the piece doesn't exactly move. B+(**)
Anthony Braxton: Quartet (Moscow) 2008 (2008, Leo): Appears on Napster as Composition 367b, which is indeed the title of the main (70:04) piece, followed by a short (3:-1) "Encore." With Taylor Ho Bynum (cornet to valve trombone), Katherine Young (bassoon), and Mary Halvorson (electric guitar). Three horns skews the balance, especially as the guitar gets little solo space. The sort of abstraction that makes his compositions so difficult, with occasional flashes of the chops which can make them exciting. B+(**)
Avishai Cohen's Triveni: Dark Nights (2014, Anzic): Trumpet player from Israel, brother of Anat Cohen, not the bassist, probably has ten albums so far in various groups, this the third Triveni. Core group a trumpet trio with Omer Avital (bass) and Nasheet Waits (drums) although three tracks have guests: two each for Anat Cohen (clarinet) and Gerald Clayton (keyboards). Covers include "Goodbye Pork Pie Hat," "Lush Life," and with a Keren Ann vocal, "I Fall in Love Too Easily." B+(**) [bc]
James Luther Dickinson: Dixie Fried (1972, Atlantic): Memphis blues-rocker, died in 2009, Christgau liked (a little) his late albums but never weighed in on his debut (and only album up to 1997), expanded to 16 cuts and reissued by Light in the Attic in 2016. But Napster only offers 9 tracks, the original album. He draws his vocal clues and boogie moves from Jerry Lee Lewis, and they work best when he escapes the background singers that clutter up the first part of the album. Not a lost classic, but potential . . . botched. B
James Luther Dickinson: Jungle Jim and the Voodoo Tiger (2006, Memphis International): He spent the intervening decades producing and compiling records, collecting songs and letting his voice go to pot, playing in bands like Mudboy and the Neutrons and Raisins in the Sun. He released a live one in 1997 and a studio one in 2002, and finally landed on a label built for him. B+(**)
James Luther Dickinson: Dinosaurs Run in Circles (2009, Memphis International): Last album (unless you count the one that came out in 2012, three years post-mortem, I'm Just Dead I'm Not Gone). First time I really noticed his piano playing, probably because he's never taken it this easy before -- more Moon Mullican than Jerry Lee, and I'm happier for that. B+(**)
Jens Lekman: When I Said I Wanted to Be Your Dog (2004, Secretly Canadian): First album, seems low-budget and straightforward, quietly observant, a bit sweet. He sings the title like he's never heard of the Stooges, but the sentiment isn't as far removed as the music. B+(*)
Brian Lynch Sextet: Peer Pressure (1986 [1987], Criss Cross): First album, age 30, shows how well developed his trumpet was, a bright spot in an impressive postbop lineup: Ralph Moore (tenor sax), Jim Snidero (alto sax), Kirk Lightsey (piano), Jay Anderson (bass), Victor Lewis (drums). I was going to say no hint of his Latin Jazz interest, but then he took Horace Silver's "The Outlaw" out for a spin and got hooked. B+(**)
Brian Lynch Quintet: Back Room Blues (1989 [1990], Criss Cross): Effectively a hard bop record, powered by a superb retro rhythm section (David Hazeltine, Peter Washington, Lewis Nash), with potent Javon Jackson on tenor sax, though there's no doubt the leader is the man with the trumpet. B+(**)
Brian Lynch: Spheres of Influence (1997, Sharp Nine): Still trying to mix it up, with pianist David Kikoski the only other one on all tracks: half go postbop with Donald Harrison (alto sax), Essiet Essie (bass), and Jeff "Tain" Watts (drums); the other half go Latin with John Benitez (bass), Adam Cruz (drums), and Milton Cardona (congas), two of those cuts with an extra five-piece brass section. High point is a Harrison solo. B+(*)
Brian Lynch Latin Jazz Sextet: ConClave (2004 [2005], Criss Cross): The trumpeter's first explicit Latin Jazz group, although by this time he had played on several Eddie Palmieri albums. Two Cubans -- Ernesto Simpson and Roberto Quintero -- keep the percussion bubbling, with Boris Kozlov (bass), Luis Perdomo (piano), and Ralph Bowen (tenor sax). B+(**)
Brian Lynch: Unsung Heroes Vol. 2 (2008-09 [2013], Hollistic MusicWorks): Eleven songs, two by Lynch, the others by other trumpet players: Donald Byrd, Joe Gordon, Howard McGhee, Idrees Sulieman, Tommy Turrentine. Classic bop quintet, Vincent Herring on alto sax, Rob Schneiderman on piano. B+(**)
Brian Lynch and Spheres of Influence: ConClave Vol. 2 (2010 [2011], Criss Cross): Aside from the trumpet player, no continuity in the band from either of the previous albums referred to, but Yosvany Terry (alto sax), Manuel Valera (piano), Luques Curtis (bass), Justin Brown (drums) and Pedro Martinez (percussion) know their stuff. B+(**)
Rova: Long on Logic: Compositions by Fred Frith, Henry Kaiser, and Rova (1989 [1990], Sound Aspects): Saxophone quartet, date back to mid-1970s, going from soprano to baritone: Bruce Ackley, Steve Adams, Larry Ochs, John Raskin. Fred Frith composed and mixed the first three pieces, Henry Kaiser the fourth, all rigorously abstract B+(**) [bc]
Bob Wilber: Horns-a-Plenty (1994, Arbors): The horns are all in the leader's hands: he's credited with four saxes (tenor, alto, curved soprano, and straight soprano) and clarinet. Backed by piano (Johnny Varro), bass, and drums, playing a nice mix of originals and swing standards. B+(*)
The Bob Wilber/Dany Doriz Quintet: Memories of You: Lionel and Benny (1995 [1996], Black and Blue): Doriz is a French vibraphone player and sometime big band leader, so his affinity for Hampton is a given. Wilber gets a chance to air out his clarinet, evoking the small group sessions Goodman organized with Hampton in the late 1930s. B+(**)
Bob Wilber: Nostalgia (1996, Arbors): Playing soprano sax this time, which usually puts him in a Bechet frame of mind, but this is more relaxed, especially with Bucky Pizzarelli's laconic guitar, and Ralph Sutton hamming it up on piano. B+(**)
Bob Wilber/Dick Hyman: A Perfect Match: In Tribute to Johnny Hodges and Wild Bill Davis (1997 [1998], Arbors): Davis always struck me as a middling organ player, but he pioneered the instrument playing it in Louis Jordan's Tympany Five, made several records with legendary alto saxophonist Johnny Hodges in the 1960s, and played some with Duke Ellington just before/after Hodges' death. Of course, Wilber has no chance of matching Hodges, but Hyman's organ is a plus, and the group includes Britt Woodman on trombone and James Chirillo on guitar. The vintage Ellingtonia doesn't quite measure up, but "It's Only a Paper Moon" shines. B+(*)
Bob Wilber and the International March of Jazz All Stars: Everywhere You Go There's Jazz (1998 [1999], Arbors): You may quibble about the ten-piece band's star status -- Antti Sarpila, Bent Persson, and Lars Erstrand count as internationals (and possibly some others I'd have to look up -- Wilber was born in the US but lives in England, as does three-song singer Joanne Horton). Mixed blessings: the Ellingtonia Wilber loves tepid, but they jump all over "Mahogany Hall Stomp." B+(*)
Bob Wilber and the Tuxedo Big Band: Fletcher Henderson's Unrecorded Arrangements for Benny Goodman (2000, Arbors): Fine print reveals that the big band hails from Toulouse, France, but neither the label nor Discogs provides any names -- Arbors usually provides detailed booklets, and this is clearly a coup of sorts. What I can say is that the band is up to the challenge, as is Wilber's clarinet. A-
Bob Wilber and the Tuxedo Big Band: Rampage! (2011, Arbors): Returns direction of the Toulouse, France big band to Paul Cheron, on a program of Wilber arrangements and (mostly) originals. Not sure if it's the songs or the band, but they can't sustain their occasional brilliant flashes. B
Revised Grades
Sometimes further listening leads me to change an initial grade, usually either because I move on to a real copy, or because someone else's review or list makes me want to check it again:
---
American Honey [Original Motion Picture Soundtrack] (1974-2015 [2016], UME): [was B+(***)]: A- [cdr]
Additional Consumer News:
Previous grades on artists in the old music section.
Anthony Braxton: 53 other albums
Avishai Cohen: Introducing Triveni (2009 [2010], Anzic): B+(***)
Avishai Cohen: Triveni II (2012, Anzic): B+(**)
Avishai Cohen: Into the Silence (2015 [2016], ECM): B+(**)
James Luther Dickinson: Killers From Space (2007, Memphis International): B+(*)
Jens Lekman: Night Falls Over Kortedala (2007, Secretly Canadian): B+(*)
Jens Lekman: An Argument With Myself (2011, Secretly Canadian, EP): B+(***)
Jens Lekman: I Know What Love Isn't (2012, Secretly Canadian): A-
Brian Lynch: 24/7 (2002 [2005], Nagel Heyer): B+
Brian Lynch/Bill Charlap: Brian Lynch Meets Bill Charlap (2004, Sharp Nine): B+
Brian Lynch/Eddie Palmieri: Simpático (2005 [2006], ArtistShare): A-
Brian Lynch: Unsung Heroes (2008-2009 [2011], Hollistic Music Works): B+(***)
Brian Lynch/Emmet Cohen: Questioned Answer (2012 [2014], Hollistic MusicWorks): B+(**)
ROVA: Beat Kennel (1987, Black Saint) B-
ROVA: John Coltrane's Ascension (1995, Black Saint) B
ROVA:Orkestrova: Electric Ascension 2003 (2003 [2005], Atavistic): B
ROVA Saxophone Quartet: The Juke Box Suite (2006 [2007], Not Two): A-
ROVA & Nels Cline Singers: The Celestial Septet (2008 [2010], New World): B+(***)
Bob Wilber: Dancing on a Rainbow (1989, Circle): A
Bob Wilber and the Scott Hamilton Quartet (1977, Chiaroscuro): B
Bob Wilber: Bean (1994, Arbors) B+
Bob Wilber: More Never Recorded Arrangements for Benny Goodman, Volume Two (2002 [2003], Arbors): B+
Bob Wilber Is Here! (2010, Arbors): B+(**)
Bob Wilber and the Three Amigos (2012, Arbors): B+(***)
Notes
Everything streamed from Napster (ex Rhapsody), except as noted in brackets following the grade:
[cd] based on physical cd
[cdr] based on an advance or promo cd or cdr
[bc] available at bandcamp.com
[sc] available at soundcloud.com
[sp] available at spotify.com
[yt] available at youtube.com
[os] some other stream source
[dl] something I was able to download from the web; may be freely available, may be a bootleg someone made available, or may be a publicist promo
Monday, February 27, 2017
---
Music Week
Music: Current count 27834 [27814] rated (+20), 391 [386] unrated (+5).
Rated count slipped severely last week, and would have been much worse had I not dove down a hole trying to find a better Brian Lynch album than I was already aware of -- I have his 2006 collaboration with Eddie Palmieri, Simpático, at A-, and Unsung Heroes (2011) as well as last year's Madera Latino at B+(***). I found lots of pretty good records, but nothing better than those.
Excuses, excuses: I took Tuesday off to cook birthday dinner for my wife: a half-dozen Japanese dishes including salmon teriyaki and a flourless chocolate cake for dessert. Lost Monday evening shopping, and queued up three "good ol' good 'uns" while I was cooking -- Ronnie Lane's One for the Road, The Very Best of the Drifters, and Louis Jordan's Five Guys Named Moe: Vol. 2 -- and enjoyed them so much I repeated them, twice. Even now, I have Jordan songs rattling around my head. Also took some time on Sunday for an encore dinner: leftovers (mostly extra produce as opposed to reheating, but I turned the excess dashi into miso soup) plus chicken wings coated in a sticky teriyaki glaze. Alas, no new dessert.
Other things that slowed me down: my two new A- jazz records got a lot of exposure -- the Satoko Fujii double got three plays, and MOPDTK probably got six, maybe more. Not so hard to make up my mind, but I kept putting off the writing. Two non-jazz records also got three spins each: the Jens Lekman that got a Christgau A (and is currently rated 11th at Metacritic, down from 2nd when I first noticed it) and the Jesca Hoop record I actually prefer (currently 5th at Metacritic -- note that the current 2 [Tinariwen] and 3 [XX] albums are already on my fledgling 2017 A-list, although I'm not much impressed by top-rated Sampha, nor by the 6 [Loyle Carner] and 7 [William Basinski] records I checked out this week). Mark Masters and Billy Mintz also got more plays than should have been necessary.
As that rundown suggests, I spent more time looking at 2017 than 2016 releases last week, for the first time this year. As it is, I've heard 91 of the top 100 new records in my 2016 EOY Aggregate -- up from 71 as recently as 2014 (at least that's what a post I found said; I probably listened to a few more after that). I didn't add any new lists to the Aggregate last week, although I plugged in a couple new grades (from Christgau and myself).
I did spend quite a bit of time last week collecting reviews from my Streamnotes columns. I'm currently up to October 2015, so I still have about 17 months to sort through (this month's column should be up later this week, probably about the time I catch up). Reviews for 20th century albums go straight into the draft file, which is currently at 415 pages (225k words). Later reviews go into a sorted text file which I'll later use to fill up the 21st century book (currently Jazz CG only: 145 pages, 52k words; the text file has 1064k words, of which perhaps as much as one-third are redundant entries, so maybe 750k words, which in the current format would mean about 1300 pages).
I think the next step after Streamnotes will be to go through the database files and add stubs for all of the rated but unreviewed albums. That should push the 20th century guide up a bit over 500 pages, but will add very little to the 21st century. I don't think I have enough material for a valid 20th century guide, but I do have more than I expected when I started gathering this writing. I've also skipped over a shitload of non-jazz reviews (I mean thousands), which could be used to seed other projects: my database ratings for country, blues, and pre-1980 rock are pretty encyclopedic, but I doubt if I have reviews for more than 20% of any of them.
---
Another time sink last week was watching the Oscars and several nominated films on demand (and La La Land in the theater). I've started a book file where I'm collecting political blog posts (I'm still back in 2002, so this has just started). I've been running across a lot of movie reviews from back then, and have squirreled them away in an appendix. Reminds me how much more I saw then than now. Still, I thought I'd look back at the 2016 film list and at least jot down some grades as best I remember them.
Hail, Caesar!: B
Finding Dory: Animation. B
The Secret Life of Pets: Animation. B+
Hell or High Water: B+
Snowden: A-
Moonlight: B+
Loving: A-
Arrival: B+
Manchester by the Sea: B+
La La Land: A-
Not much here, and seems even less given that I saw fewer than half in the local monopoly's theaters. Probably the fewest movies I've seen in any year since the mid-1980s. Aside from the snub to Snowden, I don't begrudge the Oscar picks -- Moonlight seems better in memory than it did at the time; Manchester too. Still, far from a banner year.
Oh, we also saw a mockumentary Jason Bailey produced -- not on the Wikipedia list, and not really released yet so I can't look up the title, but I enjoyed it more than anything listed above.
More movies I kinda wished we had seen (well, had some small interest in, sometimes very small): Everybody Wants Some!! (Richard Linklater), Elvis & Nixon, Florence Foster Jenkins, Café Society (Woody Allen), Me Before You, Our Kind of Traitor, Captain Fantastic, Absolutely Fabulous: The Movie, Jason Bourne, Equity, Sully, The Magnificent Seven, Queen of Katwe (Mira Nair), Deepwater Horizon, Miss Peregrine's Home for Peculiar Children (Tim Burton), The Girl on the Train, The Birth of a Nation, Hacksaw Ridge, Fantastic Beasts and Where to Find Them, Lion, Jackie, Fences, Hidden Figures. Laura saw Zootopia and hated it.
---
New records rated this week:
William Basinski: A Shadow in Time (2017, Temporary Residence): [r]: B
Loyle Carner: Yesterday's Gone (2017, AMF): [r]: B
Allison Crutchfield: Tourist in This Town (2017, Merge): [r]: B+(**)
Satoko Fujii: Invisible Hand (2016 [2017], Cortez Sound, 2CD): [cd]: A-
Jean-Brice Godet: Lignes De Crêtes (2016 [2017], Clean Feed): [cd]: B+(***)
Jesca Hoop: Memories Are Now (2017, Sub Pop): [r]: A-
Jens Lekman: Life Will See You Now (2017, Secretly Canadian): [r]: B+(***)
Brian Lynch: Madera Latino (2012 [2016], Hollistic MusicWorks, 2CD): [r]: B+(***)
Mark Masters Ensemble: Blue Skylight (2015-16 [2017], Capri): [cd]: B+(**)
Billy Mintz: Ugly Beautiful (2015 [2017], Thirteenth Note, 2CD): [cd]: B+(**)
Mostly Other People Do the Killing: Loafer's Hollow (2016 [2017], Hot Cup): [cd]: A-
The Sadies: Northern Passages (2017, Yep Roc): [r]: B+(*)
Old music rated this week:
Jens Lekman: When I Said I Wanted to Be Your Dog (2004, Secretly Canadian): [r]: B+(*)
Brian Lynch Sextet: Peer Pressure (1986 [1987], Criss Cross): [r]: B+(**)
Brian Lynch Quintet: Back Room Blues (1989 [1990], Criss Cross): [r]: B+(**)
Brian Lynch: Spheres of Influence (1997, Sharp Nine): [r]: B+(*)
Brian Lynch Latin Jazz Sextet: ConClave (2004 [2005], Criss Cross): [r]: B+(**)
Brian Lynch: Unsung Heroes Vol. 2 (2008-09 [2013], Hollistic MusicWorks): [r]: B+(**)
Brian Lynch and Spheres of Influence: ConClave Vol. 2 (2010 [2011], Criss Cross): B+(**)
---
Unpacking: Found in the mail last week:
Bill Brovold & Jamie Saft: Serenity Knolls (Rare Noise): advance: March 31
David Feldman: Horizonte (self-released): March 10
Jü: Summa (Rare Noise): advance, March 31
Robert McCarther: Stranger in Town (Psalms 149 Music)
Bill O'Connell: Monk's Cha Cha: Live at the Carnegie-Farian Room (Savant)
Miles Okazaki: Trickster (Pi): March 24
Rocco John: Peace and Love (Unseen Rain): March 3
University of Toronto 12Tet: Trillium Falls (UofT Jazz): March 10
University of Toronto Jazz Orcherstra: Sweet Ruby Suite (UofT Jazz): March 10
Jim Yanda Trio: Regional Cookin' (1987, Corner Store Jazz)
Jim Yanda Trio: Home Road (Corner Store Jazz, 2CD)