Blog Entries [10 - 19]
Sunday, February 26, 2017
---
Weekend Roundup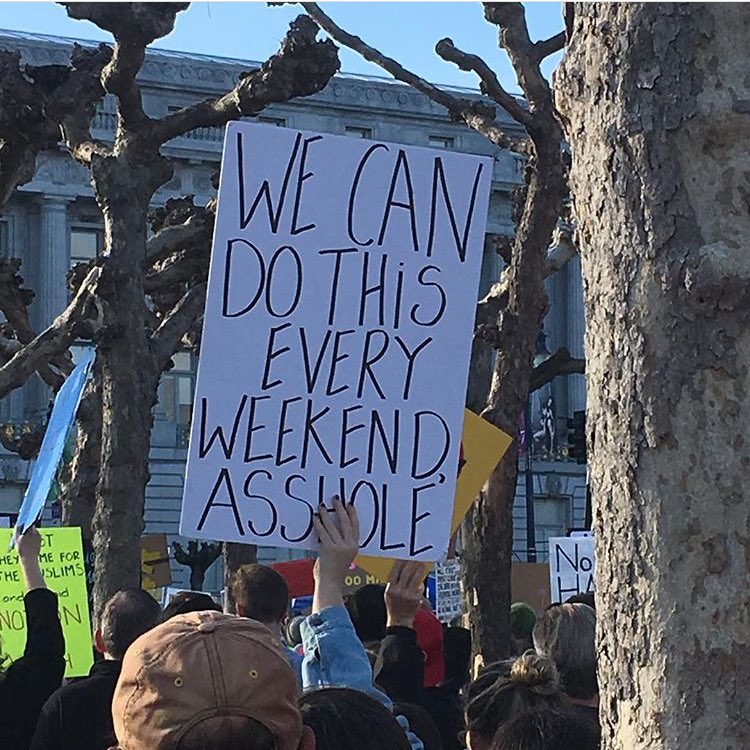 Another week, so here we go again.
---
Some scattered links this week in the Trumpiverse:
---
Also a few links less directly tied to the ephemeral in America's bout of political insanity:
Andrew Bacevich: At the Altar of American Greatness: There's a line deep into this piece about how "it's the politics that's gotten smaller," and indeed this piece is a good deal smaller than at first advertised -- see the subtitle: "David Brooks on Making America Great Again." Brooks is normally an easy target, but Bacevich stumbles, declaring "among contemporary journalists, he is our Walter Lippmann, the closest thing we have to an establishment-approved public intellectual." Lippmann retired in 1967, so for me was a famous name that signified little -- even today most of what I know about him I had gleaned from Walter Karp's The Politics of War, which featured him as a prominent hawk behind the so-called Great War, but while he often catered to political power, the main thing he's remembered for was his cynicism about the ignorance and gullibility of the American people. Brooks, on the other hand, is little more than a partisan hack with a bit of cosmopolitan make up to pass muster with New York/Washington elites. Still, it's interesting that Bacevich digs up a Brooks column from 1997 prefiguring Donald Trump (cue Marx's joke about tragedy/farce), titled "A Return to National Greatness" -- a title Brooks reiterated in 2017. Especially precious is the line: "The things Americans do are not for themselves only, but for all mankind." He should pinch himself to recall that he's talking about a country which positively worships the ideal of individuals pursuing their self-interest -- as witnessed by the fact that we just elected as president a guy who has done nothing but for more than fifty years.

Under the circumstances, it's easy to forget that, back in 2003, he and other members of the Church of America the Redeemer devoutly supported the invasion of Iraq. They welcomed war. They urged it. They did so not because Saddam Hussein was uniquely evil -- although he was evil enough -- but because they saw in such a war the means for the United States to accomplish its salvific mission. Toppling Saddam and transforming Iraq would provide the mechanism for affirming and renewing America's "national greatness."

Anyone daring to disagree with that proposition they denounced as craven or cowardly. Writing at the time, Brooks disparaged those opposing the war as mere "marchers." They were effete, pretentious, ineffective, and absurd. [ . . . ]

In refusing to reckon with the results of the war he once so ardently endorsed, Brooks is hardly alone. Members of the Church of America the Redeemer, Democrats and Republicans alike, are demonstrably incapable of rendering an honest accounting of what their missionary efforts have yielded.

Brooks belongs, or once did, to the Church's neoconservative branch. But liberals such as Bill Clinton, along with his secretary of state Madeleine Albright, were congregants in good standing, as were Barack Obama and his secretary of state Hillary Clinton. So, too, are putative conservatives like Senators John McCain, Ted Cruz, and Marco Rubio, all of them subscribing to the belief in the singularity and indispensability of the United States as the chief engine of history, now and forever. [ . . . ]

That Donald Trump inhabits a universe of his own devising, constructed of carefully arranged alt-facts, is no doubt the case. Yet, in truth, much the same can be said of David Brooks and others sharing his view of a country providentially charged to serve as the "successor to Jerusalem, Athens, and Rome." In fact, this conception of America's purpose expresses not the intent of providence, which is inherently ambiguous, but their own arrogance and conceit. Out of that conceit comes much mischief. And in the wake of mischief come charlatans like Donald Trump.

Srecko Horvat: Tom Hardy's Taboo goes to the heart of our new imperialist darkness: Not sure the series is that coherent, but the asides like how "colonialism doesn't cause misery only in poorer countries, it boomerangs back to rich countries with their rising inequality" are spot on. Also he notes how today private companies, much like the "honourable" British East India Company two centuries ago, have become far-from-benign forces all around the world (and he didn't even cite Exxon Mobil as an example).

Robin McKie: Biologists say half of all species could be extinct by end of century: Not really a new story: I read a lot about mass extinction back in the 1990s and maybe earlier, when the Alvarez theory of the K-T extinction event became popular and Carl Sagan came up with the notion of "nuclear winter." So, no surprise that it's gotten worse. Still, I'm struck by how the threat has receded in our consciousness as our politicians keep coming up with more urgent short-term crises. Thinking about the end of the century has started to look like a luxury.

John Nichols: Tom Perez Narrowly Defeats Keith Ellison for DNC Chair: Margin over Keith Ellison was 35 votes. It's tempting to regard Perez as a corporate stooge, but Esme Cribb has him saying some useful things, like: "I heard from rural America that the Democratic Party hasn't been there for us recently"; "We also have to redefine our mission"; and "Our unity is our greatest strength, and frankly our unity is Donald Trump's greatest nightmare." Underscoring that unity, he named Ellison "deputy chair" (see Trump Claims DNC Chair Race Was 'Totally Rigged,' Offers No Evidence.
---
POSTSCRIPT:
Monday, February 20, 2017
---
Music Week
Music: Current count 27814 [27779] rated (+35), 386 [393] unrated (-7).
Still mostly 2016 releases below, including a couple A-list finds (the current A-lists are 74 jazz and 67 non-jazz), but the share is dropping as I dip more often into my 2017 new jazz queue. Also checked out the new Tinariwen, which even with its American guests is very similar to old Tinariwen, still enough for my second 2017 non-jazz A- (after Run the Jewels 3).
Still added a few more 2017 lists to the EOY Aggregate file (a couple are mentioned in "recommended links" below). The new lists resulted in several changes to the top-twenty rank order, mostly in line with longer term trends: A Tribe Called Quest climbed into 5th, ahead of Solange; Chance the Rapper is up to 7th, barely edging Kanye West and dropping Nick Cave to 9th; Anderson .Paak took 11th from Bon Iver; Leonard Cohen took 13th from Car Seat Headrest; Mitski took 18th from Kaytranada. I'd say most of these cases favor the better record (aside from the last pair).
Not sure I'm done, but the rate of additions slowed down quite a bit midweek, as the weather warmed up enough to do some yardwork (well, actually we've been breaking records), and I finally resumed collecting reviews for the Jazz Guide(s). The latter got to be much more fun after I finished the 2001-09 notebooks (I'm assuming anything after that is redundant with the column files) and moved into Rhapsody Streamnotes, and the latter got to be more fun once I hit 2014, when I consolidated Jazz Prospecting and Recycled Goods into Streamnotes (finally, everything I run into is new for the books). Currently up to May 2014, and the 20th Century compilation is up to 374 pages. Good chance I'll finish Streamnotes this coming week.
The first two entries under "old music" were picked up while looking for newer albums. I was pleased to find Bandcamp sites for Anzic Records (looking for Daniel Freedman) and for ROVA, but both turned out to be less than ideal: Anzic had a couple albums complete, but others didn't have enough tracks to review (Anat Cohen was one important artist I wasn't able to fill in).
The reason I looked up Bob Wilber was a Facebook post by Chris Drumm inquiring about worthwhile Arbors Records releases. I've long been a fan of Wilber's and was pleased to find one album I've heard a lot about (Fletcher Henderson's Unrecorded Arrangements for Benny Goodman, a PG 4-star and a Gary Giddins favorite). The Henderson record lived up to its billing, but nothing else I had missed turned out to be essential. And still, my own Wilber favorite is 1989's Dancing on a Rainbow (Circle).
I should probably remind readers that I occasionally write little 140-character nuggets as @tomhull747. My "follower" count recently hit 250. Mostly notices of new blog posts, but sometimes something else. Total tweets to date 1714, average rate down since I stopped trying to review records on the fly, so I'm not going to swamp your feed -- just occasionally remind you of something interesting.
---
Recommended music links:
---
New records rated this week:
Angles 9: Disappeared Behind the Sun (2016 [2017], Clean Feed): [cd]: B+(**)
CP Unit: Before the Heat Death (2016 [2017], Clean Feed): [cd]: B+(***)
Tim Daisy: October Music Vol. 2: 7 Compositions for Duet (2016, Relay): [bc]: B+(**)
Bill Evans/Scottish National Jazz Orchestra: Beauty & the Beast (2011 [2016], Spartacus): [cd]: B+(**)
Factory Floor: 25 25 (2016, DFA): [r]: A-
Daniel Freedman: Imagine That (2016, Anzic): [bc]: B+(***)
Joana Gama/Luís Fernandes/Richardo Jacinto: Harmonies (2016 [2017], Shhpuma): [cd]: B+(***)
Josh Green & the Cyborg Orchestra: Telepathy & Bop (2016 [2017], self-released): [cd]: B+(*)
Rich Halley/Carson Halley: The Wild (2015 [2017], Pine Eagle): [cd]: A-
Kayo Dot: Plastic House on Base of Sky (2016, The Flenser): [r]: B
Amirtha Kidambi/Elder Ones: Holy Science (2016, Northern Spy): [r]: B+(*)
Dave King Trucking Company: Surrounded by the Night (2016, Sunnyside): [r]: B+(**)
Daniel Levin Quartet: Live at Firehouse 12 (2016 [2017], Clean Feed): [cd]: B+(**)
Martha: Blisters in the Pit of My Heart (2016, Dirtnap): [r]: A-
Donny Most: Mostly Swinging (2016 [2017], Summit): [cd]: B+(**)
The MUH Trio [Roberto Magris/Frantisek Uhlir/Jaromir Helesic]: Prague After Dark (2016 [2017], JMood): [cdr]: B+(***)
Tisziji Muñoz: Tathagata Guitar: Whisperings of Peace (2016, Anami Music): [r]: B+(***)
Tisziji Muñoz: Heart Ground (2016, Anami Music): [r]: B+(*)
Doug Munro and La Pompe Attack: The Harry Warren Songbook (2016 [2017], GotMusic): [cd]: B+(***)
Oui' 3: Occupy Your Mind (2016 [2017], ITI): [cd]: B
Jason Palmer: Beauty 'N' Numbers: The Sudoku Suite (2015 [2016], SteepleChase): [r]: B+(**)
Luke Sellick: Alchemist (2016 [2017], Cellar Live): [cd]: B+(**)
Tommy Smith Youth Jazz Orchestra: Effervescence (2016 [2017], Spartacus): [cd]: B+(**)
Snakehips: Forever (Pt. II) EP (2015, Sony Music, EP): [r]: B+(*)
Snakehips: All My Friends EP (2016, Sony Music, EP): [r]: B+(***)
Tinariwen: Elwan (2017, Anti-): [r]: A-
Recent reissues, compilations, and vault discoveries rated this week:
Anna Homler and Steve Moshier: Breadwoman & Other Tales (1985-93 [2016], RVNG Intl): [r]: B+(**)
Sky Girl (1961-91 [2016], Efficient Space): [r]: B+(*)
Old music rated this week:
Avishai Cohen's Triveni: Dark Nights (2014, Anzic): [bc]: B+(**)
Rova: Long on Logic: Compositions by Fred Frith, Henry Kaiser, and Rova (1989 [1990], Sound Aspects): [bc]: B+(**)
Bob Wilber: Horn's-a-Plenty (1994, Arbors): [r]: B+(*)
The Bob Wilber/Dany Doriz Quintet: Memories of You: Lionel and Benny (1995 [1996], Black and Blue): [r]: B+(**)
Bob Wilber: Nostalgia (1996, Arbors): [r]: B+(**)
Bob Wilber/Dick Hayman: A Perfect Match: In Tribute to Johnny Hodges and Wild Bill Davis (1997 [1998], Arbors): [r]: B+(*)
Bob Wilber and the International March of Jazz All Stars: Everywhere You Go There's Jazz (1998 [1999], Arbors): [r]: B+(*)
Bob Wilber and the Tuxedo Big Band: Fletcher Henderson's Unrecorded Arrangements for Benny Goodman (2000, Arbors): [r]: A-
Bob Wilber and the Tuxedo Big Band: Rampage! (2011, Arbors): [r]: B
---
Grade changes:
American Honey [Original Motion Picture Soundtrack] (1974-2015 [2016], UME): [cdr]: [was B+(***)]: A-
---
Unpacking: Found in the mail last week:
Bill Hart: Touch of Blue (Blue Canoe)
Doug MacDonald: Jazz Marathon 2 (BluJazz, 2CD)
The Milwaukee Jazz Orchestra: Welcome to Swingsville! (BluJazz)
Adam Rudolph's Moving Pictures: Glare of the Tiger (M.O.D. Technologies): March 10
Sunday, February 19, 2017
---
Weekend Roundup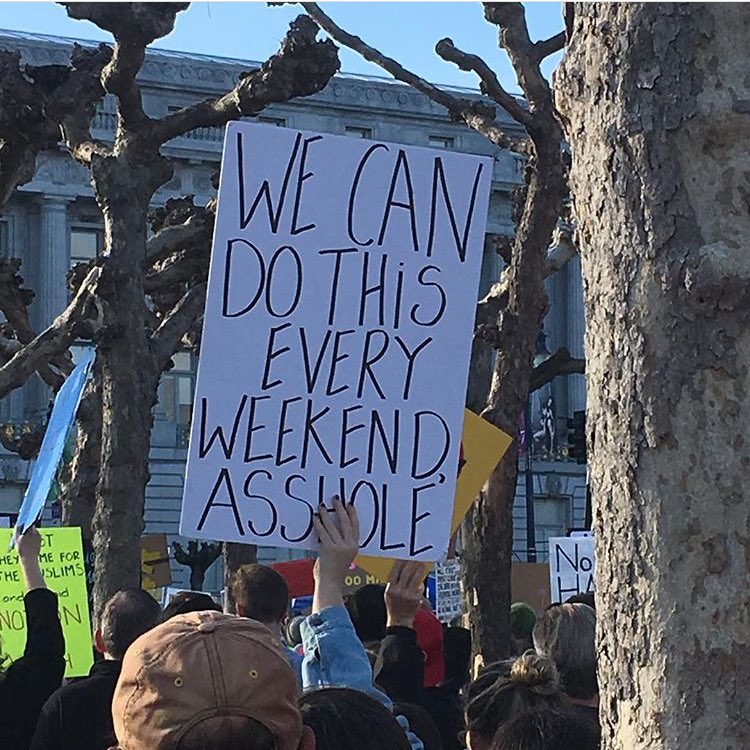 Trump's crazy, disjointed press conference had me thinking: I doubt that Donald Trump has ever read David Ogilvy, but he's done a bang-up job of following Ogilvy's main piece of advice on living one's life:
Develop your eccentricities while you are young. That way, when you get old, people won't think you're going gaga.
Trump's biography is chock full of such peculiarities, and indeed that's given him a certain protection against anything he does now -- a way of making excuses, rationalizing his tirades and outrages.
Still, I think the most important lesson from last week is the extent to which Trump has chosen to vilify the media. Admittedly, that's a tactic that has served him well in the past, but there is a fundamental difference between attacking the system from outside and defending the system he's gained control of. The media has always been eager to kowtow to power, but that's partly because they expect some stroking in return. Trump's characterization of everything they say as "fake news" is an affront (and a challenge) to their self-image.
On the other hand, Trump's emergence as crazy-in-chief has thus far worked out nicely for the Republican party regulars, both in Congress and increasingly in the administration (and eventually in the courts). As any con artist knows, the key is to get the marks to pay attention elsewhere while they pull off their manipulations unseen, and Trump is a marvelous distraction. Isn't it interesting that Trump's own staunchest campaign supporters have failed to get job offers in the new regime: Rudy Giulliani, Chris Christie, Newt Gingrich? Even Kris Kobach, the only Republican in Kansas to endorse Trump before the caucuses here, was passed over despite a couple of high-profile photo ops with Trump. The only exception I can think of is former Senator, new Attorney General Jeff Sessions. Trump has managed to keep a couple pet advisers like Steve Bannon and Kellyanne Conway in non-policy positions, but that's about it. He's well on his way to becoming the loneliest and most expendable man in his administration. I can't say as I'm surprised.
---
Some scattered links this week in the Trumpiverse:
Zoë Carpenter/George Zornick: Everything Trump Did in His 4th Week That Actually Matters: e.g., "it was a bad week for clean water."

Fired National Security Adviser Michael Flynn.
Signed a bill to allow coal-mining operations to put more pollution in streams.
Allowed oil companies to hide bribes to foreign governments.
Pulled back a defense of an Obama-era transgender protection effort.
Nominated a new secretary of labor. Alex Acosta, after Andrew Puzder withdrew.
Issued a new Obamacare rule that makes getting coverage more difficult.
Stepped up immigration raids.

Trump's Mar-a-Lago insecure Situation Room where club members and staff can eavesdrop freely: Actually, I thought it somewhat charming that a president can operate in such a public setting, until I remembered that the other guests had to pay Trump $200K to join his club -- "pay for access" at a level the Clintons can only dream of.

Zach Cartwright: Here's the stunning number of White House staffers who quit or got fired this week: Michael Flynn, of course, but he merely heads the list.

Stephen F Cohen: Kremlin-Baiting President Trump (Without Facts) Must Stop: This is a little weird in that Cohen, who's been one of the saner "Russia experts" of the last couple decades, refers to himself in the third person. He provides a six-point debunking of various charges leveled about Trump's (and Flynn's) relationship to Russia, and I reckon he's mostly right there -- even where he seems to excuse Trump. What he doesn't do is explain why such misinformation "must stop": it may seem easy to score points against Trump by playing on decades of Cold War myth -- basically the old McCarthyite red-baiting smear tactic, but even less specific about the evil Putin putatively represents -- but it should be embarrassing for Democrats to fall back on clichés that were then and still are meant to undermine world peace. (Isn't a peaceful world subject to international law and order and norms of justice something Democrats still believe in?) It also belies any notion that Democrats are the "reality-based" party -- they're so hepped up on the jargon of American exceptionalism they can't begin to see how America and the world have changed. Moreover, they've fallen behind the American people, who no longer appreciate such sabre-rattling against "evil empires": not that Trump himself has turned realist -- he still sees plenty of evil to vanquish, but his reluctance to demonize Russia is at least one step in the right direction.

Tom Boggioni: Michael Flynn's Replacement Turned Down the Job After Watching Trump's 'Unhinged' Press Conference: Admiral (and Lockheed-Martin executive) Robert Harward was next in line for the job. Fred Kaplan also wrote about this: Robert Harward Just Gave Cover to Every Competent Professional Who Wants to Turn Down Trump. On Flynn, see Nicholas Schmidle: Michael Flynn, General Chaos.

John Feffer: Steven Bannon's Real Vision Isn't America First. It's America Alone. Isn't that always the problem with nationalists? Their appeal is limited to one favored country, and sooner or later -- and any measure of success means sooner -- they repel all other countries. The US built its world-straddling pre-eminence less by dealing harshly with enemies than by cultivating allies, sometimes playing on fear of other powers but more often by offering generous rewards (like free trade for export-minded Asian countries, and cheap defense for war-weary Europe). Take the carrots away, or worse still demand tribute from your former allies, and they'll eventually turn away, or even retaliate. America Alone is likely to turn into a much poorer place. Feffer also wrote Killer Presidents, on the current political popularity of tough guys like Rodrigo Duterte in the Philippines, or indeed Trump himself. It's no accident that Trump ordered a botched Seal Team 6 raid in his first weeks. He want to show the world he's eager to kill too -- indeed, it seems like a rite of passage for all American presidents. For another take on the self-limits of nationalism, see (hard to believe I'm recommending him) Max Boot: Trump's Big Mouth Has Already Weakened America: After detailing many examples, he admits:

In fairness to Trump, it's true that Rome wasn't destroyed in a day, and it will take him more than three weeks to undo 70 years of American foreign policy and trade relations. [ . . . ]

But for the time being the 54 percent of Americans who didn't vote for Trump -- and the roughly 95 percent of the world that was horrified by his campaign -- should be breathing a sigh of relief that his actions are not turning out to be quite as radical as his rhetoric. [ . . . ]

[Why?] Because his words are so immoderate. He continues to engage in fraudulent rhetoric and unhinged personal attacks -- he especially loves to tweet in UPPERCASE LETTERS! -- that create an unsettled environment of crisis, uncertainty, and concern. His own babble and bluster does more than any critic to discredit him.

Jacob Heilbrunn: The Most Dangerous Man in Trump World? Profile of Peter Navarro, nominally head of Trump's National Trade Council -- like so many Trump officials, he was given a job he doesn't believe in just so he can wreck it -- and a long-time crackpot anti-China hawk.

Allegra Kirkland: The 8 Craziest Moments of Trump's Impromptu Press Conference; also Esme Cribb: Reporter: I've 'Never' Seen Anything Like Trump's Press Conference in 20 Years.

David Ferguson: Trump's Constant Lies and 'Endless Self-Pity' Are Unlike Any Other American President: So says Steve Schmidt, who ran McCain's 2008 campaign.

Kali Holloway: 21 Facts That Explain Exactly Who Stephen Miller Is: A "White House adviser," recently emerged as a Trump spokesman.

Richard Lardner: Trump's Plan for Spike in Defense Spending Faces Big Hurdles: I'm especially struck by this:

Senior U.S. commanders have flatly warned that the spending caps set by the Budget Control Act are squeezing the armed forces so hard that the number of ready-to-fight units is dwindling. That means beating powers such as Russia or China is tougher than it used to be as aging equipment stacks up, waiting to be repaired, and troops don't get enough training.

Uh, someone actually thinks the US can "beat" Russia or China in a war? Or that that should be a goal of the US "Defense" Department?

Nancy LeTourneau: Trump Is Proving to Be the Embodiment of Everything Republicans Have Stood For:

To expect anything different from Trump than the worst Republicans have put forward over the last few decades is a fool's errand. They share a world view that just so happens to be antithetical to what most of us mean when we refer to democracy.

Amanda Marcotte: Michael Flynn, right-wing hero: Will conservatives embrace him the way they did Ollie North: I doubt it, mostly because I doubt Flynn has ever been coherent enough to develop the sort of consistency that attracts believers. Nor can Flynn claim to be a martyr to the cause -- North and G. Gordon Liddy (Marcotte's other example) both did jail time, and Marcotte notes "These two men are beloved by conservatives because of their criminal histories, not despite them." Flynn just seems to be political roadkill, and while there were plenty of good reasons for getting rid of him, the one that worked wasn't one of them. (Unfortunately, this only helps reinforce the Democrats' notion that the best way to counter Trump is to play up the "soft on Russia" card, as opposed to hammering him on any of dozens or hundreds of policies that really do harm to working Americans.)

Heather Digby Parton: Donald Trump's disastrous reality show: Master trash-talker turned flailing president searches for a new villain

Matt Taibbi: Trump's Repeal of Bipartisan Anti-Corruption Measure Proves He's a Fake; also The End of Facts in the Trump Era.

Sophia Tesfaye: Republicans rush to confirm Trump's EPA nominee Scott Pruitt after federal judge orders release of fossil fuel emails: one of Trump's worse nominees, having spent most of his career trying to keep the EPA from doing its job. One Republican voted against, two Democrats for. "After Friday's vote, the Republican chair of the Senate Committee on Environment and Public Works -- John Barrasso, R-Wyoming -- attend a high-dollar fundraiser hosted by energy lobbyists at a Capitol Hill steakhouse."
Along the way, I wandered across a lot of liberal links critical of Trump but obsessed with Russia, including posts by John Cassidy, Paul Krugman, George Packer, and David Remnick. In particular, Packer complains about "the heads of key House and Senate committees who are doing as little as possible to expose corruption and possible treason in the White House." The word that sticks in my craw there is "treason." I can't overstate how sick and tired I am of that word -- not least because it implies that we're obligated to be loyal to some hidden, unknowable, and unquestionable power. Packer goes on to describe "an authoritarian and erratic leader" -- I mean, which is it? Doesn't the latter subvert the former? He also names John McCain and Lindsey Graham as among "the few critical Republican voices" -- the only thing they've been critical of is that Trump hasn't started any new wars yet (and the word for that isn't "critical" -- it's "impatient").
Also a few links less directly tied to the ephemeral in America's bout of political insanity:
Monday, February 13, 2017
---
Music Week
Music: Current count 27779 [27740] rated (+39), 393 [383] unrated (+10).
Having a hard time letting go of 2016, possibly because I get the feeling I have so little to look forward to in 2017.
Queue continues to grow as I pick up 2016 list items -- seems like a lot of these came from Jason Gubbels, although Élage Diouf came from an Afropop list I found on ILXOR, and the Meridian Brothers reissue first appeared in the fine print under metal-crazed Uncle Fester's Lucky 13 (or is it psyched-out -- whatever the fuck psych is). Most interesting HMs are by Autolux, Fantastic Negrito, and Dele Sosimi (2015 releases keep sneaking in). Best jazz this week is the new Throttle Elevator Jazz Retrorespective.
Martha sounds good for next week, but needs another spin. Sampha strikes me as super-overrated (Metacritic score 86 on 24 reviews, which will most likely make it a top-20 album a year from now, somewhere between Kaytranada and Anderson Paak this year -- Tinariwen's Elwan and Jens Lekman's Life Will See You Now have 87 scores but only 8-10 reviews, so their scores are less significant).
Started reading Ira Katznelson's Fear Itself: The New Deal and the Origins of Our Time, which is proving uncomfortable and more than a little annoying. Thus far (120 pages in) the main subject is the notion that liberal democracy was looking doomed in the early 1930s with fascism and bolshevism ascendant -- e.g., he cites Walter Lippman arguing for a beneficient dictatorship. Then as now the driving force behind fascism was fear, but as I read this I keep thinking, hey, don't we know better this time? Granted, the news is full of proof way too many of us don't know shit, and sensible minds are in short supply.
---
New records rated this week:
Africans With Mainframes: K.M.T. (2016, Soul Jazz): [r]: A-
A$AP Ferg: Always Strive and Prosper (2016, Polo Grounds/RCA): [r]: B+(**)
Autolux: Pussy's Dead (2016, 30th Century/Columbia): [r]: B+(***)
Heather Bambrick: You'll Never Know (2016 [2017], self-released): [cd]: B+(**)
Bentcousin: Bentcousin (2016, Team Love): [r]: B+(**)
Dierks Bentley: Black (2016, Capitol Nashville): [r]: B
Laura Cannell: Simultaneous Flight Movement (2016, Brawl): [r]: B+(*)
City Yelps: Half Hour (2016, Odd Box): [r]: B+(*)
Chook Race: Around the House (2016, Trouble in Mind): [r]: B+(*)
Kweku Collins: Nat Love (2016, Closed Sessions): [r]: B+(*)
Jon De Lucia Group: As the River Sings (2014 [2017], Fresh Sound New Talent): [cdr]: B+(***)
Élage Diouf: Melokáane (2016, Pump Up the World): [r]: A-
DJ Diamond: Footwork or Die (2016, Duck N' Cover): [r]: B-
Mark Ernestus' Ndagga Rhythm Force: Yermande (2016, Ndagga): [r]: B+(**)
Fantastic Negrito: The Last Days of Oakland (2016, Blackball Universe): [r]: B+(***)
Nick Finzer: Hear & Now (2016 [2017], Outside In Music): [r]: B+(*)
Injury Reserve: Live From the Dentist Office (2015, Las Fuegas): [sc]: B+(**)
Leyla McCalla: A Day for the Hunter, a Day for the Prey (2016, Jazz Village): [r]: B+(**)
Cass McCombs: Mangy Love (2016, Anti-): [r]: B
Merso: Red World (2016, Good to Die): [r]: B+(**)
Moksha: The Beauty of an Arbitrary Moment (2016, Jazzland): [r]: B+(*)
Hannah Peel: Awake but Always Dreaming (2016, My Own Pleasure): [r]: B
Florian Pellissier Quintet: Cap De Bonne Esperance (2016, Heavenly Sweetness): [r]: B+(**)
Luis Perdomo: Spirits and Warriors (2016, Criss Cross): [r]: B+(**)
Renegades of Jazz: Moyo Wangu (2016, Agogo): [r]: B+(***)
Carrie Rodriguez: Lola (2016, Luz): [r]: B+(*)
Sampha: Process (2017, Young Turks): [r]: B+(*)
Scarcity of Tanks: Ringleader Lies (2016, Total Life Society): [r]: B+(**)
Sneaks: It's a Myth (2016, Merge, EP): [r]: B+(*)
Dele Sosimi: You No Fit Touch Am (2015, Wah Wah 45s): [r]: B+(***)
Dele Sosimi Meets Prince Fatty & Nostalgia 77: You No Fit Touch Am in Dub (2016, Wah Wah 45s): [r]: B+(**)
Throttle Elevator Music: IV (2014-16 [2016], Wide Hive): [r]: B+(**)
Throttle Elevator Music: Retrorespective (2016 [2017], Wide Hive): [r]: B+(***)
Trouble Kaze: June (2016 [2017], Circum-Disc): [cd]: B+(*)
Recent reissues, compilations, and vault discoveries rated this week:
J Dilla: The Diary (2001-02 [2016], Mass Appeal/Pay Jay): [r]: B+(*)
Doing It in Lagos: Boogie, Pop & Disco in 1980's Nigeria (1979-84 [2016], Soundway, 2CD): [r]: B
Arthur Lipner: Two Hands One Heart: Best of Arthur Lipner (1990-2014 [2017], Malletworks Media, 2CD): [cd]: B+(**)
Meridian Brothers V: El Advenimiento del Castillo Mujer (2005 [2016], Discrepant): [r]: A-
Joe Newman Sextet: The Happy Cats (1956 [2016], Fresh Sound): [r]: B+(*)
---
Unpacking: Found in the mail last week:
Greg Abate/Tim Ray Trio: Road to Forever (Whaling City Sound): February 24
Jason Anick & Jason Yeager: United (Inner Circle Music): March 10
Ballrogg: Abaft the Beam (Clean Feed)
Carlos Bica & Azul: More Than This (Clean Feed)
Akua Dixon: Akua's Dance (Akua's Music)
Gerry Gibbs & Thrasher People: Weather or Not (Whaling City Sound): February 24, should be 2CD but only one arrived
Gorilla Mask: Iron Lung (Clean Feed)
Jill Jack and the American SongBook Band: Pure Imagination (UpHill Productions)
Kirk MacDonald Jazz Orchestra: Common Ground (Addo): February 24
Ben Markley Big Band: Clockwise: The Music of Cedar Walton (OA2): February 17
Lisa Mezzacappa: Avant Noir (Clean Feed)
Nicole Mitchell: Mandorla Awakening II: Emerging Worlds (FPE): May 5
Velkro: Too Lazy to Panic (Clean Feed)
Michael Zilber: Originals for the Originals (Origin): February 17
Sunday, February 12, 2017
---
Weekend Roundup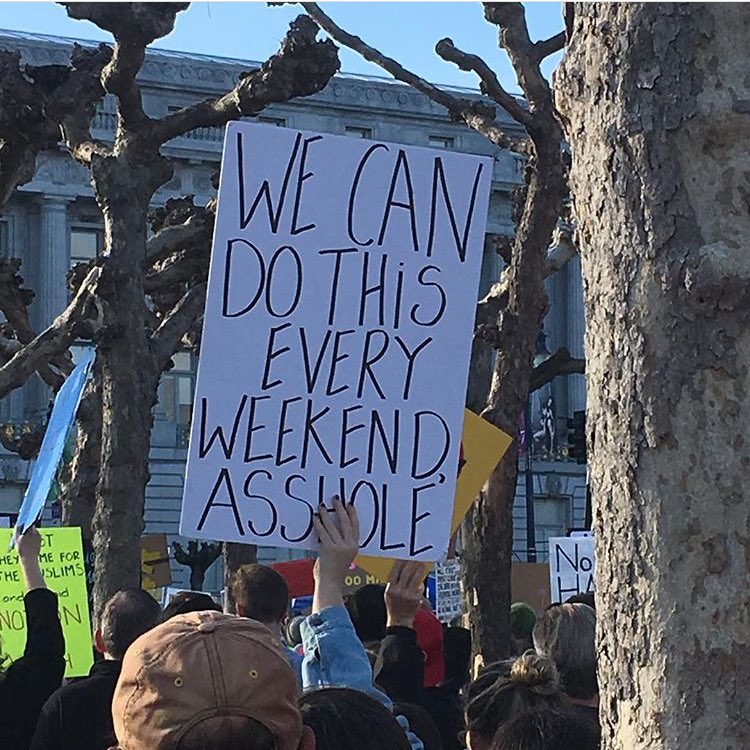 Running the image again. I doubt I'll really keep that up for four years, but for now it inspires me to dig up this shit.
Still need to write up something about Matt Taibbi's Insane Clown President: Dispatches From the 2016 Circus -- recently read, although it recycles a lot that I had previously read, including a sizable chunk of Taibbi's 2009 book The Great Derangement: A Terrifying True Story of War, Politics, and Religion at the Twilight of the American Empire -- an excavation so profound that Maureen Dowd snarfed up a keyword for her own regurgitation of campaign columns, The Year of Voting Dangerously: The Derangement of American Politics (a title which makes me wonder how she would have faired in Taibbi's 2004 Wimblehack -- see Spanking the Donkey: Dispatches From the Dumb Season).
Still, I suspect that the weakness of both Taibbi and Dowd books is their focus on the more obvious story: how ridiculous the Republicans were (a subject that served Taibbi best in 2008 when he compiled his brief Smells Like Dead Elephants before taking the time to craft The Great Deformation). In retrospect, the real story wasn't how Trump won, but how Hillary Clinton lost. Looking ahead, books by Jonathan Allen and Amie Parnes (Shattered: Inside Hillary Clinton's Doomed Campaign, out April 18) and/or Doug Wead (Game of Thorns: The Inside Story of Hillary Clinton's Failed Campaign and Donald Trump's Winning Strategy, February 28) promise some insight (or at least insider dope). Still, I doubt anyone is going to write something that satisfactorily explains the whole election for some time.
One thing that keeps eating at me about the election is that while Trump's polls oscillated repeatedly, falling whenever voters got a chance to compare him side-by-side (as in the debates, or even more strongly comparing the two conventions), then bouncing back on the rare weeks when he didn't say something scandalous, Clinton's polls never came close to topping 50%. She was, in short, always vulnerable, and all Trump needed to get close was a couple weeks where he seemed relatively sane (on top of all that Koch money organizing down ballot, especially in Pennsylvania, Florida, North Carolina, and the Midwest). I doubt if any other Republican could have beat Clinton: Trump's ace in the hole was his antithesis to Washington insider-dom, which gave him credibility she couldn't buy (despite massive evidence that he was the crooked one). But just as importantly, Trump suckered her into campaigning on high-minded centrism (including support from nearly everyone in the permanent defense/foreign affairs eatablishment), which weakened her support among traditional Democrats. Any other Republican would have forced her to run as a Democrat, and she would have been better off for that.
Again, it's not that working people rationally thought they'd be better off with Trump. It's just that too many didn't feel any affinity for or solidarity with her. Of course, those who discovered their own reasons for voting against the Republicans -- which includes the left, blacks, Latinos, immigrants, single women, and others the Democrats bank on but don't invest in -- voted for her anyway. But others needed to be reminded of the differences between the parties, and Clinton didn't do a good job at that (nor did Obama give her much to build on, as he almost never blamed Republicans for undermining his efforts).
Meanwhile, Trump's net favorability polling is down to -15.
---
Some links on the Trump world this week:
---
Also a few links not so directly tied to America's bout of political insanity:
Wednesday, February 8, 2017
---
Music Week
Music: Current count 27740 [27708] rated (+32), 383 [363] unrated (+20).
Failed to get this posted on Monday (or Tuesday before I finally went to bed) for the first time since I can't remember. The immediate cause on Monday was that I got distracted researching possible fixes for a faulty ice maker. Yesterday I wound up ordering a part which may not be the total fix but is at least necessary. I agree with the proposition of a movie called The Mosquito Coast that "ice is civilization," so this is a matter of some import. (That movie, by the way, was the first place I really noticed Helen Mirren.)
Then I wound up wasting much of Tuesday adding Metacritic's Top Ten Lists to my EOY Aggregate. Thought I was done with that, and indeed I had moved on to resume work on my Jazz Guides (finally getting through the 2001-09 notebooks and into Rhapsody Streamnotes). But I kept thinking it would be nice to hit the bottom before posting, and it didn't happen until early Wednesday evening. Then I found ILXOR's thread, so I've started scanning through it. I don't expect these additions to change positions much -- although there are some close ones: Solange leads Tribe for 5th by 5 (437-432), Chance passed Nick Cave for 7th (395-378), Bon Iver's hold on 11th has been slipping to Anderson Paak (318-314), Car Seat Headrest has grabbed 14th from Anohni (276-264), Rihanna edged into 16th ahead of Danny Brown (230-225), Kaytranada barely holds 18th over Mitski (202-201).
Below you'll find a typical long list of records: a little bit of 2017 jazz and a lot of interesting-looking 2016 EOY list items, few of which panned out. I had a lot of trouble with the XX album too -- Michael Tatum likes it, and hopefully will write about it soon. Took me a lot of plays, but I found my favorite song from the album rattling around in my head several days later. You might note that two albums (Injury Reserve, The Hamilton Mixtape) from last week's Expert Witness fell just short (after 2-3 plays), while I previously graded two of Bob's HMs at A- (Atmosphere, Ka; I had Noname and J Cole at **). I've since caught up with two other albums (Kool A.D. and the older Injury Reserve, having to go to Bandcamp and Soundcloud respectively), but I couldn't find the politically timely Battle Hymns.
One thing you'll note below is seven SteepleChase releases. The Danish label, notorious for never sending out promos, has recently appeared on Napster, so after noticing that I've been looking through their recent release lists. Chris Byars is an artist I've wanted to catch up on -- his Photos in Black, White and Gray was a JCG Pick Hit in 2007, and after he moved to SteepleChase the one record I did get a chance to hear, 2011's Lucky Strikes Again, is a terrific Lucky Thompson tribute. Still most of his catalog isn't on Napster. Hopefully they'll eventually get the whole back catalog up: Nils Winther founded the label in 1972, starting out with expat Americans like Dexter Gordon and Duke Jordan, and wound up being a refuge for dozens of important mainstream jazz players (like Byars). I count 17 A/A- records in my database, but there are surely dozens more I haven't heard.
Lot of incoming mail last week, much of it promising. I got another package from Clean Feed today (not listed below). Despite my tardiness, this week's list was cut off Sunday night. Been listening to more of the same the last couple days.
---
New records rated this week:
Oren Ambarchi: Hubris (2016, Editions Mego): [r]: A-
Ballister: Slag (2015 [2017], Aerophonic): [bc]: B+(*)
Joe Bourne: Upbeat and Sweet (2016 [2017], Summit): [cd]: C
Chris Byars: Two Fives (2014 [2015], SteepleChase): [r]: B+(**)
Chris Byars: The Music of Frank Strozier (2015 [2017], SteepleChase): [r]: B+(**)
The CCM Jazz Orchestra as James Bond: Nobody Does It Better (2013 [2017], Summit): [cd]: B+(**)
Carla dal Forno: You Know What It's Like (2016, Blackest Ever Black): [r]: B+(*)
Death Grips: Bottomless Pit (2016, Third Worlds/Harvest): [r]: B+(*)
Olegario Diaz: Aleph in Chromatic (2015 [2016], SteepleChase): [r]: B+(**)
Dvsn: Sept. 5th (2016, OVO Sound/Warner Brothers): [r]: B+(*)
The Flat Five: It's a World of Love and Hate (2016, Bloodshot): [r]: B-
Injury Reserve: Floss (2016, Las Fuegas): [r]: B+(***)
Kirk Knuffke/Jesse Stacken: Satie (2015 [2016], SteepleChase): [r]: B
Kool AD: Official (2016, self-released, EP): [bc]: B+(*)
Michel Lambert: Alom Mola (2016 [2017], Jazz From Rant): [cd]: B+(***)
Jihye Lee Orchestra: April (2016 [2017], self-released): [cd]: B-
Okkyung Lee & Christian Marclay: Amalgam (2014 [2016], Northern Spy): [r]: B
James Brandon Lewis Trio: No Filter (2016, BNS Sessions): [r]: B+(**)
Chelsea McBride's Socialist Night School: The Twilight Fall (2016 [2017], Browntasaurus): [cd]: B+(*)
Brad Myers & Michael Sharfe: Sanguinaria (Hopefulsongs) (2016 [2017], Colloquy): [cd]: B+(*)
Awa Poulo: Poulo Warali (2016 [2017], Awesome Tapes From Africa): [r]: B+(**)
Primal Scream: Chaosmosis (2016, First International/Ignition): [r]: B+(**)
Stephen Riley & Peter Zak: Haunted Heart (2014 [2015], SteepleChase): [r]: B+(**)
Stephen Riley/Peter Zak: Deuce (2014 [2017], SteepleChase): [r]: B+(***)
Roosevelt: Roosevelt (2016, City Slang): [r]: B+(*)
Sao Paulo Underground: Cantos Invisiveis (2016, Cuneiform): [dl]: B+(**)
Skee Mask: Shred (2016, Ilian Tape): [r]: B+(**)
Baron Tymas: Montréal (2015 [2017], Tymasmusic): [cd]: B+(*)
The XX: I See You (2017, Young Turks): [r]: A-
Peter Zak: Standards (2014 [2016], SteepleChase): [r]: B+(*)
Recent reissues, compilations, and vault discoveries rated this week:
The Hamilton Mixtape (2016, Atlantic): [r]: B+(***)
New York Noise: Dance Music From the New York Underground 1977-1982 (1977-82 [2016], Soul Jazz): [r]: B+(**)
Old music rated this week:
Anthony Braxton: Quintet (London) 2004: Live at the Royal Festival Hall (2004 [2005], Leo): [r]: B+(**)
Anthony Braxton: Quartet (Moscow) 2008 (2008, Leo): [r]: B+(**)
---
Unpacking: Found in the mail last week:
Sebastien Ammann: Color Wheel (Skirl)
AMP Trio: Three (self-released)
Angles 9: Disappeared Behind the Sun (Clean Feed)
Gianni Bianchini: Type I (self-released): February 21
Alex Cline's Flower Garland Orchestra: Oceans of Vows (self-released, 2CD): advance
CP Unit: Before the Heat Death (Clean Feed)
Bill Evans/Scottish National Jazz Orchestra: Beauty & the Beast (Spartacus)
Satoko Fujii: Invisible Hound (Cortez Sound): February 10
Joana Gama/Luís Fernandes/Richardo Jacinto: Harmonies (Clean Feed)
Jean-Brice Godet: Lignes De Crêtes (Clean Feed)
Rich Halley/Carson Halley: The Wild (Pine Eagle)
Daniel Levin Quartet: Live at Firehouse 12 (Clean Feed)
Mark Masters Ensemble: Blue Skylight (Capri): February 17
Billy Mintz: Ugly Beautiful (Thirteenth Note): March 7
Mostly Other People Do the Killing: Loafer's Hollow (Hot Cup): February 24
The MUH Trio [Roberto Magris/Frantisek Uhlir/Jaromir Helesic]: Prague After Dark (JMood)
Eivind Opsvik: Overseas V (Loyal Label)
Keith Oxman: East of the Village (Capri)
Noah Preminger: Meditations on Freedom (self-released)
The Reunion Project: Veranda (Tapestry)
Tommy Smith Youth Jazz Orchestra: Effervescence (Spartacus): February 24
Hiromi Suda: Nagi (BluJazz)
Trouble Kaze: June (Circum-Disc): March 3
Sunday, February 5, 2017
---
Weekend Roundup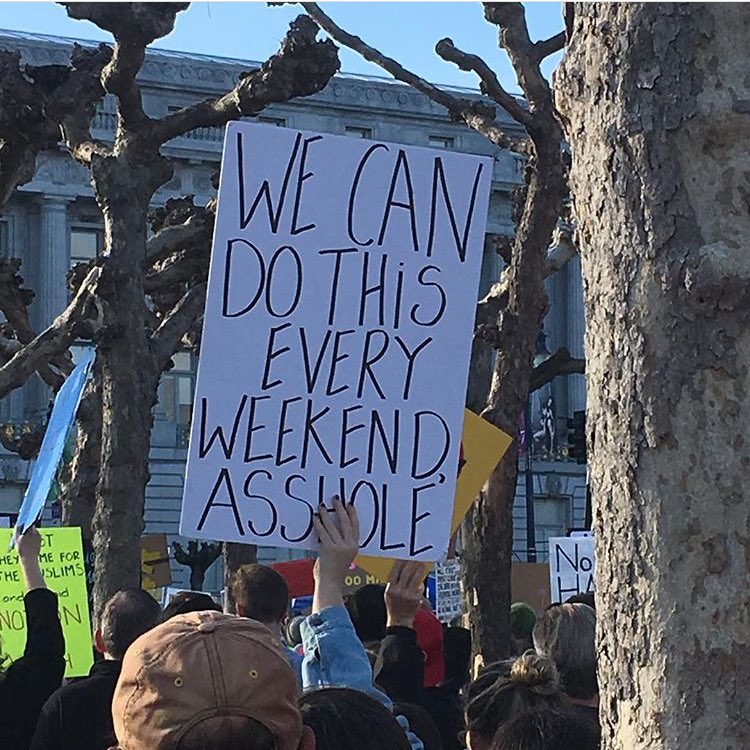 Picked up this image off Twitter. Looks like we've found our Weekend Roundup motto, for the next four years anyways. More links than usual because so much shit's been happening. Less commentary than in the old days because it's all so straightforwardly obvious.
I had meant to write about Matt Taibbi's book Insane Clown President: Dispatches From the 2016 Circus, but should hold off and do that later. I will say that the big problems with the book are due to the concept: it mostly a compilation of previously published pieces, so tends to preserve the moment's misconceptions in amber rather than taking the time to rethink the story from its conclusion in a way that might make more sense of it all. On the other hand, it didn't make sense, and still doesn't make sense, and as the consequences of the election unfold becomes more and more surreal. In Taibbi's defense, he probably had a better grasp both of Trump's appeal and of Clinton's repulsion than any journalist I can think of. Also does a heroic job of not mincing words, and remains exceptionally conscious of how presidential campaigns warp the media space around them. Still, he can't quite believe how it turned out, and neither can I.
---
A short bit from a New York Times "By the Book" interview with Viet Tranh Nguyen (wrote a novel, The Sympathizer, which my wife read and loved):
I've been reading news and opinion pieces on Facebook and Twitter. They're utterly terrifying and depressing, since my social circle basically thinks that a Trump presidency spells the end of the world. To get out of the echo chamber, I read Donald Trump's Twitter feed. It's utterly terrifying and depressing, and I run back into the echo chamber.

I take comfort in the children's literature that I read to my 3-year-old son. He will tolerate the tales of Beatrix Potter, which I find soothing, but mostly he wants to hear about Batman, Superman, Ghostbusters and Star Wars. The moral clarity is comforting not just for a 3-year-old, but also for many adults. This is why they are relevant to our divided age, where most people identify with the rebels but so many in fact are complicit with the Empire.
The links below, of course, come from the left-liberal echo chamber (well, plus some anti-war paleo-conservatives). They're the ones paying attention (in some cases a welcome change after sleepwalking through the Obama years).
---
I picked this up off Twitter, but I also saw the video clip (OK, on Saturday Night Live, but it sure looked authentic. Comes from Bill O'Reilly interviewing Trump:
O'REILLY: But he's a killer though. Putin's a killer.

TRUMP: There are a lot of killers. We've got a lot of killers. What do you think -- our country's so innocent?
There are a lot of things one can say about this. For one thing it's true, which isn't often the case with Trump. But it's hardly a revelation. It's just something that no politician would say -- least of all someone like Obama or the Clintons who have personally signed off on execution orders then gone on to gloat about their killings in public. So you can chalk Trump's admission up to his anti-PC ethic: his willingness to call out truths in blunt language. But more specifically, he's denying O'Reilly resort to a PC cliché. He's saying you can't dismiss working with Putin out of hand because he's a killer. We're all killers here -- Trump joined the club last week in ordering a Seal Team 6 assault in Yemen -- so that hardly disqualifies Putin. The disturbing part is that being a killer is probably something Trump admires in Putin. Back during the campaign, Trump not only vowed to kill ostensible enemies like ISIS, he talked on several occasions about shooting random people on Fifth Avenue, like the ability to do that and not be held accountable would be the pinnacle of freedom. Being elected president doesn't quite afford him that latitude, but it does offer plenty of opportunities to indulge his blood lust. Worse still, Trump's championing of killers helps establish murder as a political and social norm. Sure, assassination has been sanctioned as expedient politics by US presidents at least as far back as Kennedy, but Trump threatens to make it a uniquely new bragging point.
As this and similar stories play out, all sorts of nonsense is likely to ensue. I don't know whether to laugh or cry at Adam Gopnik: Trump's Radical Anti-Americanism. The truth is that America has a long history of split-personality disorder, at once touting lofty progressive intentions while having committed a long series of inexcusable atrocities. So will the real America stand up? At least with the exceptionalist cant you knew they'd try to put on a kind and honorable face. But with Trump and his more bloodthirsty followers, you're liable to get something else: a celebration of the underside of American history, a legacy that celebrates brutal and ruthless conquest.
---
Some scattered links this week:
Also a few links not so directly tied to America's bout of political insanity:
Saturday, January 30, 2016
---
Music Week
Music: Current count 27708 [27673] rated (+35), 366 [363] unrated (+3).
Most of what I have to say both about new music and EOY lists has already appeared in last week's Streamnotes post. Since then I added the new David Weiss album to my nascent 2017 A-list. Still almost exclusively jazz because that's what I have physical copies of, but I'm working on the xx -- new album is as slow to catch as the old ones, but Tatum likes it a lot and I'm sorta getting there.
Updated EOY Aggregate file to include the Village Voice's Pazz + Jop results, as well as Robert Christgau's ean's List. I wrote some extra code for the latter to include the reviews in the CG database -- all but eight records appear (some appeared at Noisey after my last update, some have yet to appear).
Glenn McDonald's tabulation of Pazz + Jop results is here. I didn't see a link to this at from the Voice site, so I'm personally late in looking at it. Here's my own ballot analysis: my centricity score was 0.887 (451 of 542), less than my historic average, although I only voted for one record this time that no one else listed (Chemistry, by Houston Person & Ron Clarke, one of those marvelous mainstream sax albums I'm so partial to). Still, the hive think this year was such that I fell into the most obscurantist decile despite voting for three albums with 10+ other votes: Drive-By Truckers (55), Brandy Clark (20), Aesop Rock (10). The most similar ballots to mine were by Todd Kristel (3 common albums; he was the only other voter for Aly Keita's Kalo-Yele; 9 of his albums were on my A-list, the only exception a *** for Car Seat Headrest, and he was the only one to vote for Tom Zé's Canções Eróticas de Ninar) and Tim Riley (2 common albums, DBT and Clark, only 6 A-list, I wasn't among his 16 most similar ballots).
Among voters I've been similar to in the past, Jason Gubbels had my 6th most similar ballot (common votes for David Murray and Brandy Clark; 7 A-list, 3 ***), and Michael Tatum was 12th (common vote for DBT, 6 A-list, 2 ***, 2 lower). Tatum's most similar ballot belonged to Robert Christgau (not on my common list, but we both had DBT, and he had 9 of my A-list albums plus one ***), so if the ballots went deeper we would have been more similar. Looking at these lists, perhaps I should reconsider Car Seat Headrest and American Honey. I wouldn't be surprised if either rose a notch if I bothered to give them much more time. By the way, Gubbels' long, unranked EOY list is here.
I hope to resume work on the Jazz Guide(s), which got interrupted a couple months ago due to a computer crash.
---
New records rated this week:
Rez Abbasi & Junction: Behind the Vibration (2015 [2016], Cuneiform): [bc]: B+(**)
Shirley Collins: Lodestar (2016, Domino): [r]: B+(***)
Stephan Crump/Ingrid Laubrock/Cory Smythe: Planktonic Finales (2015 [2017], Intakt): [cd]: B+(*)
Tim Daisy's Celebration Sextet: The Halfway There Suite (2016, Relay): [bc]: B+(**)
Tim Daisy: Red Nation "1" (2016 [2017], Relay): [cd]: B+(**)
Frank Gratkowski/Alexey Kruglov/Simon Nabatov/Oleg Yudanov: Leo Records 35th Anniversary Moscow (2014 [2015], Leo): [r]: B+(*)
Barry Guy & Ken Vandermark: Occasional Poems (2014 [2015], |Not Two, 2CD): [r]: B+(***)
I.P.A.: I Just Did Say Something (2016, Cuneiform): [dl]: B+(**)
Led Bib: Umbrella Weather (2016 [2017], RareNoise): [cdr]: B+(*)
Terrace Martin: Velvet Portraits (2016, Ropeadope): [r]: B
Dave Rempis/Elisabeth Harnik/Michael Zerang: Wistfully (2013 [2016], Aerophonic): [bc]: B+(*)
Dave Rempis/Joe Morris/Tomeka Reid/Jim Baker: Nettles (2013 [2016], Aeroponic): [bc]: B+(*)
Dave Rempis/Darren Johnston/Larry Ochs: Neutral Nation (2015 [2016], Aerophonic): [bc]: B
Dawn Richard: Redemption (2016, Our Dawn): [r]: B+(**)
Richmond Fontaine: You Can't Go Back if There's Nothing to Go Back To (2016, Fluff & Gravy): [r]: B+(***)
Free Nelson Mandoomjazz: The Organ Grinder (2016, RareNoise): [r]: B+(*)
Slava Ganelin/Lenny Sendersky: Hotel Cinema (2016, Leo): [r]: B+(**)
Le Rex: Wild Man (2014 [2015], Cuneiform): [dl]: B+(*)
Simon Nabatov Trio: Picking Order (2015 [2016], Leo): [r]: B+(**)
Qasim Naqvi: Chronology (2016, New Amsterdam): [bc]: B
Jeff Rosenstock: Worry (2016, Side One Dummy): [r]: B+(*)
Xenia Rubinos: Black Terry Cat (2016, Anti): [r]: B+(*)
Richard Sears Sextet: Altadena (2015 [2016], Ropeadope): [r]: B+(**)
Kandace Springs: Soul Eyes (2016, Blue Note): [r]: B
Jonah Tolchin: Thousand Mile Night (2016, Yep Roc): [r]: B+(**)
Yves Tumor: Serpent Music (2016, Pan): [r]: B+(*)
David Weiss & Point of Departure: Wake Up Call (2015 [2017], Ropeadope): [cd]: A-
Weyes Blood: Front Row Seat to Earth (2016, Mexican Summer): [r]: B-
Recent reissues, compilations, and vault discoveries rated this week:
African Head Charge: Return of the Crocodile (1981-86 [2016], On-U Sound): [r]: B+(**)
Bitori: Legend of Funana: The Forbidden Music of the Cape Verde Islands (1997 [2016], Analog Africa): [r]: B+(***)
Gqom Oh! The Sound of Durban Vol 1 (2016, Goom Oh!): [bc]: B+(*)
Elvis Presley: Way Down in the Jungle Room (1976, RCA/Legacy, 2CD): [r]: B+(*)
Putumayo Presents: African Rumba (1962-2015 [2016], Putumayo World Music): [cd]: A-
Senegal 70: Sonic Gems and Previously Unreleased Recordings From the 70s (1970s [2015], Analog Africa): [r]: B+(**)
Space Echo: The Mystery Behind the Cosmic Sound of Cabo Verde Finally Revealed! (1977-85 [2016], Analog Africa): [r]: B+(**)
Old music rated this week:
James Luther Dickinson: Dixie Fried (1972, Atlantic): [r]: B
James Luther Dickinson: Jungle Jim and the Voodoo Tiger (2006, Memphis International): [r]: B+(**)
James Luther Dickinson: Dinosaurs Run in Circles (2009, Memphis International): [r]: B+(**)
---
Grade changes:
Fanfare Ciocarlia: 20 (1996-2016 [2016], Asphalt Tango): [r]: [was B:+(***)] A-
---
Unpacking: Found in the mail last week:
Heather Bambrick: You'll Never Know (self-released): February 10
Josh Green & the Cyborg Orchestra: Telepathy & Bop (self-released): March 2
Donny Most: Mostly Swinging (Summit)
Saturday, January 28, 2017
---
Streamnotes (January 2017)
Lot of records below, as I've been trying to wrap up what I hadn't gotten to in 2016 -- especially items I wasn't aware of until they showed up on one or more of the 431 EOY lists I've been aggregating.
I've managed to listen to and grade 1074 records released in 2016 (see list, frozen as of today). This is down from 1110 in 2015, which itself was down from 1166 in 2014 -- a downward trend I expect to continue, mostly because I keep getting fewer records to review in the mail, but also because I'm getting older, blinder, crankier, more tired, and more easily bored. Perhaps a better measure of this is that my A-lists have gotten notably shorter this year: 74 Jazz and 62 Non-Jazz this year, vs. 81 and 83, respectively, in 2015. Moreover, in the week-to-date, I've reviewed 28 records without finding a single new release A- to add to the list (aside from one compilation of old music: Putumayo Presents: African Rumba), and only three B+(***) -- I usually pick up the pace as I close out a column, so this rather ominously suggests I'm scraping the bottom of the barrel.
Of course, I don't really believe that. One reason for the A-list drops is that I added 14 records (about half the current deficit) to the 2015 files after last year's freeze date: Daveed Diggs, The Yawpers, Ursula 1000, Audio One, Charles Gayle, Eszter Balint, Beans on Toast, Radical Dads, Paul Dunmall, Tribu Baharú, Fred Hersch, Arca, Shopping, Drive-By Truckers; and post-cutoff, High Definition Quartet. Good chance the next few months will reveal close to a dozen A-list albums I've thus far missed. In fact, there are a handful of 2015 releases below, mostly ones I wasn't previously aware of.
Also a handful of 2017 releases, which thus far are grading out well above the norm, probably because I've been prioritizing old favorites -- François Carrier, Ellery Eskelin, Satoko Fujii, Matthew Shipp, David Murray, Randy Weston, Miguel Zenón. That ratio won't hold, but even if civilization collapses between now and the end of the year, the 2017 lists won't be empty.
Worth noting that the total number of records covered in this column since I decided to keep brief notes on what I streamed back in 2007 has now passed 9000. Not all are streamed, especially since I folded in Jazz Prospecting starting in 2014 -- see the bracketed notes at the end of reviews for sources -- but streaming services like Rhapsody/Napster have made it possible to broaden my coverage (as well as pretty much stop buying CDs at all).
---
Most of these are short notes/reviews based on streaming records from Napster (formerly Rhapsody; other sources are noted in brackets). They are snap judgments based on one or two plays, accumulated since my last post along these lines, back on December 31. Past reviews and more information are available here (9134 records).
---
Recent Releases
21 Savage/Metro Boomin: Savage Mode (2016, self-released): Atlanta rapper (Shayaa Bin Abraham-Joseph) and producer (Leland Tyler Wayne), billed as an EP but at 9 cuts, 32:22 feels pretty substantial, especially as none of the tunes are in any hurry to end. Gangsta, at least formally, and form matters a lot here, all speak softly and carry a big dick -- not a line, by the way -- more like "I'm in savage mode" and "I'm a real nigga," but that's the vibe. A-
Amanar: Tumastin (2015 [2016], Sahel Sounds): Tuareg guitar band, originally from Kidal deep in northeast Mali, now in exile. Seems like a perfectly average Saharan blues album, its evenness a good deal of its charm. B+(*)
Bill Anschell: Rumbler (2016 [2017], Origin): Postbop pianist from Seattle, has more than a handful of albums since 1998, mixes trio cuts here (actually the strongest ones) with guest guitar, percussion, sax (Jeff Coffin, Richard Cole, Hans Teuber) and flute. Covers Monk, Ellington, the Beatles, adding up to a bit of everything. B+(**) [cd]
Aphex Twin: Cheetah (2016, Warp, EP): Richard D. James, has been a leading electronica producer since 1991, this his best-known alias. Seven cuts, 33:49. Basic beats plus synth ripples, his basic shtick. B+(*)
Arca: Entrañas (2016, self-released, EP): Runs 25:02, 14 titles, an EP in comparison to 2015's hour-long Mutant. Title translates as "entrails" -- indeed, some nasty hacks here for electronic sausage maker, not without interest but not enough I feel like sorting out. B+(*) [sc]
Azealia Banks: Slay-Z (2016, self-released, EP): Mixtape, mixed up, much of it ok but nothing really appeals to me, least of all Soundcloud. Eight cuts, 26:19. B [sc]
BJ Barham: Rockingham (2016, self-released): Singer-songwriter from the title town in North Carolina, former singer in a band called American Aquarium. Debut album is short (eight cuts, 32:46), plain-spoken, sober, decent, can't help but like him. Voice recalls young John Prine, which is why I noticed he's not nearly as funny. Still: "And when I die I want to look God in the eye and ask him why he gave up on this place." A-
Luke Bell: Luke Bell (2016, Bill Hill): Country singer-songwriter from Wyoming, third album, second eponymous one (I guess because no one noticed the first, or maybe this is a relaunch). Goes for a classic honky-tonk sound ("with a wink and a yodel"), and mostly hits it. B+(***)
Jim Black/Óskar Gudjónsson/Elias Stemeseder/Chris Tordini: Mala Mute (2016 [2017], Intakt): Drummer, a terrific one, has had some success with "plugged in" ensembles before (such as his AlasNoAxis group), tries another twist on the formula here. The others, otherwise unknown to me, play tenor sax, keyboards, and electric bass, respectively, generating texture and tone but not a lot of heat. B+(*) [cd]
Mykki Blanco: Mykki (2016, !K7): Michael Quattlebaum Jr., rapper from Orange County, California, "performance artist, poet and activist." "African-American Jewish," took his name from "a teenage girl character for a YouTube video" and "Lil' Kim's alter ego Kimmy Blanco," considers himself "transgender and multi-gendered," is "HIV positive." First LP after a couple EPs. Not much I'm following here. B+(*)
Bibi Bourelly: Free the Real (Pt. 1) (2016, Circa 13/Def Jam, EP): Born in Berlin, grew up in Maryland, of Moroccan and Haitian descent, father is jazz guitarist Jean-Paul Bourelly, wrote a couple songs that were picked up by Rihanna. Five cuts, 14:47, too hard for dance pop, if not life. B+(*)
Bibi Bourelly: Free the Real (Pt. 2) (2016, Circa 13/Def Jam, EP): Six cuts, 18:46. Continues to impress as talented and serious, but this is a hard slog for little reward. B
Jakob Bro: Streams (2015 [2016], ECM): Danish guitarist, has a dozen albums since 2007, this his second on ECM. Trio, with Thomas Morgan on bass and Joey Baron on drums, mild and unexceptional. B [dl]
Brookzill!: Throwback to the Future (2016, Tommy Boy): A quantum wormhole between Brooklyn and Brazil radiating fusion funk, the principals: Prince Paul, Ladybug Mecca (Digable Planets), Rodrigo Brandão (Gorila Urbano), Don Newkirk (Funk City). B+(*)
Peter Brötzmann & ICI Ensemble: Beautiful Lies (2014 [2016], Neos Jazz): Munich-based large group (nonet: three reeds with Markus Heinze doubling on cornet, two more brass, piano, bass, drums, and Gunnar Geisse on laptop), fourth album including three with guest stars. Two long pieces (31:41 and 40:13). Not sure anyone would ID the guest here, but the band fits his calling. B+(*)
Apollo Brown & Skyzoo: The Easy Truth (2016, Mello Music): Detroit hip-hop producer Brown and Brooklyn rapper Gregory Skyler Taylor. The beats roll on with minimal glitz, the words pile up with shrewd detail. B+(***)
The Cactus Blossoms: You're Dreaming (2016, Red House): Minneapolis brothers Jack Torrey and Page Burkum, harmonizing like the Everly Brothers over vintage guitars, upright bass and light drums, sob stories with a country air. B+(*)
The Uri Caine Trio: Calibrated Thickness (2015 [2016], 816 Music): Front cover gives Clarence Penn (drums) and Mark Helias (bass) equal credit to the pianist, but back cover spells out the Trio and notes "special Guest Kirk Knuffke -- cornet." The guest, appearing on less than half the cuts, is anticlimactic, but the pianist dazzles on the trio cuts. B+(***)
Judy Carmichael/Harry Allen: Can You Love Once More? (2016, GAC): Singer (since 1980) and tenor saxophonist (a decade younger), credit line actually reads "Judy & Harry Play Carmichael & Allen" -- all original pieces, backed by Mike Renzi (piano), Mike Karn (bass), and Alvin Atkinson (drums). Their new standards are classically structured but with postmodern wit -- I look forward to hearing "Take Me Back to Macchu Picchu" elsewhere -- the ballads dragging a bit but mostly relative to the way Allen rips through the fast ones. He is really terrific here. She, by the way, has a reputation as a pianist -- even has published two books on stride. A-
François Carrier/Michel Lambert/Alexey Lapin: Freedom Is Space for the Spirit (2014 [2017], FMR): Alto sax/Chinese oboe, drums, piano, recorded in St. Petersburg, a year after the same trio recorded two volumes of The Russian Concerts. Sketchy, finds its own beauty in chaos, and here and there erupts into something wonderful. A- [cd]
Frank Catalano/Jimmy Chamberlin: Bye Bye Blackbird (2016, Ropeadope): Tenor sax and drums, the cover typography also suggesting David Sanborn (alto sax, but he only appears on 2 of 6 cuts), and also relegates Nir Felder (guitar) and Demos Petropoulos (organ) to the lower right. Effectively soul jazz. Nice cover art (Tony Fitzpatrick). B+(*)
Childish Gambino: Awaken, My Love! (2016, Glassnote): Hip-hop renaissance man Donald Glover, has been prolific since 2010 alongside his jobs writing for and acting on TV. Doesn't rap much here, and his soul moves remain oblique and inscrutable. B+(*)
Club D'Elf: Live at Club Helsinki (2012 [2017], Face Pelt, 2CD): Boston jazz collective, Brahim Fribgane (oud, voice, percussion) gives them a North African air, Mike Rivard (bass, sintir, bass kalimba) makes them even more other-worldly, and ringer John Medeski (B3, various keyboards) joins in for this extended Hudson, NY bar date. B+(***) [cd]
Shirley Collins: Lodestar (2016, Domino): English folksinger, b. 1935 in East Sussex, recorded a dozen or more records from 1959 up to 1980, some with sister Dolly Collins, some with Ashley Hutchings and/or the Albion Band before taking a 35-year hiatus. Her voice has suffered, but I doubt genre fans will mind -- I find it lends the music depth and resonance. B+(***)
Shawn Colvin/Steve Earle: Colvin & Earle (2016, Fantasy): I first ran into her singing backup for Richard Thompson, so I suppose I've always considered her a secondary voice, although I must admit to having liked the one album of hers I've heard: 1996's A Few Small Repairs. She has ten previous albums, and Earle probably has twice as many, as well as the more distinctive voice, one that can cut through to the lead but he's too reserved here to do that. Nice balance, but I could think of better songs to cover. B+(*)
Gustavo Cortiñas Snapshot: Esse (2016 [2017], OA2): Drummer, from Mexico City, studied in New Orleans and Chicago, and has been based in the US for "close to a decade." Postbop group with trumpet (Justin Copeland), tenor sax (Roy McGrath or Artie Black), trombone, guitar, piano, and bass -- another band named for a previous album. B+(*) [cd]
Sandy Cressman: Entre Amigos (2016 [2017], Cressman Music): Singer, born in New York, raised in San Jose, based somewhere in the Bay Area, somehow stumbled into a Brazilian groove and made herself at home -- nine (of ten) titles here in Portuguese. Not sure of the credits, but trombonist Jeff Cressman makes an appearance. B+(*) [cd]
Stephan Crump/Ingrid Laubrock/Cory Smythe: Planktonic Finales (2015 [2017], Intakt): Bassist, has put together an exceptional series of albums, mostly by highlighting his own playing but he has more trouble establishing himself here. Laubrock plays doggedly avant tenor and soprano sax, Smythe offer some piano flourishes. B+(*) [cd]
Alan Cumming: Alan Cumming Sings Sappy Songs: Live at the Cafe Carlyle (2016, Yellow Sound): Scottish actor, I've mostly seen him as Chicago political strategist Eli Gold on The Good Wife but first encountered him as the lead in a Broadway production of Cabaret (practically the only time I've ever attended such a thing). He has one previous album, and is a credible standards singer (if that's what these are). Way too much patter, but that's part of his charm. B+(*)
Tim Daisy/Marc Riordan: Joyride (2016, Relay): Drums/piano duo from Chicago, Daisy the drummer in various projects of Ken Vandermark and/or Dave Rempis, Riordan has an earlier quartet album (with Daisy on drums, although Riordan has also played drums in other groups). Impressive free piano, fast both on track and off the rails. B+(***) [bc]
Tim Daisy's Celebration Sextet: The Halfway There Suite (2016, Relay): Drummer-led sextet, mostly Chicago musicians: James Falzone (clarinet), Fred Lonberg-Holm (cello), Russ Johnson (trumpet), Dave Rempis (tenor sax), Steve Swell (trombone). Suite unfolds in four parts, 33:34, Rempis especially strong. B+(**) [bc]
Tim Daisy: Red Nation "1" (2016 [2017], Relay): Avant drummer from Chicago, was first noticed when he joined the Vandermark 5, and has been busy ever since. This one is solo: "turntables, drums, radios, gongs and other found objects." B+(**) [cd]
The Brian Dickinson Quintet: The Rhythm Method (2015 [2017], Addo): Toronto-based pianist, has a couple previous albums (one from 1990), uses two saxes here (Luis Deniz on alto and Kelly Jefferson on tenor), bass, and drums. Lushly evocative postbop, not something I particularly like although it's hard to deny the chops. B+(*) [cd]
Dr. Mint: Voices in the Void (2016 [2016], Orenda): Fusion group, have several albums. I filed it under the first name listed -- trumpet player Daniel Rosenbloom rather than saxophonist Gavin Templeton -- but the horns matter less than the electric guitar (Alexander Noice) and bass (Sam Minaie) and their FX, let alone the drums (Caleb Dolister). B+(*) [cd]
Laura Dubin Trio: Live at the Xerox Rochester International Jazz Festival (2016 [2017], self-released, 2CD): Pianist, backed by bass (Kieron Hanlon) and drums (Antonio H. Guerrero), at great length, mixing originals and standards, playing them all with emphatic panache. I'm impressed by her chops, less so by her vision. B+(*) [cd]
Echoes of Swing: Dancing (2016, ACT): German quartet -- Colin T. Dawson (trumpet & vocals), Chris Hopkins (alto sax), Bernd Lhotzky (piano & celeste), Oliver Mewes (drums) -- have been together a decade-plus, backward looking but not really a trad jazz group. They survey a long line of dance tune and dance-referred standards, ranging from a Bach gavotte, a Joplin rag, and a James P. Johnson Charleston through "Moonlight Serenade" and Hopkins' original "Hipsters Hop" -- never really kicking up much of a storm. Dawson's infrequent vocals are quickly forgotten. B+(*)
Ellery Eskelin/Christian Weber/Michael Griener: Sensations of Tone (2016 [2017], Intakt): Tenor sax trio, recorded in Brooklyn but not Eskelin's usual New York Trio -- bassist Weber is Swiss, drummer Griener German. Also not the usual fare as they mix four old songs -- "Shreveport Stomp," "China Boy," "Moten Swing," and "Ain't Misbehavin'" -- in with four joint originals. The stomps and swings are done with sly understatement, distance and affection -- I especially love the latter, instantly recognizable yet brand new. A- [cd]
The Fall: Wise Ol' Man (2016, Cherry Red, EP): Mark E. Smith's long-running (since 1979) post-punk group, considered an EP but more due to the rehashed songs -- two new, the rest alternates and remixes from Sub-Lingual Tablet -- than length (7 tracks, 34:06). Relies more on sound than songcraft. B+(*)
Fanfare Ciocarlia: Onwards to Mars! (2016, Asphalt Tango): Romanian brass band, twenty-year veterans, jazz up the local folk and even take a quirky stab at "I Put a Spell on You." B+(***)
Flume: Skin (2016, Future Classic): Australian DJ Harley Edward Streton, second album. Wide range of entertaining but mostly forgettable styles, including a bit of rap. B
Free Nelson Mandoomjazz: The Organ Grinder (2016, RareNoise): Alto sax trio from Scotland, led by Rebecca Sneddon with Colin Stewart on electric bass and Paul Archibald on drums (percussion, piano, organ). Third album, with guests Patrick Danley on trombone (2 tracks) and Luc Klein on trumpet (4 tracks, one with both). The extra horns don't help much, and the organ later on is truly doomed. B+(*)
Satoko Fujii Orchestra Tokyo: Peace (2014 [2017], Libra): Japanese pianist, has at least four iterations of her big band named for cities she works in -- hitherto, the New York band, with its surfeit of individual stars, has been most impressive, but the ensemble work here is peerless, and the score is chock full of brilliant ideas. A- [cd]
Fumaça Preta: Impuros Fanáticos (2016, Soundway): Led by Portuguese/Venezuelan drummer Alex Figueira, based in the Netherlands, had an impressive 2014 eponymous album, this sophomore effort dives even deeper into the psychedelic creases between their mishmash of everything, which doesn't make it better, or anything clearer. B+(*)
Gaika: Security (2016, Mixpak): Brixton rapper, has a couple mixtapes, this the one getting the most attention. Bounces off grime and trip-hop without fitting in anywhere. B+(*)
Brent Gallaher: Moving Forward (2016 [2017], V&B): Tenor saxophonist, leads a conventional hard bop quintet with Alex Pope Norris on trumpet and Dan Karlsberg on piano, not that in this postbop era they care to keep it hard. B [cd]
Gallant: Ology (2016, Mind of a Genius/Warner Brothers): R&B singer, first name Christopher, debut album after an EP and some remixes, can reach for a nice falsetto, and generally impresses except when lyrics like "what good is a sword next to a shotgun?" sandbag him. B+(*)
Slava Ganelin/Lenny Sendersky: Hotel Cinema (2016, Leo): The Russian-Israeli pianist, namesake of the legendary Ganelin Trio, is credited with "Korg MicroStation, computer Dell"; Sendersky plays "reeds," so this is a duo, although the synths are geared up to give the air of an orchestra. One 45:03 piece, symphonic in scope though more intimate in its recognizable solos, including some trademark piano. B+(**)
Vince Gill: Down to My Last Bad Habit (2016, MCA Nashville): Nashville country singer-songwriter, leans on the neotrad side of mainstream, smart enough to admit his mistakes and to profess his weaknesses, his "last bad habit," naturally enough, being you. B+(*)
Barry Guy/Ken Vandermark: Occasional Poems (2014 [2015], Not Two, 2CD): Bass and sax/clarinet duets, recorded live at Alchemia Club in Krakow, runs 86:13. Remarkable on both ends. B+(***)
Noah Haidu: Infinite Distances (2015-16 [2017], Cellar Live): Postbop pianist, born in Virginia, studied with Kenny Barron at Rutgers, now based in New York. Deploys his horns creatively -- Jeremy Pelt (trumpet & flugelhorn), Sharel Cassity (alto sax), Jon Irabagon (soprano & tenor sax), with the latter adding an extra jolt of power. B+(**) [cd]
Nancy Harms: Ellington at Night (2016, Gazelle): Standards singer, has a couple albums, works her way through a dozen Dukish pieces backed by Jeremy Siskind's piano trio and some strings. B+(**)
Steve Hauschildt: Strands (2016, Kranky): From Cleveland, produces ambient electronica, shimmering tableaux of vast spaces, plesantly contemplating the cosmos. B+(***)
Terrie Hessels & Ken Vandermark: Splinters (2014-15 [2016], Audiograph): Duets, the once (and future) Terrie Ex playing guitar, Vandermark credited with reeds. Three short pieces from Vienna (2015), one long one from Eindhoven (35:35, 2014), the title apt in that this falls apart rather than comes together. B+(*) [bc]
High Definition Quartet: Bukoliki (2015, ForTune): Polish quartet -- Mateusz Sliwa (tenor sax), Piotr Orzechowski (piano), Alan Wykpisz (bass), and Dawid Fortuna (drums) -- playing music by Witold Lutoslawski (five pieces, simply numbered, themselves based on Kurpian folk tunes, title translates as "Bucolics") arranged by the pianist. Some remarkable work here, high definition indeed. A- [bc]
Cynthia Hilts: Lyric Fury (2014 [2017], Blond Coyote): Pianist, sings some -- two lyrics printed on packaging, "Peace Now" will bug those who object to preachiness but I'd say the message is right on. Good to hear trumpeter Jack Walrath in the band, which includes two saxes, trombone, cello, bass and drums. Long. B+(*)
Lonnie Holley: Keeping a Record of It (2013, Dust-to-Digital): Best known for making sculptures out of junk, an aesthetic he carries over into his music -- as eccentric as Swamp Dogg, not nearly as skilled, but grows on you anyway. B+(**)
Horse Lords: Interventions (2016, Northern Spy): Instrumental group, guitar-bass-drums-sax with electronics mixed in somewhere, rockish rhythmically but they'd rather focus their improvisation on clang and drone, so has a post-fusion jazz air. B+(**)
I.P.A.: I Just Did Say Something (2016, Cuneiform): Norwegian avant-jazz group's first album, not quite all-stars but imposing lineup: Atle Nymo (tenor sax, bass clarinet), Magnus Broo (trumpet), Mattias Ståhl (vibes), Ingebrigt Håker Flaten (bass), Håkon Mjåset Johansen (drums). Broo especially strong here. B+(**) [dl]
Ethan Iverson: The Purity of the Turf (2016, Criss Cross): Pianist, first trio album under his own name since 1999's The Minor Passions, having devoted most of his energies to Bad Plus and occasionally ducking the spotlight in groups given to other leaders. Ron Carter and Nasheet Waits get him out of Bad mode, which would have been a step down a decade ago but is probably for the best today. B+(**)
Japanese Breakfast: Psychopomp (2016, Dead Oceans): Alt-rock band, mainly guitarist-singer-songwriter Michelle Zauner. The opener, "In Heaven," is heavenly, rooted in her mother's death. B+(*)
Cody Jinks: I'm Not the Devil (2016, Cody Jinks Music): Country singer-songwriter from Texas, started out in a thrash metal band called Unchecked Aggression. Has a half-dozen albums, this the first to come anyway near a chart. Great country voice, fairly good songs. B+(**)
Howard Johnson and Gravity: Testimony (2016 [2017], Tuscarora): Tuba player, age 75, also plays baritone sax, long noted as a sideman -- his mid-1960s credits include Charles Mingus and Archie Shepp -- and had a long run with the George Gruntz Concert Band. He formed his tuba-heavy group Gravity in 1995, and they're back here: Velvet Brown, Dave Bergeron, Earl McIntyre, Joseph Daley, and (of course) Bob Stewart. Backed with piano trio, they swing plenty hard, but attempts to lighten the mood -- including Johnson's penny whistle -- are less successful. B+(**)
King Gizzard and the Lizard Wizard: Nonagon Infinity (2016, ATO): Australian rock band, genrefied as garage, psychedelic, progressive, and/or experimental, none of which strike me as applicable: they're too clean for garage, too mainstream for anything else, but they crank up a lot of guitars (at least three) and synths and keep them humming along, pretty upbeat. B+(*)
The Klezmatics: Apikorsim/Heretics (2016, World Village): New York new wave klezmer band celebrates its 30th anniversary with its twelfth album, a celebration of heresy -- or so I gather (lyrics are, so far as I can tell, in Yiddish, and I lack any sort of lyric sheet). Not sure why I'm hedging over not understanding the words, as Lorin Sklamberg's vocals are as mesmerizing as ever. Maybe it's just that after thirty years their excellence has become their mean. B+(***)
Joachim Kühn New Trio: Beauty & Truth (2015 [2016], ACT): German pianist, past 70, long discography goes back to 1969, with Chris Jennings (bass) and Eric Schaefer (drums). Title track is from Ornette Coleman, an old touchstone, and other covers include Gershwin, Komeda, Gil Evans, and two Doors songs. Bright, even there. B+(**)
Rolf Kühn: Spotlights (2016, Edel/MPS): This popped up in a reissues poll, but I can't find any evidence of it having been previously released, or indeed of being very old -- the clarinetist, elder brother of Joachim Kühn (pianist here), was 87 when this came out, and some of the other musicians are much younger (e.g., drummer Christian Lillinger, 32). B+(**)
Le Rex: Wild Man (2014 [2015], Cuneiform): Swiss jazz band, third album, quintet with two saxes (Benedikt Reising on alto, Marc Stucki on tenor), trombone, tuba, and drums -- nothing chordal to bridge the gaps. Like the low brass swing. B+(*) [dl]
Led Bib: Umbrella Weather (2016 [2017], RareNoise): British quasi-fusion jazz group, eighth album since 2005, features two alto saxes (Pete Grogan and Chris Williams), keyboards, electric bass, and drums ("ringleader" Mark Holub). Loud, brash, impressive jazz chops but relentless, which may not be a virtue. B+(*) [cdr]
Laurie Lewis & the Right Hands: The Hazel and Alice Sessions (2016, Spruce and Maple): Dickens and Gerrard, who earned their debut title (Pioneering Women of Bluegrass, 1965) and topped it with 1973's Hazel and Alice -- obviously, if you don't know those classic albums go there first. Lewis, in her mid-sixties now, has carved out a respectable career in bluegrass, but her voice will never grab you like theirs. Still, this reminds me how great the songs are, especially "Working Girl Blues." B+(***)
Mark Lewis: New York Session (2015 [2017], Audio Daddio): Alto saxophonist, hard to Google because his name is shared by many more famous Mark Lewises (although, oddly enough, the first one listed for me was WSU's assistant bowling coach). So I don't have any idea what his background or discography are, but he has a lovely tone on alto, and the New Yorker rhythm section he picked up is superb: George Cables, Victor Lewis, Essiet Essiet. Also plays flute. B+(**) [cd]
Lil Yachty: Summer Songs 2 (2016, Quality Control): Atlanta rapper Miles McCollum, second mixtape (first Lil Boat; 2015's Summer Songs was the first of four EPs). Plodding, with dub overtones. Could it be that some of the EOY votes I recorded for this were meant for Lil Boat? (Pretty likely. Best thing here are fan testimonials citing that mixtape.) B-
Lil Yachty: Lil Boat (2016, Quality Control): Earlier mixtape, came out in March vs. July for Summer Songs 2. Not much going on here either. Passable line (repeated dozens of times): "fuck you, you fucked me over." B
Little Simz: Stillness in Wonderland (2016, Age 101): British rapper, Simbi Ajikawo, second album after a bunch of EPs and mixtapes. Nothing jumps out here. B
Tove Lo: Lady Wood (2016, Island): Swedish electropop singer-songwriter, second album, catchy enough, explicit version earns its rating. B+(*)
Mannequin Pussy: Romantic (2016, Tiny Engines, EP): Philadelphia postpunk group, eleven songs, 17:07, mostly hard thrash but the title song, being a soft-hearted ballad, runs on for 2:39. B+(*)
Lasse Marhaug & Ken Vandermark: Close Up (For Abbas Kiarostami) (2016, Audiographic): Marhaug does avant-electronics, which is to say he's unconcerned with beats, or melody, or much of anything else that might be recognizable. Vandermark plays saxes and/or clarinets, and early on seems determined to play even uglier than his collaborator -- who's appeared in various recent Vandermark projects but it's rarely been clear what he contributes. This may help in that regard, if one cares. Kiarostami, by the way, is an Iranian filmmaker. B [bc]
Terrace Martin: Velvet Portraits (2016, Ropeadope): Better known as a producer, but has several albums ranging from hip-hop to jazz to funk, and plays some saxophone. As eclectic as one might expect. My choice cut is "Patiently Waiting" -- a classic soul ballad. B
Hedvig Mollestad Trio: Black Stabat Mater (2016, Rune Grammofon): Norwegian fusion trio, led by guitarist Hedvig Mollestad Thomassen, with Ellen Brekken on bass and Ivar Loe Bjørnstad on drums. Improvises a bit on '70s heavy metal licks, invoking a time when they were still interesting. B+(*)
Hedvig Mollestad Trio: EVIL in Oslo (2015 [2016], Rune Grammofon): Released same day as the studio album Black Stabat Mater, no recording dates given so unclear which came first, but my guess is that Evil is just a play on Live. It's the longer record, more varied, takes a while to develop but climaxes strong. B+(*)
Kjetil Møster/Hans Magnus Ryan/Ståle Storløkken/Thomas Strønen: Reflections in Cosmo (2016 [2017], RareNoise): Artist names not on album cover, but I'm working off a CDR so will take the liberty. Respectively: sax, guitar, keyboards, drums, playing up an avant-fusion storm -- Ryan, from Motorpsycho, most in character. B+(**) [cdr]
Wolfgang Muthspiel: Rising Grace (2016, ECM): German guitarist, influenced early on by Metheny and Scofield but has gone on to do remarkable work in his own right. Quintet here, a surfeit of riches with Ambrose Akinmusire (trumpet), Brad Mehldau (piano), Larry Grenadier (bass), and Brian Blade (drums). B+(**) [dl]
Simon Nabatov/Mark Dresser/Dominik Mahnig: Equal Poise (2014 [2016], Leo): Piano trio, recorded live at LOFT in Cologne, same year as Nabatov and Dresser recorded a fine duo album (Projections). No problem adding a drummer, but the pianist commands your attention. B+(***)
Simon Nabatov Trio: Picking Order (2015 [2016], Leo): Cologne-based piano trio, with Stefan Schönegg on bass and Dominik Mahnig on drums. Most persuasive at its most percussive. B+(**)
Ted Nash Big Band: Presidential Suite: Eight Variations on Freedom (2016, Motéma, 2CD): Alto saxophonist, has played in a few big bands in his day, evidently scored a big time commission here, hiring an all-star band and lining up celebrities to read bits from eight iconic speeches -- not that Joe Lieberman does justice to JFK, or that we've forgotten that Winston Churchill and Ronald Reagan destroyed far more freedom than they ever created. The music is no less encrusted with cliché. B
Youssou N'Dour & Le Super Etoile: #Senegaal Rekk (2016, self-released, EP): Product status mysterious, but length looks to be 24 minutes -- I've found several copies more/less that length on YouTube, as well as shorter ones. Also looks like N'Dour has a longer album called Africa Rekk, out on some tentacle of Sony, but I'm not finding it either. Impressive music, but YouTube is a lousy way to listen to it. A- [yt]
Tami Neilson: Don't Be Afraid (2015, self-released): New Zealand's answer to Wanda Jackson. Best when she sticks with that, or deepens it a bit on blues like "Bury My Body" or "Holy Moses"; less so when she aims for Patsy Cline. B+(**)
Nu Guinea: The Tony Allen Experiments [Afrobeat Makers Vol. 3] (2016, Comet): Electronica duo from Naples -- Lucio Aquilina (keyboards) and Massimo Di Lena (reconstructed drums) -- based in Berlin, with Allen on drums and extra percussion. Doesn't strike me as all that close to Afrobeat, but beats are delightful, and the synth noodling a plus. Vinyl length: nine tracks, 33:36. A-
Oles Brothers & Antoni Gralak: Primitivo (2016, ForTune): Twin brothers Marcin and Bartlomiej Oles (bass and drums, respectively), long one of Poland's most sought-after rhythm sections, in a trio with trumpeter Gralak -- 18 years older but not nearly as well known (he's mostly worked in groups: Tie Break, Graal, Yeshe). They scoured early (primitive) recordings for ideas: old ones, as deep and universal as possible. Terrific all around, especially the bass. A- [bc]
Adam Pieronczyk: Monte Albán (2016, Regent): Polish saxophonist (tenor/soprano, also credited with keyboards, electronics, drum programming), leads a sax trio with electric bass (Robert Kubiszyn) and drums (Hernán Hecht) through tricky freebop mazes. A- [cd]
Preoccupations: Preoccupations (2016, Jagjaguwar): Canadian alt-rock band previously known as Viet Cong, probably renamed after some marketers fretted about the huge US market. So while they sound even more like those forgettable lefty Brit bands from the 1980s (i.e., not Gang of Four or Mekons or even Three Johns), they're betting against revolution. B+(*)
Prince Rama: X-Treme Now (2016, Carpark): Brooklyn psych-dance duo, sisters Taraka and Nimai Larson. Strong beat, thickly layered, a Jason Gross favorite I should like but find inexplicably annoying. B-
Isaiah Rashad: The Sun's Tirade (2016, Top Dawg Entertainment): Rapper, from Chattanooga, first official studio album after a well-regarded 49:29 EP (Cilvia Demo), has a nice, even flow, the kind of thing I enjoy but rarely catch much from. B+(**)
Dave Rempis/Elisabeth Harnik/Michael Zerang: Wistfully (2013 [2016], Aerophonic): Recorded in pianist Harnik's home town of Graz, Austria, at a club called WIST (hence the title, with Rempis on alto and tenor sax, and Zerang percussion. A bit scattered. B+(*) [bc]
Dave Rempis/Joe Morris/Tomeka Reid/Jim Baker: Nettles (2013 [2016], Aerophonic): Guitarist Morris visits Chicago, records this at an impromptu session at Elastic Arts, the sax-cello-piano following his lead, which isn't much lead at all. What you get is a more elaborate version of the prickly noodling of his early records. Not without interest. B+(*) [bc]
Dave Rempis/Darren Johnston/Larry Ochs: Neutral Nation (2015 [2016], Aerophonic): All horns, two saxes -- Rempis on alto and baritone, Ochs on sopranino and tenor -- plus trumpet. B [bc]
Dawn Richard: Redemption (2016, Our Dawn): Nu soul singer-songwriter, previously associated with Diddy (or whatever his name was), has two previous studio albums so this one is styled as the tail-end of a trilogy. Strikes me as the most engaging of the three. B+(**)
Richmond Fontaine: You Can't Go Back if There's Nothing to Go Back To (2016, Fluff & Gravy): Alt-country group from Portland, eleventh album since 1996, a vehicle for singer-songwriter Willy Vlautin, who's also written four novels. Solid record, graceful tunes for a guy who thinks long and hard about his words. B+(***)
Randy Rogers Band: Nothing Shines Like Neon (2016, Tommy Jackson): Texas band, starts with a paean to San Antone, heavy on the pedal steel. Not much western swing after that, just a good ol' bar band. Highlight is a slacker anthem, "Takin' It as It Comes," courtesy of Jerry Jeff Walker. B+(*)
Jimetta Rose: The Light Bearer (2016, Temporary Whatever): Hip-hop singer-rapper from Los Angeles, couple albums, produced by Georgia Anne Muldrow. Many layers, little excitement. B-
Jeff Rosenstock: Worry (2016, Side One Dummy): Rock and roller from Long Island, somewhere on the plane between rockabilly and punk but not very close to either (although note 17 songs in 37:42). Came up in bands like Arrogant Sons of Bitches (1998-2006) and Bomb the Music Industry! (2005-11). Sample lyrics: "if you scream and no one hears you/are you even making noise?"; "we don't want to live inside a hell hole/waste our energy on all these assholes." B+(*)
Xenia Rubinos: Black Terry Cat (2016, Anti-): R&B singer (probably -songwriter) from Brooklyn, Latin roots but pretty assimilated into the funk/dance underground, even if she's sometimes "an angry brown girl.' B+(*)
Run the Jewels: Run the Jewels 3 (2016 [2017], Run the Jewels): Producer El-P and rapper Killer Mike, second album scored high on 2014 EOY lists but this one appeared too late for notice in 2016 (digital release Dec. 24) but the CD release held back until Jan. 13, we'll treat it as a 2017 release. Much as before, the beats are forced hard, the rhymes dense, the one I caught about refusing to kill for the government makes sense to me, also the one about "mama said." A-
L.A. Salami: Dancing With Bad Grammar (2016, PIAS America): British singer-songwriter, Nigerian descent (L.A. short for Lookman Adekunle) but you'd never guess. I made him for a folkie, and for a while thought he sounded more like Dylan than anyone since the young Ian Hunter. Was ready to write him off, then "Aristotle Ponders the Sound" got interesting. B+(*)
Hillary Scott & the Scott Family: Love Remains (2016, Capitol Nashville): Nashville singer, the Lady-third of Lady Antebellum, a group I've never had any more fondness for than I hold for the "peculiar institution" their name evokes. Her first solo album, produced by Ricky Skaggs, who works some banjo in with the strings, disguised as a family affair and chock full of Jesus songs. B-
Jimmy Scott: I Go Back Home (2009-10 [2017], Eden River): Booklet doesn't provide recording dates, but a query returned 2009-10, which would place the diminutive singer's "last album" 4-5 years before his death at 88 in 2014. This ties into a movie I haven't seen, and all the songs feature guests -- biggest surprise for me: two duets with Joe Pesci -- and various bands. Mostly classic standards, given his trademark quirks. He's always been an acquired taste, and I can't say as I've ever really gotten into him, but seems like a touching way to wind up a long and storied career. B+(**) [cd]
Richard Sears Sextet: Altadena (2015 [2016], Ropeadope): Pianist, got a commission for this five-part suite "to recognize and honor the legendary drummer, Albert 'Tootie' Heath," who gets "feat." credit on the cover. With Kirk Knuffke (cornet), Steven Lugerner (alto sax/bass clarinet), Patrick Wolff (tenor sax), and Garret Lang (bass). Postbop, a bit fancy, strong horn leads. B+(**)
Aubrie Sellers: New City Blues (2016, Warner Nashville): Debut album, variously described as neotrad and/or alt-country, she calls it "garage country," so a little unruly. Not sure whether covering "In My Room" is a smart or lame choice. B+(*)
Noura Mint Seymali: Arbina (2016, Glitterbeat): Griot from Mauritania, second album, mother also one of the Saharan nation's most famous singers. Not sure what the fuss is about her voice, other than it seems a bit off. Band has plenty of groove. B+(***)
Matthew Shipp/Michael Bisio: Live in Seattle (2015 [2016], Arena Music Promotion): Piano-bass duets. Players have long history together, mostly in Shipp's trio, also with Ivo Perelman. B+(**)
Matthew Shipp Trio: Piano Song (2016 [2017], Thirsty Ear): Piano trio with Michael Bisio (bass) and Newman Taylor Baker (drums), follows a remarkably prolific run where we've heard Shipp in many diverse contexts, and comes with (not his first) vow to give up recording. Still very much on top of his game here. A- [cd]
Amanda Shires: My Piece of Land (2016, BMG): Singer-songwriter from Lubbock, plays violin, but her first album in 2005 and never got too comfortable. B+(***)
Shura: Nothing's Real (2016, Polydor): British electropop singer-songwriter, first album (after an EP and several singles), production low-key, appealing. B+(**)
Sia: This Is Acting (2016, Inertia/Monkey Puzzle/RCA): Pop singer Sia Furler, from Australia, seventh album. Big voice, heavier than most, tends to overdramatize, but that's always been part of the craft. B+(*)
Dave Soldier: The Eighth Hour of Amduat (2016 [2017], Mulatta): Day job is neuroscientist at Columbia University, but he has dabbled in highly experimental music since the late 1980s, such as his Soldier String Quartet, a bluesier group called The Kropotkins, and an ensemble of fourteen elephants (Thai Elephant Orchestra). This is an "opera for mezzosoprano, choir, improvising soloists, orchestra and electronics" based on Egyptian hieroglyphics -- the first credit listed is Rita Lucarelli, for "Egyptology and translation of hieroglyphs to Italian. Needless to say, I can't abide the diva (Sahoko Sato Timpone), but the other featured musician is Marshall Allen, and the score breaks into marvelous passages as often as it crashes and burns. Soldier's own credits are for water bowls and electronics. Remarkable, although I doubt I'll ever play it again. B+(*) [cd]
Kandace Springs: Soul Eyes (2016, Blue Note): Singer, on a jazz label but not very jazzy, based in Nashville but even less country or r&b either. B
Suede: Night Thoughts (2016, Suede): Britpop band, emerged in the 1990s as part of a wave that never really broke though in the US (where they were forced to do business as The London Suede). Broke up after five albums 1993-2002, regrouping for one in 2013 and now this one. Don't know whether they've always been so grandiose, but this is heavier than opera, even if the slurry of sludge is made from relatively lightweight metals. C+
Susso: Keira (2016, Soundway): Bassist Huw Bennett, built this from Mandinka field recordings made on a recent trip to Gambia, an old-fashioned approach that celebrates the primitive even as it passes. B+(*)
Aki Takase/David Murray: Cherry Shakura (2016 [2017], Intakt): Piano/sax duets, Murray also playing bass clarinet. The pair recorded a previous album in 1991, Blue Monk, long a personal favorite, and they add another Monk piece here, along with seven originals (Takase 4, Murray 3) which makes this a bit harder to fall for, but the pianist is superb, and Murray is as awesome as ever. A- [cd]
Aaron Lee Tasjan: Silver Tears (2016, New West): Singer-songwriter from Ohio but based in Nashville, filed under Americana and he wears enough glitter for West Plains, but I have quibbles, some sonic, some thematic. Still, the one about bars and blues is amusing. B
T.I.: Us or Else (2016, Grand Hustle/Roc Nation, EP): Six cuts, 22:24, released Sept. 23, ahead of the 15-cut LP that came out in December. Hard, bleek, and knowing (i.e., political), with Killer Mike the key guest. B+(***)
T.I.: Us or Else: Letter to the System (2016, Grand Hustle/Roc Nation, EP): Expands the EP to 15 cuts, with the opening "I Believe" especially profound. All through 2016 hip-hop artists have been doubling down on Black Lives Matter, while the Trump backlash has pushed hip-hop to ever more political and cultural import. Indeed, it's not surprising that Trump is having trouble lining up "entertainment" for his inaugural, as his demographic's grasp of American culture has become so atrophied. A-
Jonah Tolchin: Thousand Mile Night (2016, Yep Roc): Blues-based singer-songwriter, third album, I thought the second (Clover Lane) was real good, this clearly the same guy but not his best songs. B+(**)
Trio Red Space: Fields of Flat (2015 [2016], Relay): Chicago avant trio, drummer Tim Daisy the composer here, with Mars Williams (tenor/soprano sax) and Jeb Bishop (trombone) -- all former members of Vandermark 5 (but no more than two at a time). B+(**) [bc]
Ken Vandermark: Site Specific (2014-15 [2015], Audiographic, 2CD): Solo, various saxes and clarinets, recorded in four different locations selected for their unusual acoustic properties -- "House," "Cavern," "Tracks" (a train trestle), and "Pipe." I'm not remotely sharp enough to discern those effects, but do find this to be one of Vandermark's more varied and engaging solo efforts. CD package comes with a book. B+(**) [bc]
Venetian Snares: Traditional Synthesizer Music (2016, Timesig): Aaron Funk, born and evidently stuck in Winnipeg, Canada -- a 2005 album is titled Winnipeg Is a Frozen Shithole -- has several dozen albums since 1998 (debut title: Eat Shit and Die). These are somewhat retro pieces for modular synth and, I suspect, drums -- if those are synth, I'm even more impressed. A-
The Wainwright Sisters: Songs in the Dark (2015, PIAS): Half-sisters, Martha Wainwright and Lucy Wainwright Roche, scions of a famous folkie clan, drawing on the family songbook, trad., and a few others, focusing on lullabies, not merely of interest to toddlers. B+(**)
Warehouse: Super Low (2016, Bayonet): Atlanta group, punkish, not all thrash, though they can do that. B+(**)
Watkins Family Hour: Watkins Family Hour (2015, Thirty Tigers): Bluegrass group, principally Sean and Sara Watkins, formerly of Nickel Creek. Fades off into alcohol songs, which isn't really their strong suit. B
Randy Weston/African Rhythms: The African Nubian Suite (2012 [2017], African Rhythms, 2CD): Pianist, born in Brooklyn 86 years before this was recorded but his parents came from Jamaica and he soon developed a deep fascination with Africa and the spread of its culture all around the world. Influenced by Duke Ellington, he's gone on to write extended suites, but this is a live concert with various discrete guest spots -- including pipa and balafon as well as trombone and Texas tenor -- framed by Wayne Chandler's opening narration and Jayne Cortez's closing poetry slam. Still, what elevates this from variety show is the pianist's patter, not just introducing musicians but illuminating his life's work and worldview. A- [cd]
Weyes Blood: Front Row Seat to Earth (2016, Mexican Summer): Singer-songwriter Natalie Mering, third album. Don't care for her voice, and never really got past that. B-
Wolter Wierbos/Jasper Stadhouders/Tim Daisy: Sounds in a Garden (2016, Relay): Recorded in Chicago, home turf of drummer Daisy, with two Dutch visitors: a venerable trombonist (Wierbos) and a young guitarist (Stadhouders). Good showcase for the trombonist. B+(***) [bc]
David Wise: Till They Lay Me Down (2016 [2017], self-released): Tenor saxophonist, debut album, backed by guitar-bass-drums. I do love a great mainstream tenor sax show, and this is more than half-way there. But the vocals turn me off, both Wise at tne end and especially Jason Joseph on the opener. B+(**) [cd]
Eri Yamamoto Trio: Firefly (2012 [2013], AUM Fidelity): Pianist, born in Osaka, Japan, moving to New York in 1995, has a half-dozen albums since 2006, mostly trios like this one with David Ambrosio on bass and Ikuo Takeuchi on drums. B+(*)
Eri Yamamoto Trio: Life (2016, AUM Fidelity): Another piano trio record, also with David Ambrosio (bass) and Ikuo Takeuchi (drums, also all originals (except one from the drummer). A little more vibrant, or maybe I just mean upbeat. B+(**)
C. Spencer Yeh & Ken Vandermark: Schlager (2015 [2016], Audiographic): Another duet album, Vandermark on his usual reeds, Yeh credited with voice, violin, and electronics. The latter sets things up in interesting if oblique ways, which is really all the saxophonist needs. B+(**) [bc]
Dhafer Youssef: Diwan of Beauty and Odd (2016, Okeh): Tunisian singer-songwriter, plays oud, with pianist Aaron Parks providing the jazz footing (also on hand: Ben Williams, Mark Guilliana, and Ambrose Akinmusire). More beauty than odd, although I find his falsetto a bit creepy. B
Miguel Zenón: Típico (2016 [2017], Miel Music): Alto saxophonist, from Puerto Rico, teaches at New England Conservatory, quickly established himself as one of his generation's top players. Tenth album since 2002, many referring back to his Latin roots, as title and cover do here -- but none of the instruments on the cover exist in the album. Rather, he plays within the jazz tradition, building on his long-running quartet -- Luis Perdomo (piano), Hans Glawisching (bass), and Henry Cole (drums) -- and that frees him up for some of his most dynamic playing in years. A- [cd]
Zomba Prison Project: I Will Not Stop Singing (2016, Six Degrees): Field recordings from a prison in Malawi, a landlocked nation in southeastern Africa, second album from the project, could be viewed as a various artists compilation but the artists are so obscured I don't see the separate credits. I do hear many different voices, divers styles, common complaints. B+(**)
Recent Reissues, Compilations, Vault Discoveries
Mose Allison: American Legend: Live in California (2006 [2015], Ibis): Live "best-of" from a four-day stand backed by bass and drums, nearly a decade on the shelf when it appeared about a year before his death (at 89) last November. I'm surprised by how many songs I recognize, struck by the vitality of his piano, and must note how little nuance his voice conveys. B+(*)
Bobo Yéyé: Belle Époque in Upper Volta (1970s [2016], Numero Group, 3CD): Formerly a landlocked French colony wedged between Mali and Ghana, independent in 1958 nd renamed Burkina Faso in 1984, capital Ouagadougou, little noted for its music or much of anything, so this compilation is playing catch-up. First disc is by Volta Jazz; second by Coulibaly Tidani, L'Authentique Orchestre Dafra Star; third by several others. First is closer to highlife, a delight; second leans toward the Malian griots; the third oddly charming even when it's far from great. I haven't seen the book, allegedly substantial. B+(***)
Boogie Breakdown: South African Synth-Disco 1980-1984 (1980-84 [2016], Cultures of Soul): Operative word here is "disco" -- very little marks this as distinctly South African. Eight cuts, three artists, Benjamin Ball the only one worth hearing ("Flash a Flashlight," "I Just Keep Dancing"). B-
Brother Ahh/Sound Awareness: Move Ever Onward (1975 [2016], Manufactured): Bob Northern collected an impressive resume of side-credits from 1959-69, ranging from Monk's Orchestra at Town Hall to Coltrane's Africa/Brass Sessions to The Individualism of Gil Evans to The Jazz Composers Orchestra and Liberation Music Orchestra. He adopted the name Brother Ah as a DJ and used it for his 1974 debut, Sound Awareness, then this. He plays drums, flute, French horn, sitar, and "nature sounds," and is joined by a lot of exotic instruments (including five koto players). Makes for exotic groove pieces, but the vocals get in the way: Aiisha's are off-the-charts bad, the poems and Kwesi Gilbert Northern's croon not much better. B-
Brother Ah and the Sounds of Awareness: Key to Nowhere (1983 [2016], Manufactured): Third (and evidently last) album for Bob Northern's globe-and-cosmic-spanning post-jazz group, both concept and percussion narrowed considerably, with the vocals moderated and the leader more focused both on flute and French horn -- although "Nature's Blues" is still pointedly "now age," and "Celebration" finds its groove. B+(*)
Joe Bushkin: Live at the Embers 1952 (1952 [2016], Dot Time): Pianist (1916-2004), started in the late 1930s with Bunny Berigan and Eddie Condon, Discogs credits him with twenty-some albums 1950-89 although I hadn't previously noticed him. Trio cuts with Milt Hinton and Papa Jo Jones, plus several features for trumpeter Buck Clayton, still swinging in the bebop era. B+(***)
Fanfare Ciocarlia: 20 (1996-2016 [2016], Asphalt Tango): Gypsy brass band from Romania, weddings a specialty, cut their first album (Radio Pascani) in 1996, and eight more over two decades, summed up in this double-LP retrospective (runs 90 minutes, evidently no CD). The early wedding pieces seem to be interchangeable, but their unique take makes occasional covers stand out, as does the Kottarashky rap at the end. A-
Gqom Oh! The Sound of Durban Vol. 1 (2016, Goom Oh!): Basically a label sampler, 12 cuts, 10 artists (dupes: Citizen Boy, Emo Kid) but basically the same (so maybe just a producer sampler -- label heads are Lerato Phiri from Durban and Nan Kolé from Rome) -- electronica with a mechanistic beat and little dressing. Still seems to work. B+(*) [bc]
Chris McGregor & the Castle Lager Big Band: Jazz/The African Sound (1963 [2016], Jazzman): South African pianist, white, formed this mostly black big band a year before he took his smaller, more famous group (The Blue Notes) into exile. With two pieces each by McGregor, Kippie Moeketsi (clarinet), and Abdullah Ibrahim (not part of the band), this aims at American swing bands but you still can hear echoes of South African township jazz. B+(**)
Elvis Presley: Way Down in the Jungle Room (1976 [2016], RCA/Legacy, 2CD): Collects two sessions from his last year, released at the time as From Elvis Presley Boulevard, Memphis, Tennessee and Moody Blue, with one disc of masters and a second of outtakes including studio patter. At the time this must have sounded like utter crap the great man had been reduced to, but as a historical document his magnificence somehow creeps through. B+(*)
Putumayo Presents: African Rumba (1962-2015 [2016], Putumayo World Music): Cuba's slave system was relatively unique in how it preserved regional differences among Afro-Cubans, and it also persisted longer than any other, so it's not surprising to find several distinct cross-cultural flows, notably Cuban-Congo rumba. I'm still unclear on exactly what flowed where, and can't say this helps, but I can't complain about another helping of Africa's most pleasurable groove. I should note that aside from one early track from L'African Fiesta (Rochereau and Dr. Nico) the oldest thing here dates from 2006, and that there are many alternatives, ranging from Crammed Disc's 1950's vintage Roots of Rumba Rock to Syllart's 1954-69 Rumba on the River to the Franco's 1956-87 The Very Best of the Rumba Giant of Zaire. A- [cd]
Chris Rogers: Voyage Home (2001 [2017], Art of Life): Trumpet player, has some big band experience, Discogs credits him with a piece on a VA comp from 1997 but I haven't found anything else. This long-shelved item is recommended for its famous sidemen -- Michael Brecker, Ted Nash, Steve Khan, Xavier Davis, etc. I don't care much for the postbop harmony, but did find myself looking up a sax solo (it was Nash). B [cd]
Sheer Mag: Compilation (2014-16 [2017], Wilsuns RC): Punkish Philadelphia group, Tina Halladay is the singer, released a 4-song EP called 7" in 2014, another in 2015 (II 7"), a third in 2016 (III 7"), with their label rolling up into a fair sized LP, a public service. B+(***) [bc]
Southern Family (2016, Elektra/Low Country Sound): Producer Dave Cobb set up this showcase for a dozen relatively young country singers to burnish their Christian/Family Values credentials. Mixed bag, with Jason Isbell's "God Is a Working Man" and Brandy Clark's 'I Cried" highlights and Morgane Stapleton's unsunny version of "You Are My Sunshine" an anomaly. B+(**)
Space Echo: The Mystery Behind the Cosmic Sound of Cabo Verde Finally Revealed! (1977-85 [2016], Analog Africa): A chain of volcanic islands 350 miles off the coast of Senegal, uninhabited until the 15th century when the Portuguese introduced sugar and slavery and used the colony as a jumping-off point for even greater exploitations, Cabo Verde remained a Portugese colony until 1975. Legend has it that the local pop music was built on a shipwrecked cargo of synthesizers, and that's what's featured here, along with guitar, horns, voices, etc. B+(**)
Cecil Taylor: Live in the Black Forest (1978 [2016], MPS): Reissue of a 1979 album, a SWF-Radio concert recorded in Kirchzarten in West Germany with the pianist's explosive sextet: Raphe Malik (trumpet), Jimmy Lyons (alto sax), Ramsey Ameen (violin), Sirone (bass), and Ronald Shannon Jackson (drums). Two long pieces, flashes of brilliance but not as good as they got -- cf., say, One Too Many Salty Swift and Not Goodbye, from the same year. B+(**)
The Three Sounds: Groovin' Hard: Live at the Penthouse 1964-1968 (1964-68 [2017], Resonance): Gene Harris' piano trio, with Andrew Simpkins (bass) and Bill Dowdy (drums), originally formed as a quartet in 1956 but soon lost their saxophonist, and went on to record more than two dozen albums up to 1971. Cherry-picked from several sessions (including a couple substitute drummers), making sure that everything lives up to the title. A- [cd]
Old Music
Simon Nabatov/Mark Helias/Tom Rainey: Tough Customer (1992 [1993], Enja): Pianist, born in Moscow in 1959, moved to Rome in 1979, then New York before settling in Cologne in 1989. The pianist often dazzles, flash that may blind even him to his avant potential. B+(***)
Additional Consumer News:
Previous grades on artists in the old music section.
Simon Nabatov/Mark Dresser: Projections (2014 [2015], Clean Feed): B+(***)
Notes
Everything streamed from Napster (ex Rhapsody), except as noted in brackets following the grade:
[cd] based on physical cd
[cdr] based on an advance or promo cd or cdr
[bc] available at bandcamp.com
[sc] available at soundcloud.com
[sp] available at spotify.com
[yt] available at youtube.com
[os] some other stream source
[dl] something I was able to download from the web; may be freely available, may be a bootleg someone made available, or may be a publicist promo
Monday, January 23, 2017
---
Music Week
Music: Current count 27673 [27639] rated (+34), 363 [370] unrated (-7).
Still working on EOY Aggregate List: up to 416 lists, with many recent ones focused on jazz (the best index of jazz EOY lists is at St. Louis Jazz Notes -- I've probably hit about half of them so far). The jazz lists haven't had much effect overall -- little change there, with close contests currently favoring Nick Cave (342) over Kanye West (341) for 7th, and Bon Iver (287) over Angel Olsen (285) for 10th.
Since January 2, A Tribe Called Quest advanced from 7th to 6th (and is currently -11 from 5th place Solange), Chance the Rapper is up from 10th to 9th, Leonard Cohen from 14th to 12th, and Rihanna from 19th to 17th (Kaytranada also passing Mitski). The Village Voice Critics Poll comes out later this week. Knowing that poll as I do, I'd say that the winning odds are about even between David Bowie (clear winner of my EOY Aggregate List), Beyoncé (second here, her previous record a surprise 5th way ahead of my tracking file), and A Tribe Called Quest (the late arrival/late gainer this year, by far the most likely album to finish higher than on my list). If I had to wager on one of those, I'm thinking A Tribe Called Quest: despite the law of averages the Voice Poll has come up with a surprising number of upsets in recent years, especially late releases of hip-hop/r&b albums.
I also rather expect Chance the Rapper to improve (from 9th to about 5th), and I wouldn't be surprised to find Leonard Cohen and Car Seat Headrest sneaking into the top 10 (displacing Nick Cave, who may not finish in the top 20, and Bon Iver, who should drop to around 15th. I expect Radiohead (currently 4th) will drop some but probably not enough to fall from the top ten. The top twenty have been pretty consistently firewalled against lower records: Blood Orange is in 20th with 162, just below Mitski (171), Kaytranada (179), and Rihanna (184), while 21st is Kendrick Lamar (139, a 16.5% gap), followed by Sturgill Simpson (132), Jenny Hval (118), and Parquet Courts (115). I'd say the most likely records to climb up/in the top fifty are: Parquet Courts (24), Drive-By Truckers (31), Miranda Lambert (37), Young Thug (38), Wilco (47). More outside chances: Maren Morris (46), Brandy Clark (48), White Lung (58), Childish Gambino (71), NxWorries (79), Lori McKenna (92).
For what little it's worth, the highest rated record I haven't heard yet this year is Weyes Blood: Front Row Seat to Earth (57) -- a record that has been slowly gaining ground. The recent focus on jazz lists has raised the whole genre. One effect is that crossed-over BadBadNotGood (which, at least this time, I'm not included to view as jazz at all, and will note that they didn't get a single JCP vote) dropping from 1st to 3rd. The leaders right now are Mary Halvorson and Wadada Leo Smith, eclipsing JCP poll winner Henry Threadgill (4) and Jack DeJohnette (5). Aside from crossover entries (BBNG in 3rd, Esperanza Spalding in 9th), the one record that has really pulled ahead of JCP is Anna Högberg Attack -- probably shows that I have more avant and more European lists than JCP did. The top-rated jazz record I haven't heard yet is Battle Trance (35), followed by the 8-CD Joëlle Léandre box (93) and Jon Lundbom's EPs (94 -- I've heard them as they came out, but never got the finished compilation so haven't bothered grading them as a whole). It's actually unusual that I've managed to listen so far down the lists, but I suppose counting my own grades (up to five points) has skewed that respect.
I expect I'll add the complete Voice poll standings into the EOY Aggregate and then be done working on it. It's chewed up a lot of time this year even though I've counted less than half as many lists as last year, and kept me away from working on other projects -- like compiling the Jazz Guide(s). I also haven't made any effort to freeze my 2016 list, but should do that no later than January 31. As it is, three (of six) A- records this week have 2017 release dates (a fourth appeared in Poland on October 24 but only arrived here last week). Or I might freeze when I post January's Streamnotes -- likely to be some time this coming week, given that I already have 134 reviews in the draft file.
---
New records rated this week:
Aphex Twin: Cheetah (2016, Warp, EP): [r]: B+(*)
François Carrier/Michel Lambert/Alexey Lapin: Freedom Is Space for the Spirit (2014 [2017], FMR): [cd]: A-
Shawn Colvin/Steve Earle: Colvin & Earle (2016, Fantasy): [r]: B
Alan Cumming: Alan Cumming Sings Sappy Songs: Live at the Cafe Carlyle (2016, Yellow Sound): [r]: B+(*)
Tim Daisy/Marc Riordan: Joyride (2016, Relay): [bc]: B+(***)
The Brian Dickinson Quintet: The Rhythm Method (2015 [2017], Addo): [cd]: B+(*)
Fanfare Ciocarlia: Onwards to Mars! (2016, Asphalt Tango): [r]: B+(***)
Flume: Skin (2016, Future Classic): [r]: B
Gaika: Security (2016, Mixpak): [r]: B+(*)
High Definition Quartet: Bukoliki (2015, ForTune): [bc]: A-
Howard Johnson and Gravity: Testimony (2016 [2017], Tuscarora): [cd]: B+(**)
Joachim Kühn New Trio: Beauty & Truth (2015 [2016], ACT): [r]: B+(**)
Lil Yachty: Lil Boat (2016, Quality Control): [r]: B
Lil Yachty: Summer Songs 2 (2016, Quality Control): [r]: B-
Tove Lo: Lady Wood (2016, Island): [r]: B+(*)
Oles Brothers & Antoni Gralak: Primitivo (2016, ForTune): [bc]: A-
Adam Pieronczyk: Monte Albán (2016, Regent): [cd]: A-
Noura Mint Seymali: Arbina (2016, Glitterbeat): [r]: B+(***)
Matthew Shipp Trio: Piano Song (2016 [2017], Thirsty Ear): [cd]: A-
Dave Soldier: The Eighth Hour of Amduat (2016 [2017], Mulatta): [cd]: B+(*)
Suede: Night Thoughts (2016, Suede): [r]: C+
Aaron Lee Tasjan: Silver Tears (2016, New West): [r]: B
Trio Red Space: Fields of Flat (2015 [2016], Relay): [bc]: B+(**)
Ken Vandermark: Site Specific (2014-15 [2015], Audiographic, 2CD): [bc]: B+(**)
Wolter Wierbos/Jasper Stadhouders/Tim Daisy: Sounds in a Garden (2016, Relay): [bc]: B+(***)
Recent reissues, compilations, and vault discoveries rated this week:
Southern Family (2016, Elektra/Low Country Sound): [r]: B+(**)
Fanfare Ciocarlia: 20 (1996-2016 [2016], Asphalt Tango): [r]: B+(***)
The Three Sounds: Groovin' Hard: Live at the Penthouse 1964-1968 (1964-68 [2017], Resonance): [cd]: A-
---
Unpacking: Found in the mail last week:
Michel Lambert: Alom Mola (Jazz From Rant): February 14
Doug Munro and La Pompe Attack: The Harry Warren Songbook (GotMusic): March 1
Oui' 3: Occupy Your Mind (ITI): January 20
Luke Sellick: Alchemist (Cellar Live): March 10
David Weiss & Point of Departure: Wake Up Call (Ropeadope): February 10