Index
Latest
2015
Jul
Jun
May
Apr
Mar
Feb
Jan
2014
Dec
Nov
Oct
Sep
Aug
Jul
Jun
May
Apr
Mar
Feb
Jan
2013
Dec
Nov
Oct
Sep
Aug
Jul
Jun
May
Apr
Mar
Feb
Jan
2012
Dec
Nov
Oct
Sep
Aug
Jul
Jun
May
Apr
Mar
Feb
Jan
2011
Dec
Nov
Oct
Sep
Aug
Jul
Jun
May
Apr
Mar
Feb
Jan
2010
Dec
Nov
Oct
Sep
Aug
Jul
Jun
May
Apr
Mar
Feb
Jan
2009
Dec
Nov
Oct
Sep
Aug
Jul
Jun
May
Apr
Mar
Feb
Jan
2008
Dec
Nov
Oct
Sep
Aug
Jul
Jun
May
Apr
Mar
Feb
Jan
2007
Dec
Nov
Oct
Sep
Aug
Jul
Jun
May
Apr
Mar
Feb
Jan
2006
Dec
Nov
Oct
Sep
Aug
Jul
Jun
May
Apr
Mar
Feb
Jan
2005
Dec
Nov
Oct
Sep
Aug
Jul
Jun
May
Apr
Mar
Feb
Jan
2004
Dec
Nov
Oct
Sep
Aug
Jul
Jun
May
Apr
Mar
Feb
Jan
2003
Dec
Nov
Oct
Sep
Aug
Jul
Jun
May
Apr
Mar
Feb
Jan
2002
Dec
Nov
Oct
Sep
Aug
Jul
Jun
May
Apr
Mar
Feb
Jan
2001
Dec
Oct
Sep
Aug
Jul
Jun
May
Apr
Mar
Feb
Wednesday, July 29, 2015
Rhapsody Streamnotes (July 2015)
Pick up text here.
Monday, July 27, 2015
Music Week
Music: Current count 25190 [25154] rated (+36), 453 [457] unrated (-4).
Bumper crop of A-list records this week: if I kept this up I'd have 400 for the year, which would blow my credibility all to bits. (Actually, I have 58 new and 7 old so far this year, so that's, if anything, below last year's pace.) First two records I graded last week were A- (both jazz but very different: Harry Allen and OZO), then nothing much happened until Saturday when I hit a streak of three (Ashley Monroe, Chico Freeman, Omar Souleyman). In between I went to check out the new Four Tet and found a couple I hadn't heard before, including Pink -- on Christgau's 2013 Dean's List but never reviewed in Expert Witness. Also surprised that I gave Satoko Fujii's Berlin big band the edge over the Tobira quartet -- I usually prefer the small groups, not least because her piano is more prominent. Veruca Salt was a tip from Michael Tatum (a solid A-, he said). I originally had it a notch lower, but a recheck (actually, a couple) convinced me. Among the high B+, Johannes Wallmann most tempted me -- terrific solos by Russ Johnson and Gilad Hekselman, and the piano never quits. I must admit that I ran out of patience with Wilco, but there could be more there.
One thing that changed the week around was that I got my crashed "media" computer back up and running. I put a new hard disk drive in ($50 buys one terrabyte these days) and did a fresh install of Xubuntu 14.04.2 (Desktop). I haven't mounted the old disk yet, so I haven't recovered the missing data (mostly downloads), but it was a treat to listen to Rhapsody through decent speakers. (I had been using the Chromebook's built-in speakers, since the Bose Mini-Link had proven unusable.) Veruca Salt especially benefitted.
For "old music" I'm still picking at the Spin 1985-2014 list, but losing interest as I'm going along. The unheard records are down to 31, so about 10%. That number will drop a bit in future weeks, but I don't know how much or how fast. I was more interested in finding those missing Four Tet albums. (Kieran Hebden, by the way, is producer on the Omar Souleyman album.)
Expect a Rhapsody Streamnotes before the end of the month. It's been more than a month, but I lost those three weeks on the road, so the draft is only average-sized at present (105 records). But that should be big enough for any month.
---
New records rated this week:
Harry Allen's All-Star Brazilian Band: Flying Over Rio (2015, Arbors): [r]: A-
Bilal: In Another Life (2015, E1): [r]: B+(**)
Brett Carson: Quattuor Elephantis (2014 [2015], Edgetone): [cd]: B
Steve Davis: Say When (2014 [2015], Smoke Sessions): [r]: B+(*)
Four Tet: Pink (2011-12 [2012], Text): [r]: A-
Four Tet: Beautiful Rewind (2013, Text): [r]: B+(***)
Four Tet: Morning/Evening (2015, Text): [r]: B+(*)
Chico Freeman/Heiri Känzig: The Arrival (2014 [2015], Intakt): [cd]: A-
Satoko Fujii Orchestra Berlin: Ichigo Ichie (2014 [2015], Libra): [cd]: A-
Satoko Fujii Tobira: Yamiyo Ni Karasu (2014 [2015], Libra): [cd]: B+(***)
Giant Sand: Heartbreak Pass (2015, New West): [r]: B+(*)
Godspeed You! Black Emperor: Asunder, Sweet and Other Distress (2015, Constellation): [r]: B-
Marsa Fouty: Concerts (2015, Fou): [cd]: B
Ashley Monroe: The Blade (2015, Warner Music): [cd]: A-
Simon Nabatov/Mark Dresser: Projections (2014 [2015], Clean Feed): [cd]: B+(***)
OZO: A Kind of Zo (2015, Shhpuma/Clean Feed): [cd]: A-
Jack Perla: Enormous Changes (2013 [2015], Origin): [cd]: B
R5: Sometime Last Night (2015, Hollywood): [r]: B+(*)
Mason Razavi/Bennett Roth-Newell: After You (2015, First Orbit Sounds Music): [cd]: B+(*)
Terell Stafford: Brotherlee Love: Celebrating Lee Morgan (2014 [2015], Capri): [r]: B+(**)
Omar Souleyman: Bahdeni Nami (2015, Monkeytown): [r]: A-
Ben Stapp & the Zozimos: Myrrha's Red Book: Act 1 (2014 [2015], Evolver): [cd]: B+(**)
Veruca Salt: Ghost Notes (2015, El Camino): [r]: A-
Wayne Wallace Latin Jazz Quintet: Intercambio (2014-15 [2015], Patois): [cd]: B+(*)
Johannes Wallmann: The Town Musicians (2013 [2015], Fresh Sounds New Talent): [cdr]: B+(***)
Wilco: Star Wars (2015, dBpm): [r]: B+(***)
Recent reissues, compilations, and vault discoveries rated this week:
Alex Chilton: Ocean Club '77 (1977 [2015], Norton): [r]: B+(**)
Percussions: 2011 Until 2014 (2011-14 [2015], Text): [r]: B+(**)
Old records rated this week:
C86 [Compact Digital Edition] (1986 [2014], Cherry Red): [r]: B+(*)
Godspeed You! Black Emperor: F# A# (Infinity) (1997 [1998], Kranky): [r]: B+(**)
Godspeed You! Black Emperor: Lift Your Skinny Fists Like Antennas to Heaven (2000, Kranky, 2CD): [r]: B+(*)
Janet Jackson: Control (1986, A&M): [r]: B+(*)
Mobb Deep: The Infamous (1995, Loud): [r]: B+(**)
Snoop Doggy Dogg: Doggystyle (1993, Death Row): [r]: B
---
Unpacking: Found in the mail last week:
Baltazanis: End of Seas (self-released)
Blue Buddha (Tzadik): advance, August
Darts & Arrows: Altamira (Ears & Eyes): October 16
Mary Halvorson: Meltframe (Firehouse 12): September 4
Lafayette Harris, Jr. Trio: Bend to the Light (Airmen): August 7
Will Herrington: Solace (self-released)
Nick Mazzarella Trio: Ultraviolet (International Anthem): September 25
Mark Christian Miller: Crazy Moon (Sliding Jazz Door Productions): August 10
Mary Morris: The Jazz Palace: A Novel (Nan A. Talese/Doubleday): book
César Orozco & Kamarata Jazz: No Limits for Tumbao (Alfi): August 1
Miscellaneous notes:
C86 [Compact Digital Edition] (1986 [2014], Cherry Red): B+(*) [rhapsody]
Saturday, July 25, 2015
Weekend Roundup
I got an early start this week, writing some of this on Friday, then deciding that was close enough to save up for Sunday. This week's choice links:
---
---
Also, a few links for further study:
Hugh Roberts: The Hijackers: Review of several books about Syria and ISIS, including Patrick Cockburn's The Rise of Islamic State: ISIS and the New Sunni Revolution. Provides a great deal of background about Syria, especially from Sykes-Picot to the Arab Spring, continuing with the various groups and factions fighting in Syria and how they fit in with various foreign interests. Much to learn here, and much I could quote. For instance, about Geneva II, where Lakhdar Brahimi was unable to bring about any agreement:

The point here is not that one side was slightly more or slightly less intransigent, but that by making the future of Assad the central question, and insisting on his departure, the Western powers, in conjunction with Saudi Arabia, Qatar, Kuwait, the United Arab Emirates and Jordan -- not one of which is a democracy -- as well as Turkey, which under Erdogan has slid a long way towards authoritarian rule, made it impossible for a political solution to be found that would at least end the violence. It is in ways like this that the Arab uprisings were really hijacked.

The Tunisian revolution was a real revolution not because it toppled Ben Ali, but because it went on to establish a new form of government with real political representation and the rule of law. The hijacking of the Arab uprisings by the Western powers has been effected by their success in substituting for profound change a purely superficial "regime change" that merely means the ejection of a ruler they have never liked (Saddam, Gaddafi, Assad) or have no further use for (Mubarak), and his replacement by someone they approve of. In seeking this change in their own interests, they have repeatedly shown a reckless disregard for the consequences of their policies, from Iraq to Egypt to Libya to Syria.

Also:

Brahimi told Der Spiegel that he feared Syria would become "another Somalia" . . . a failed state with warlords all over the place." What is taking at least partial shape in Syria -- unless the country is partitioned, which is also on the cards -- is another Afghanistan.

When the Afghan jihadis -- backed, like their Syrian successors today, by the Gulf states and Anglo-America -- finally overthrew the secular-modernist Najibullah regime, they immediately fell out among themselves and Afghanistan collapsed into violent warlordism. But, unlike Somalia, Afghanistan was rescued by a dynamic movement that suddenly appeared on its southern marches and swept all before it, crushing the warlords and finally establishing a new state. In the aftermath of the jihad our governments had sponsored and our media had enthusiastically reported, secular modernism was no longer on offer: militantly retrograde Islamism was the only political discourse around and it was inevitably the most fundamentalist brand that won.

And:

I don't pretend to know what the truth is. But there is no need to prove malign intent on the part of the Western powers. The most charitable theory available, "the eternally recurring colossal cock-up" theory of history, will do well enough. If a more sophisticated theory is required, I suggest we recall the assessment of C. Wright Mills when he spoke of US policy being made by "crackpot realists," people who were entirely realistic about how to promote their careers inside the Beltway, and incorrigible crackpots when it came to formulating foreign policy. [ . . . ]

Western policy has been a disgrace and Britain's contribution to it should be a matter of national shame. Whatever has motivated it, it has been a disaster for Iraq, Libya and now Syria, and the fallout is killing Americans, French people and now British tourists, in addition to its uncounted victims in the Middle East. The case for changing this policy, at least where Syria is concerned, is overwhelming. Can Washington, London and Paris be persuaded of this? Cockburn quotes a former Syrian minister's pessimistic assessment that "they climbed too far up the tree claiming Assad has to be replaced to reverse their policy now."

Kathryn Schulz: The Really Big One: Despite the presence of a string of volcanos along the spine of the Cascades, from Mt. Baker down to Mt. Lassen, there has been little seismic activity in Oregon and Washington since Lewis & Clark explored the area two centuries ago. We now know that the volcanoes occur where the Juan de Fuca oceanic plate bends down under the North American plate far enough to melt and send magma upwards. We also know that the seismic quiescence is temporary and misleading: that a massive earthquake occurred along the whole plate front -- from northern California to Victoria Island in Canada -- in 1700, and we can date it precisely because it lines up with a tsunami that hit Japan a few hours later. We also know that there is evidence of such earthquakes occurring every 250 years for the last 10,000, so . . . if anything, we're overdue for a very big one. Schulz details the likely consequences here, and they will be more devastating than any disaster in American history. Interesting science, and one more reason to keep the Bushes away from FEMA.

This problem is bidirectional. The Cascadia subduction zone remained hidden from us for so long because we could not see deep enough into the past. It poses a danger to us today because we have not thought deeply enough about the future. That is no longer a problem of information; we now understand very well what the Cascadia fault line will someday do. Nor is it a problem of imagination. If you are so inclined, you can watch an earthquake destroy much of the West Coast this summer in Brad Peyton's San Andreas, while, in neighboring theatres, the world threatens to succumb to Armageddon by other means: viruses, robots, resource scarcity, zombies, aliens, plague. As those movies attest, we excel at imagining future scenarios, including awful ones. But such apocalyptic visions are a form of escapism, not a moral summons, and still less a plan of action. Where we stumble is in conjuring up grim futures in a way that helps to avert them.

That problem is not specific to earthquakes, of course. The Cascadia situation, a calamity in its own right, is also a parable for this age of ecological reckoning, and the questions it raises are ones that we all now face. How should a society respond to a looming crisis of uncertain timing but of catastrophic proportions? How can it begin to right itself when its entire infrastructure and culture developed in a way that leaves it profoundly vulnerable to natural disaster?

That comment is equally applicable to climate change. (I was going to make some disclaimer that earthquakes at least are not anthropogenic, but the recent dramatic increase of them in Oklahoma and Kansas are quite clearly the results of human activity, specifically the oil and gas industry.) Worth noting this latest confirmation of the threat -- not the sudden sea rise of a tsunami but the slightly more gradual one of sea level rising due to melting ice sheets: Elizabeth Kolbert: A New Climate-Change Danger Zone? Again, if political solutions are inconceivable due to the ideological chokehold of vested interests (see "guns" above) and because we don't seem to be able to distinguish between those private interests and public ones (see "health care" above), the critical battleground will be over the remedial efforts of disaster control (e.g., FEMA).
Wednesday, July 22, 2015
The Usual Suspects
There is an old adage that goes: those who don't know history are doomed to repeat it. But what happens when someone knows a little bit about history, but gets it all wrong? Take Wesley Clark, for example. Katherine Krueger reports:
U.S. General Wesley Clark floated a plan Friday for dealing with so-called "lone wolf" terrorists on American soil: imprison them in internment camps before they get the chance to attack the U.S.

In an appearance on MSNBC to discuss the shootings at Chattanooga military sites, the retired general and former Democratic candidate for president said we should be dealing with "disloyal" American citizens who've been "radicalized" the same way the U.S. did during World War II -- and called on allies to do the same.

"In World War II, if someone supported Nazi Germany at the expense of the United States, we didn't say that was freedom of speech, we put them in a camp, they were prisoners of war," Clark said.

He also said: "If these people are radicalized and they don't support the United States and they are disloyal to the United States as a matter of principle, fine. It's their right and it's our right and obligation to segregate them from the normal community for the duration of the conflict."

Clark suggested that American Muslims could come to embrace radical Islam after losing a girlfriend or if "their family doesn't feel happy here."
Most likely Clark was thinking of the internment camps set up during WWII that held 120,000 Americans of Japanese descent. Those camps were set up during a racist panic on the West Coast after Pearl Harbor was bombed, and were soon regarded as a waste of resources and eventually as a national embarrassment. Nothing similar was done or even proposed for the millions of Americans of German descent: partly because a bout of anti-German hysteria had already occurred during the first world war and was properly remembered as pointless and stupid, partly because we were more likely to distinguish between Nazis and other Germans, and partly because German-Americans were white. Few of us today realize how deep and vicious American racism against Japanese and Chinese had been up through the 1940s. (See John W. Dower: War Without Mercy: Race and Power in the Pacific War; there must be a more general book, but I haven't read one.)
As for Clark's assertion that during WWII "supporter[s] of Nazi Germany" were arrested and treated as "prisoners of war" there isn't much evidence. Jeffrey Rogers Hummel has written a thorough review of American prosecution of supposed enemies both before and after Pearl Harbor (see Not Just Japanese Americans: The Untold Story of U.S. Repression During 'The Good War') and he does cite cases where the US used the Alien Enemies Act (dating from 1798) to incarcerate Japanese, German, and Italian immigrants (3,846 of them within 72 hours of the Pearl Harbor attack). There were subsequent prosecutions for sedition, espionage, and even treason -- several Americans were charged in absentia with treason for making anti-American propaganda broadcasts (including poet Ezra Pound and one of the women known as "Tokyo Rose"). A few thousand conscientious objectors were rounded up and put into camps akin to jails, and the anti-sedition laws were used to repress various fringe groups, like Trotskyites and Jehovah's Witnesses. But aside from the Japanese-Americans, I don't see anything in Hummel's long list that suspended judicial processes or that treated American citizens as prisoners of war.
I should interject here that just because the US did something in WWII doesn't make it right or appropriate, either then or now. Every American war started with an effort to suppress dissent, ostensibly to form and demonstrate national unity but not incidentally to cover the warmongers' asses. In WWI dissenters as famous as Eugene V. Debs were chucked into jail for "crimes" that even Wesley Clark would now recognize as free speech. (Debs was jailed for giving an actualspeech.) If FDR's WWII government has a reputation as less repressive, it's most likely because the war was much less unpopular. Moreover, both wars were followed by notorious "red scare" periods: the latter, recalled as McCarthyism, peaked during the Korean War, and was most effective at cowering opposition to that war.
McCarthy himself flamed out shortly after the Korean War ended, but by then anti-communism had become deeply entrenched throughout the government, academia, and even labor unions, even while HUAC, the John Birchers, and Barry Goldwater seemed like fringe figures. The Vietnam War wasn't marketed (as the later Iraq Wars would be). It was just entered into reflexively, with as little thought as the "gunboat diplomacy" operations of the early 20th century, until it swelled to the point of becoming America's longest and least popular war. The FBI did what it could to suppress dissent, but opposition to the war grew too extensive to quell with prosecutions -- not that the government didn't try (e.g., the Chicago 7). If nothing else, opposition to the Vietnam War established that Americans have the right to assemble and speak out against the nation's wars.
Still, the war party doesn't like dissent, and they go to great lengths if not so much to suppress it then to crowd it out. The war drums so dominated the media after 9/11/2001 that it was impossible to raise even the most modest of doubts in public. I went to peace demonstrations in New York City in the following weeks, but how many of you even knew that they happened? None of New York's Congressfolk voted against the war authorization. Fourteen years later that war seems to be on autopilot, periodically refreshed by minor incidents like the shootings in Chattanooga Clark was responding to, because we cannot bring ourselves to reconsider how we got into this mess in the first place.
Returning to Clark's proposal, we have to ask: (1) what is it he's really asking for? (2) how does that reflect on us as a people and a nation? and (3) will it work anyway? Unfortunately, he hasn't made even the first question easy. Clarks speaks of "internment camps": the only real precedent for that is the internment of Japanese-Americans during WWII. Clark speaks of "prisoners of war" and "segregat[ing] them from the normal community for the duration of the conflict." In the context of WWII that can only mean captives who were wearing enemy uniforms, but that hardly applies to anything in "the global war on terror," which is not a war against an identifiable nation, nor is it a war that can be expected to terminate clearly in the near future. It is true that some of Bush's lawyers tried to apply parts of the law on "prisoners of war" to some aliens captured abroad, and argued that as the basis for keeping those prisoners at Guantanamo, but Clark is talking about "American muslims" -- a group estimated at anywhere from 5 to 12 million people. He isn't necessarily talking about rounding up all of them: he wants to grab those who are "radicalized," who may as a result of that try to "hurt us."
Even if you take the lower estimate, 5 million American muslims is twice as many people as are currently in jail in the US, so Clark is potentially talking about tripling the size of America's prison complex (already the largest in the world). Of course, most American muslims aren't radicalized (at least not yet), but how do you tell which is which? Clark's suggestion here is to look for young men recently jilted by girlfriends, or whose "family doesn't feel happy here." Criteria like that is rather hard to determine. At the very least, it would require the US to do a lot of spying on our own citizens -- something which is, uh, illegal. (But then any initial division of the population according to religion is also illegal -- a violation of civil rights law.) The points which violate specific laws could conceivably be fixed, but I can think of a bunch of places where such an internment program would bump up against the constitution. The idea that you should lock up people because they might be inclined to commit a future crime is totally alien to American jurisprudence (if not necessarily to American history). My second question above must be answered "no."
As to the third question ("will it work anyway?") it's hard to see any way to answer "yes." For starters, the scheme can fail in two ways: it can intern people who would never have committed crimes, and it can miss people who do. It may seem hard to "proove the negative" but you can get an idea of the former by counting the number of radicalized muslims who have actually committed crimes over the past few years -- the shooter in Chattanooga, the Tsarnaev brothers in Boston, the two guys who attacked Pamela Geller's Mohammad-bashing festival in Dallas, a few more here and there -- you can even add in the guys the FBI set up and "stung" and not drive the total up more than a few dozens. How many people would Clark sweep off the streets? If it's only a couple hundred or so the majority would have been jailed unnecessarily and falsely. If it's thousands or more the injustice is only magnified. On the other hand, if you hold the number of detainees down to, say, 5000, you're letting at least 999 of every 1000 muslims off the hook. That almost certainly means that some "terrorists" will blend into the pack and escape internment. Of course, the problem doesn't end there. The program itself, with its blatant discrimination and spying, will radicalize more muslims, while at the same time driving muslim radicals underground, making them harder to detect. Given the already low number of terror incidents due to radicalized muslims, it's quite possible that Clark's internment program would result in many more incidents than it was initially meant to stop. So worse than "not working," Clark's concentration camps are most likely to make the problem worse -- on top of all the other negatives.
It's safe to say that Clark's proposal won't be adopted, but it is interesting that he even bothered to blurt it out. I could come up with a long list of reasons why, but I'll just leave you with three: (1) he hugely overestimates the problem (the number of "terrorist incidents") and has no sense of proportionality versus the muslim population in America; some of this is simple innumeracy (John Allen Paulos' term for people who can't envision relationships between numbers), some is that fear of terrorism is promoted by certain interest groups that profit from it (e.g., the military and its suppliers), and some is common prejudice against islam; (2) he has insufficient respect for America's traditions regarding justice and democracy, favoring power instead; and (3) he refuses to consider the real alternative, which would have the United States withdrawing from its history of interfering with other countries by supporting and encouraging violence (either against those countries or in favor of elites against the people of those countries).
Monday, July 20, 2015
Music Week
Music: Current count 25154 [25120] rated (+34), 457 [462] unrated (-5).
Came back from my trip exhausted, and if anything grew wearier over the course of the week. Unpacking has been slow, and while I managed to catalog all the waiting CDs last week I still have a pile of snail mail to read (or otherwise dispose of). I did at least start to get back into a music routine, at least until disaster struck. I've been using a recycled Linux machine for streaming music, downloading PR links, playing DVDs, and occasionally checking up on Facebook. I've kept this machine rigorously up to date, so when I got back there were a huge number of software updates ready. I started to install them while I was streaming something, and a few minutes later the machine crashed with a kernel panic. It seemed to reboot, but a few minutes later froze up, with I/O errors on the console. Repeated attempts merely shortened the time to freeze. At the very least the software installation has been left in an inconsistent state. Also possible that the disk drive is malfunctioning.
I had another (not-so-good) computer setup for streaming, so the main effect of losing the machine was that I lost all of the download music I had received over the last six months -- mostly from ECM and Cuneiform, since I don't bother with most other links that come my way. They're always a pain, and I had been slow at dealing with them anyway, so I was well behind reporting on them. Also, ECM's links are time-limited, and I think Cuneiform's are locked against multiple downloads. And going forward, my methodology for downloading them is broken, so that's something else to bother with. In the long run I'll probably be able to recover the lost data by mounting the disk on a working machine, but that's also in principle true of the previous "media machine" that crashed in 2014 and is still sitting on the sidelines. (It ran Windows Vista, and was similarly corrupted by a software update. My understanding is that I can fix the corruption if I can find the original installation discs, but thus far I haven't found them. If/when I give up on that search I can still try to mount the discs on a Linux system and scrounge around for useful data, but that hasn't been much of a priority.)
Meanwhile, the new streaming setup is the one I used on the road: a Toshiba Chromebook and Bose MiniLink Bluetooth speakers. The latter, even when they're working properly, are much inferior to the Klipsch computer speakers on the "media machine," which are in turn much inferior to the B&O speakers on my now aged stereo system. (The speakers and the Yamaha receiver are close to 30 years old.) But it turns out that the Bose speakers rarely work right: the bluetooth connection often fails, and the auxiliary connection -- a direct wire with stereo jacks from the computer to the speakers -- has a really weird effect that I'll explain below. (It's quite possible that both of these problems are the fault of the Toshiba, which among other things has very little in the way of diagnostic tools.) The upshot is that I've had to fall back on the Toshiba's built-in speaker, lame and tinny as you'd expect. That possibly puts the streamed records at a disadvantage, even more than usual. Factor that in if you like, but looking at the grade list below I suspect I've already done so.
The weird effect? When I streamed Frank Lacy's Mingus Sings I was surprised to find that the record had virtually no vocals -- maybe some vocal rumbling submerged in the background. I was mostly streaming jazz and hadn't noticed much amiss, but when I switched to Boz Scaggs' A Fool to Care again the vocals were buried, leaving a lushly attractive guitar groove album. OK, I thought. The Leonard Cohen showed evidence of background vocals but no Cohen, and that, too, had some appeal. I didn't pull the plug until I got to Kacey Musgraves and thought her doing an instrumental album was just too bizarre. And when I pulled the plug, her voice popped right up -- on the Toshiba's built-in speaker.
Evidently there is such a thing as a "vocal eliminator" filter, which is used to create karaoke versions from standard stereo. How such a thing got into the Bose and/or the Toshiba beats me. (The bluetooth path to the Bose speakers didn't filter out the vocals, so it was only the wired connection. The Toshiba manual describes the jack as "headphone/microphone" but when I plug the Bose in it is recognized as a headphone, and I can't find any more audio controls. Just spent an hour researching and testing this and I know nothing more than I did.)
After discovering this glitch, I went back and relistened to about ten albums. Oddly enough, I wound up grading the Lacy and Hollenbeck albums down. The others didn't move much, although the vocals are certainly a plus for Scaggs, Cohen, and Musgraves. The filter had also knocked Joshua Redman's sax out of the Bad Plus album, but that was neither much of a loss or gain. Could be that I've misheard more of the [r] albums below, so take them with more than the usual grain of salt. (I think the list that I didn't recheck was: Blanchard, Davis, Diehl, Garzone, Glasper, Hazeltine, Herring, Hunter, Jamal, Johnson, Skydive Trio; most were probably heard accurately enough. I didn't notice a problem with the old [r] records -- Bragg, Uncle Tupelo, Wilco -- so the problem must have occurred after I heard several of the above jazz records. I did recheck Silk Degrees, which improved a lot.)
I should probably add a note on the two A- records this week. I've given Rent Romus and Michael McNeill A- grades in the past, and gave these two records more than the usual fair chance -- McNeill probably wound up with eight or more plays. Both have corresponded with me -- McNeill even weirded me out when he said he'd check out Vijay Iyer on my recommendation. Could it be that I'm softening up and playing favorites? I'll stick with them: in fact, the clincher for McNeill was that I want to hear the album again.
By the way, Devin Gray, Max Johnson, and Skydive Trio were recommended by Chris Monsen on his Fave Jazz of 2015 mid-year list: 3 of the 9 records I hadn't heard, all good ones. Of the other B+(***) albums, the one I'd definitely spin again if I had the CD is Warren Vaché's. Scaggs and Cohen were hinted at in Christgau's parting missive (as well as the Nelson-Haggard album I like, and "giant sand/springsteen/bishop" -- I'd guess the latter is Elvin's Can't Even Do Wrong Right, which is as right as he's gotten in a long time, but I have no idea about the others).
I may get around to Rhapsody Streamnotes near the end of the week. Certainly by the end of the month.
---
New records rated this week:
Kevin Bachelder/Jason Lee Bruns: Cherry Avenue (2015, Panout Music Group): [cd]: B-
The Bad Plus/Joshua Redman: The Bad Plus Joshua Redman (2015, Nonesuch): [r]: B+(**)
John Basile: Penny Lane (2015, StringTime Jazz): [cd]: B
Terence Blanchard: Breathless (2015, Blue Note): [r]: B+(**)
Leonard Cohen: Can't Forget: A Souvenir of the Grand Tour (2012-13 [2015], Columbia): [r]: B+(***)
Kris Davis Infrasound: Save Your Breath (2014 [2015], Clean Feed): [r]: B+(**)
Charlie Dennard: 5 O'Clock Charlie (2015, self-released): [cd]: B+(*)
Jeff Denson/Lee Konitz: Jeff Denson Trio + Lee Konitz (2015, Ridgeway): [cd]: B+(*)
Andrew Diehl: Space Time Continuum (2015, Mack Avenue): [r]: B+(**)
George Garzone/Jerry Bergonzi/Carl Winther/Johnny Aman/Anders Mogensen: Quintonic (2013 [2014], Stunt): [r]: B+(***)
Robert Glasper: Covered: The Robert Glasper Trio Recorded Live at Capitol Studios (2014 [2015], Blue Note): [r]: B+(**)
Jerry Granelli Trio + 3: What I Hear Now (2014 [2015], Addo): [cd]: B+(***)
Devin Gray: RelativE ResonancE (2014 [2015], Skirl): [cd]: B+(***)
David Hazeltine: I Remember Cedar (2013 [2014], Sharp Nine): [r]: B+(***)
Vince Herring: Night and Day (2014 [2015], Smoke Sessions): [r]: B+(*)
John Hollenbeck: Songs We Like a Lot (2015, Sunnyside): [r]: B
Charlie Hunter Trio: Let the Bells Ring On (2015, CHT Publishing): [r]: B+(**)
Ahmad Jamal: Live in Marciac: August 5th 2014 (2014 [2015], Jazz Village): [r]: B+(*)
Max Johnson Trio: Something Familiar (2014 [2015], Fresh Sound New Talent): [r]: B+(***)
Joyfultalk: Muuixx (2015, Drip Audio): [cd]: B+(**)
Ku-Umba Frank Lacy & Mingus Big Band: Mingus Sings (2014 [2015], Sunnyside): [r]: B-
Michael McNeill Trio: Flight (2014 [2015], self-released): [cd]: A-
Kacey Musgraves: Pageant Material (2015, Mercury Nashville): [r]: B+(***)
Rent Romus' Life's Blood Ensemble: The Otherworld Cycle (2014 [2015], Edgetone): [cd]: A-
Boz Scaggs: A Fool to Care (2015, 429 Records): [r]: A-
Skydive Trio: Sun Moee (2014 [2015], Hubro): [r]: B+(***)
Warren Vaché: The Warren Vaché Quintet Remembers Benny Carter (2014 [2015], Arbors): [r]: B+(***)
Eyal Vilner Big Band: Almost Sunrise (2014 [2015], Gut String): [cd]: B+(**)
Tony Wilson 6Tet: A Day's Life (2012 [2015], Drip Audio): [cd]: B+(**)
Recent reissues, compilations, and vault discoveries rated this week:
Duke Ellington & His Orchestra: The Conny Plank Session (1970 [2015], Grönland, EP): [r]: B+(**)
Old records rated this week:
Billy Bragg & Wilco: Mermaid Avenue, Vol. III (1998-2000 [2012], Nonesuch): [r]: B+(**)
Billy Bragg & Wilco: Mermaid Avenue: The Complete Sessions (1998-2000 [2012], Nonesuch, 3CD): [r]: A-
Boz Scaggs: Silk Degrees (1976 [2007], Columbia/Legacy): [r]: B+(***)
Uncle Tupelo: Anodyne (1993 [2003], Rhino/Sire): [r]: B+(*)
Wilco: A.M. (1995, Sire): [r]: A-
Wilco: Summer Teeth (1999, Warner Brothers): [r]: B+(**)
---
Unpacking: Found in the mail last week:
Michael Blum/Jim Stinnett: Commitment (self-released)
Amir ElSaffar: Crisis (Pi): July 24
The Montgomery Hermann Quinlan Sextet: Hear, Here (Summit)
Gunnar Mossblad & Cross Currents: R.S.V.P. (Summit)
Larry Newcomb Quartet: Live Intentionally! (Essential Messenger): September 4
Sunday, July 19, 2015
Weekend Roundup
Another week with the usual scattered links:
---
---
Also, a few links for further study:
Max Blumenthal: The Next Gaza War: Since Israel unilaterally withdrew its settlements from the Gaza Strip in 2005, Israel has maintained a blockade on Gaza, bombed or shelled its prisoners numerous times, the intensity rising to the level of war at least once every other year. Blumenthal has a new book, The 51 Day War: Ruin and Resistance in Gaza (Nation Books) about the July-August 2014 war, which like its 2012 and 2010 predecessors, settled nothing, leaving opportunities open for the next set of Israeli politicians to prove their mettle:

Among the leaders of Israel's increasingly dominant religious nationalist movement is Naftali Bennett, the 43-year-old head of the pro-settler Jewish Home Party. Bennett spent much of last summer's war railing against Prime Minister Benjamin Netanyahu for refusing to order a full reoccupation of Gaza and the violent removal of Hamas -- a potentially catastrophic move that Netanyahu and the Israeli military brass vehemently opposed. While Bennett accused Palestinians of committing "self-genocide," his youthful deputy, Ayelet Shaked, declared that Palestinian civilians "are all enemy combatants, and their blood shall be on all their heads." According to Shaked, the "mothers of the martyrs" should be exterminated, "as should the physical homes in which they raised the snakes. Otherwise, more little snakes will be raised there."

In the current Israeli governing coalition, Bennett serves as Minister of Education, overseeing the schooling of millions of Jewish Israeli youth. And Shaked has been promoted to Minister of Justice, giving her direct influence over the country's court system. Once one of the young Turks of the right-wing Likud Party, Netanyahu now finds himself at the hollow center of Israeli politics, mediating between factions of hardline ethno-nationalists and outright fascists.

Where Gaza is concerned, Israel's loyal opposition differs little from the country's far-right rulers. In the days before the January national elections, Tzipi Livni, a leader of the left-of-center Zionist Union, proclaimed, "Hamas is a terrorist organization and there is no hope for peace with it . . . the only way to act against it is with force -- we must use military force against terror . . . and this is instead of [Prime Minister Benjamin] Netanyahu's policy to come to an agreement with Hamas." Livni's ally, Labor Party leader Isaac Herzog, reinforced her militaristic position by declaring, "There is no compromising with terror." [ . . . ]

Months after the cessation of hostilities, even as foreign correspondents marvel at the "quiet" that has prevailed along Gaza's borders, the Israeli leadership is ramping up its bloody imprecations. At a conference this May sponsored by Shurat HaDin, a legal organization dedicated to defending Israel from war crimes charges, Defense Minister Moshe Yaalon warned that another crushing assault was inevitable, either in Gaza, southern Lebanon, or both. After threatening to drop a nuclear bomb on Iran, Yaalon pledged that "we are going to hurt Lebanese civilians to include kids of the family. We went through a very long deep discussion . . . we did it then, we did it in [the] Gaza Strip, we are going to do it in any round of hostilities in the future."

Also see: Bill Berkowitz: Why Is the Mainstream Media Running Away From Max Blumenthal's New Book About Israel?.

Tim Weiner: The Nixon Legacy: Adapted from Weiner's new book, One Man Against the World: The Tragedy of Richard Nixon (Henry Holt). Post focuses on Nixon's paranoia as Watergate moved toward resolution, but that madness was hard earned, intrinsic to a politician who made an art of escalating and withdrawing at the same time, of turning defeats into vindictive grudges -- a psyche that the US government has still never managed to free itself from, probably because those who run covert programs there have always had need to cover up what they do. They say power corrupts, but you rarely glimpse how addictive that corruption is until you uncover someone like Nixon.
Daily Log
Alex Wilson best so-far list (just the things I haven't heard; after 42 are B+ "honourable mentions," originally numbered separately):
Lil Wayne: FWA
Wilco: Star Wars
Brian Wilson: No Pier Pressure
Four Tet: Morning/Evening
Bhi Bhiman: Rhythm & Reason
Highlife on the Move: Selected Nigerian & Ghanaian Recordings
Kat Dahlia: My Garden
The Prodigy: The Day Is My Enemy [HM]
Leather Corduroys: Season
Death Grips: Fashion Week
Lil Wayne: Sorry 4 the Wait 2
Yelawolf: Love Story
The Districts: A Flourish and a Spoil
Antemasque
Big Sean: Dark Sky Paradise
Jib Kidder: Teaspoon to the Ocean
Tinashe: Amethyst
Guster: Evermotion
Ghost Culture
Thursday, July 16, 2015
My Big Fat Greek Post
In America we tend to think of Europe, with its unions, high taxes, and (relatively) generous safety net, as well to our left, often noting that right-leaning politicians there are committed (or at least resolved) to more progressive policies than our nominal Democrats. For instance, take a look at Thomas Geoghegan's paean to the workers' paradise that is Germany: Were You Born on the Wrong Continent? How the European Model Can Help You Get a Life -- and follow that up with Geoghegan's Only One Thing Can Save Us: Why America Needs a New Kind of Labor Movement, which argues that America's economy needs European-style labor unions to finally crawl out of the morass the Great Recession, on top of thirty years of union-busting, plunged us into. Given this, it's disconcerting that Europe as a whole has done an even poorer job than the US has in recovering from 2008, and it takes some careful analysis to understand why.
Economists like Paul Krugman were quick to blame the Euro, and there can be no doubt now that the idea of having a common currency without a common commitment to the economic vitality of the entire region is a recipe for disaster. Since its inception, the Euro has been tightly controlled by its (mostly German) central bankers, but it was the 2008 crash which made the problems clear. Before crash, the Euro built up both sides, encouraging the north to loan money to the south and fueling a real estate bubble in the latter. After, both sides were hit with depression, but the debt burden turned them against each other. As lenders, the north (mostly Germany) wanted to hold the value of the Euro firm, while the debt-hampered south needed debt relief and restructuring, things normally done by inflating the currency. What followed wasn't a compromise. The central bankers held firm, oblivious to the pain they caused in the south.
Similar problems afflicted Italy, Spain, Portugal, and Ireland, but were worse in Greece, partly because Greece had played a rather loose game with EU debt rules in the past (Michael Lewis covers this in Boomerang: Travels in the New Third World). But what has made the situation in Greece much worse has been a brutal austerity program insisted on by the central bankers -- one suspects as much intended as punishment as reassurance that the debts would be paid. So far the results are a super-depressed economy with over 25% unemployment, the election of an anti-austerity leftist political party (Syriza), a banking crisis, an increasing polarization between Greece and Germany (to the extent that Greeks have started to bring up the issue of reparations for German WWII atrocities). Indeed, since Syriza was elected, the demands of the central bankers seem to have focused as much on undoing the election results as permanently burdening the Greek economy.
Unfortunately, it now appears that the Syriza government has capitulated to a "$94 billion bailout package" that the Greek voters decisely rejected just a week ago. (For some details, see the image below. It appears that the real beneficiaries of the "bailout" are the lending banks, that the Greek government will remain saddled with crippling debt indefinitely, and that the Greek government will be stripped of assets and prohibited from doing anything that might stimulate economic recovery.)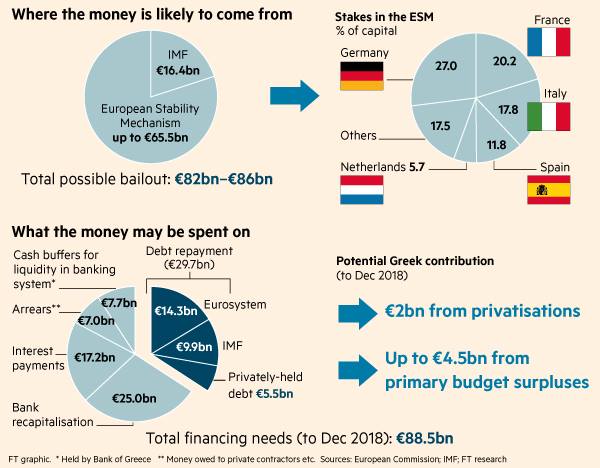 I say "unfortunately" because I see Greece as the first major breakpoint in what will become a worldwide struggle against debt. As you know, inequality of income and wealth has been increasing all around the world since the 1970s. There are lots of reasons for that, notably globalization which has allowed capital to seek greater profits while arbitraging wages, the practice of virtually all governments of managing their currencies through the banks, and the ever-increasing corruption of democratic institutions in favor of the oligarchy. By the 1990s, inequality had grown to the point where it was starting to suppress demand for products and services. But rather than increasing wages to stimulate demand, the problem was temporarily avoided by opening up access to debt. The idea behind debt, after all, was to preserve the power of the rich even while they let you (temporarily) sample a bit more wealth. The 2008 crash occurred when the debt overhang became insupportable, but rather than solving the problem by reducing the excess debt (by writing it down, or inflating it away, or otherwise making it easier to repay) the political system, including most of the nominal left, conspired to defend (both ideologically and through massive bailouts) the oligarchy. (See Philip Mirowski's Never Let a Serious Crisis Go to Waste: How Neoliberalism Survived the Financial Meltdown.)
As Steve Fraser documented (see The Age of Aquiescence: The Life and Death of American Resistance to Organized Wealth and Power), it wasn't long after the abolition of slavery in the US that workers started referring to the "free labor" system as "wage slavery." The idea was that the conditions of wage work offered workers little real freedom. Similarly, debt constricts freedom. For individuals this may just be a matter of binding you to rat race with little hope of ever breaking free. But as Greece shows, whole nations can be reduced to debt slavery, their democratic will put aside, their people's hopes and prospects put on hold while their creditors pick their pockets. If this seems too harsh, consider this description from Alex Gourevitch:
The draft of the agreement between the Greeks and the Eurogroup is out and, as everyone has noticed, it is not just an act of revenge -- it is a piece of legislative torture. It contains old demands, like pension reductions and higher taxes to fund primary surpluses, as well as new demands, like a reduction in the power of unions and a massive privatization of state assets using a separate fund controlled by Greece but monitored by the European Union's institutions.

In fact the document asks for a massive legislative program touching on every aspect of Greek economic life -- tax policy, product regulation, labor markets, state-owned assets, the financial sector, shipping, budget surpluses, pensions, and so on. This legislation is demanded within the next few weeks. Such a package is the kind of thing one sees during or just after wartime, not as the product of democratically negotiated decisions.

Let's remember that the program on which Greek Prime Minister Alexis Tsipras and the Eurogroup agreed is something asked of a country that has already experienced a very severe depression, implemented a number of constraints requested by creditors, and has a 25 percent unemployment rate and a banking crisis. What is the point of torturing a victim whose will is already broken? To destroy all opposition. [ . . . ]

Note not just the scope of the Eurogroup's demands but the molecular level of detail with which they lay out demands. For instance, as part of their package of "ambitious product market reforms," they insist on changes in "Sunday trade, sales periods, pharmacy ownership, milk and bakeries, except over-the-counter pharmaceutical products, which will be implemented in a next step, as well as for the opening of macro-critical closed professions (e.g. ferry transportation)."

Then there are the new demands, like "rigorous reviews and modernization of collective bargaining [and] industrial action," which is Eurospeak for rubbing out labor rights. Other demands make it clear that these decisions are not only extensive and fine-grained, but designed as much as possible to remove responsibility and control from the Greek people and their government. [ . . . ]

Most telling of all, "The government needs to consult and agree with the Institutions on all draft legislation in relevant areas with adequate time before submitting it for public consultation or to Parliament." That is to say, on every above-named area of reform -- from tax policy to labor markets -- the government must consult first with its European managers. [ . . . ]

There is no guarantee the money is forthcoming. In other words, the Eurogroup retains maximum discretion to decide that Greece has failed to meet any of the impossible demands made upon it, while the Greeks possess no similar ability to hold the Europeans to account for their failures.
This kind of control through debt isn't new: it's reminiscent of similar "austerity" programs imposed on many third world countries. But those deals fell out of fashion after Argentine bucked the IMF in 2000, and the IMF has since appeared to be more sensitive to the underlying welfare of the countries it previously victimized. (The IMF has even been relatively sane regarding Greece: see Paul Krugman: An Unsustainable Position). Still, one might have expected Greece to catch a break: as a member of the EU, Greece might reasonably have expected special consideration to keep its economy functioning within European norms. It also might have expected other Eurozone members to help keep it in the zone rather than pushing it out. The decision to make an example out of Greece suggests that the powers that be fear that Greece may not be an isolated example: sooner or later others are going to revolt against the yoke of their debts.
In the meantime, of course, it could just be that the creditors are feeling invincible. In Europe, the chief evidence for this is the lacklustre ambivalence of the so-called left: why, for instance, is there so little evident solidarity between labor in the rich north and the depressed south? France has a "socialist" prime minister who seems more comfortable as the caretaker of neoliberalism than as its undertaker. The latest left-party governments in Germany and the UK have been major embarrassments, unable even to turn the right's austerity fads into meaningful political gains. I cited Fraser's book on the loss of class consciousness in America, but clearly a comparable book could be written about Europe, even if some of the particulars differ.
---
I've been hoping that Syriza will hold firm in rejecting the central bankers' demands, even to the point of resurrecting their own currency (and hopefully burying the dread term "Grexit" -- how sophomoric can you get?). Even if euro exit was intended as punishment (which appears to be the case in promulgating such onerous terms), and even if it hurt plenty, it would sever the bonds strangling the economy and paralyzing the party's efforts to rebuild a more just nation. It wouldn't be easy, but Greece could then rebound, and with it we might discover a viable left alternative. (Iceland was the country in worst shape after the 2008 crash, but having its own currency it devalued, stiffed its creditors, and rebounded remarkably fast.) More countries could join Greece, and/or a broader struggle -- and/or greater calamities -- might force the EU to reform. But at least there would be an alternative to the oligarchs' desperate struggle to control everything.
I have an unread book on a shelf somewhere whose title begins Another World Is Possible -- a concept that lots of people seem to have a lot of trouble grasping. (It's by Susan George, from 2004, and the title continues, rather ominously, If . . . , to remind us that activism, not just imagination, is required.)
---
Some more interesting links:
Chris Arnade: Blame the Banks:

The launch of the common European currency, the euro, ushered in a period of European financial confidence, and we on Wall Street started to take advantage of another willing fool: European banks. More precisely northern European banks.

From '02 until the financial crisis in '08, Wall Street shoved as much toxic waste down those banks' throats as they could handle. It wasn't hard. Like the Japanese customers before them, the European banks were hell bent on indiscriminately buying assets from all over the globe. [ . . . ]

The European banks weren't lending recklessly to only the U.S. They were also aggressively lending within Europe, including to the governments of Spain, Portugal, and Greece.

In 2008, when the U.S. housing market collapsed, the European banks lost big. They mostly absorbed those losses and focused their attention on Europe, where they kept lending to governments -- meaning buying those countries' debt -- even though that was looking like an increasingly foolish thing to do: Many of the southern countries were starting to show worrying signs.

By 2010 one of those countries -- Greece -- could no longer pay its bills. Over the prior decade Greece had built up massive debt, a result of too many people buying too many things, too few Greeks paying too few taxes, and too many promises made by too many corrupt politicians, all wrapped in questionable accounting. Yet despite clear problems, bankers had been eagerly lending to Greece all along.

That 2010 Greek crisis was temporarily muzzled by an international bailout, which imposed on Greece severe spending constraints. This bailout gave Greece no debt relief, instead lending them more money to help pay off their old loans, allowing the banks to walk away with few losses. It was a bailout of the banks in everything but name.

Because the 2010 "relief" package only added to Greece's burdens, another "relief" package became necessary in 2012, and again in 2015. The only things that will Greece to dig out of its hole are some form of debt relief and the freedom to stimulate the economy: the latter, even without the austerity requirements, is precluded by the euro.

Josh Barro: The IMF Is Telling Europe the Euro Doesn't Work:

The I.M.F. memo amounts to an admission that the eurozone cannot work in its current form. It lays out three options for achieving Greek debt sustainability, all of which are tantamount to a fiscal union, an arrangement through which wealthier countries would make payments to support the Greek economy. Not coincidentally, this is the solution many economists have been telling European officials is the only way to save the euro -- and which northern European countries have been resisting because it is so costly.

Anooja Debnath: Lose-Lose: Greece Leaving Euro Seen Costlier Than Write-Off: By about 100 billion Euros if you're counting, a stiff price to make a point.

Jonathan Hopkin: Greek Parliament passes debt agreement, but European democracy is on its knees: this loss of democratic to special interest powers over economic affairs is precisely what is so ominous about arrangements like TPP:

If the reforms fail, who will be held accountable? Certainly not the people who designed them. Whatever happens, Greece can be accused of not going far enough, as indeed it has over fiscal policy, despite undergoing a much greater fiscal squeeze than any other member state.

The destruction of democratic decision-making in Greece may indeed be the result of the country's own past mistakes, but even so, it takes the European Union to an entirely new scenario, in which economic policy is now the exclusive preserve of EU officials who have no direct interest in the success of the Greek economy.

Paul Krugman: Roach Motel Economics:

So we have learned that the euro is a Roach Motel -- once you go in, you can never get out. And once inside you are at the mercy of those who can pull your financing and crash your banking system unless you toe the line.

I and many others have had a lot to say about the politics of this reality. But let me say a word about the economic implications for the euro area as a whole -- which are basically that Europe has created a system that treats surplus and deficit countries asymmetrically, even more than the classical gold standard, and leads to a severe deflationary bias.

This is true both for fiscal issues and for balance of payments issues. Debtors are forced into draconian austerity, while creditors face no pressure to reflate; economic crisis, which should be met with expansionary policy, instead leads to contraction because of this asymmetry. Meanwhile, countries that find themselves overvalued are forced to deflate in an effort to regain competitiveness, while undervalued counties face no pressure to help out with a higher inflation rate -- so at times of major misalignment, when moderate inflation can help, the overall effect is declining inflation and maybe even deflation.

Marina Prentoulis: After Greece's defeat, we need a new European movement against austerity: Well, of course, but the examples are still coming from the southern fringe, not from the wealthier nations which have acceded power to their financial elites.
Tuesday, July 14, 2015
Daily Log
Monday, July 13, 2015
Music Week
Music: Current count 25120 [25116] rated (+4), 462 [439] unrated (+23).
Got back from my west coast drive just before midnight Saturday. In retrospect I should have packed a boombox. I did bring along 200 old CDs which we played in the car, but most of most days went music-less. I did make a token effort to stream the new Miguel on Rhapsody, but couldn't tell much (other than that I didn't get into it -- saw him do an amusing skit on Jimmy Kimmel). So the "newly rated" above and below was just what I picked up Saturday (and early today, relatively speaking). Surprised I found an A-list item in that short time.
I did manage to get the mail unpacked, below. Even after rechecking everything, there is a minor discrepancy in the numbers: rated count is only +4 but I listed 5 newly rated records below; unrated count is +23, which matches 28 newly catalogued items minus 5 newly rated. It's hard to keep all of my interlocking lists in sync.
One thing I wanted to do during the trip was to rethink what I should be doing. It helped to talk through my various book proposals, particularly with my sister, and they all seem to make sense. Harder to tell about my music website RFC: thus far, I've received no serious comments and very little interest, despite the usual boost such project ideas get when Robert Christgau's consumer guide loses its patron (see Expert Witness at Cuepoint/Medium.
---
Recommended music links:
Chris Monsen: Fave Jazz of 2015, Jan. through June: 30 items. My breakdown: 7 A- (Chris Lightcap, Henry Threadgill, Mikko Innanen, Gard Nilssen, Tomas Fujiwara, Rich Halley, Rempis Percussion Quartet); 9 *** (Kirk Knuffke, Gebhard Ulmann, Mario Pavone, Ben Goldberg, Myra Melford, Jon Lundbom, Makaya McCraven, Steve Coleman, Vijay Iyer); 2 ** (Billy Mintz, Wooley/Rempis/Niggenkemper/Corsano); 1 * (Mahanthappa); 1 B (Charles Evans); 1 U (Devin Gray); 9 not received (Max Johnson, Detail, Team Hegdal, Jack DeJohnette, ObLik, Jeremy Pelt, Ran Blake, James Brandon Lewis, Skydive Trio).

Alfred Soto: Best of 2015: first half report: a list of 21 pop albums. My breakdown: 5 A- (Kendrick Lamar, Mountain Goats, Heems, Courtney Barnett, Bassekou Koyuaté); 1 *** (Jazmine Sullivan); 2 ** (Young Thug, Mavericks); 3 * (Earl Sweatshirt, Jason Derulo, Dead Sara); 2 B (Dawn Richard, Dwight Yoakam); 8 unheard (Speedy Ortiz, Florence, ASAP Rocky, Brandon Flowers, Miguel, Vince Staples, Ashley Monroe, Donnie Trumpet).

I also have a similar pop list from Dan Weiss (scraped from Facebook, don't know how to link to it), but longer (37): My breakdown: 7 A- (Kenrick Lamar, Heems, Mountain Goats, James McMurtry, Courtney Barnett, Shamir, Bassekou Kouyaté); 7 *** (Paranoid Style, Action Bronson, Rae Sremmurd, Jamie XX, Jack Ü, Young Guv, Ciara); 5 ** (Young Fathers, Waxahatchee, PC Music 1, Young Thug, I Love Makonnen); 4 * (Jason Derulo, Sleater-Kinney, Best Coast, Lupe Fiasco); 2 B (Dawn, Colleen Green); 11 unheard (Miguel, Desaparecidos, Vince Staples, DJ Rashad, Kacey Musgraves, Beach House, Titus Andronicus, Bully, Bilal, Fifth Harmony, Metz).
Normally, the unheard items on lists by these particular critics would be priorities for my own listening. Indeed, many of the unheard items on the Soto and Weiss lists are June-July releases. Unfortunately, the machine I use for streaming has been flaky today and just crashed (for the second time). Could be a major setback for me.
Mid-year best-of lists are becoming increasingly common. I checked out one from Rolling Stone, and found pretty much what I expected: more not-so-good records, and more stuff I didn't know about or hadn't bothered with. The breakdown: 4 A- (Kendrick Lamar, Courtney Barnett, D'Angelo [they're a bit slow], Mbongwana Star); 7 *** (Madonna, Jack Ü, Jamie XX, Rae Sremmurd, Sufjan Stevens, Joey Badass, Jazmine Sullivan); 4 ** (Pops Staples, Blur, Kamasi Washington, Rhiannon Giddens); 4 * (Sleater-Kinney, Alabama Shakes, Earl Sweatshirt, Death Grips); 2 B (Drake, Father John Misty); 1 C (Bob Dylan); 22 unheard (Björk, Mark Ronson, Mumford & Sons, Kacey Musgraves, Florence, Muse, Kid Rock, Marilyn Manson, Leonard Cohen, Faith No More, Zac Brown, Sonics, Chris Stapleton, Future Brown, Fifth Harmony, Refused, Metz, Leon Bridges, Steven Wilson, Bosse-de-Nege, Downtown Boys, Hop Along).
---
New records rated this week:
Vance Gilbert: Nearness of You (2015, Disismye Music): [cd]: B
Dre Hocevar Trio: Coding of Evidentiality (2015, Clean Feed): [cd]: B+(**)
Gard Nilssen's Acoustic Unity: Firehouse (2014 [2015], Clean Feed): [cd]: A-
Florian Wittenburg: Aleatoric Inspiration (2009-14 [2015], NurNichtNur): [cd]: B+(*)
John Yao and His 17-Piece Instrument: Flip-Flop (2014 [2015], See Tao): [cd]: B+(***)
---
Unpacking: Found in the mail when I got back:
John Basile: Penny Lane (StringTime Jazz): August 7
Karl Berger/Kirk Knuffke: Moon (NoBusiness, 2CD)
A Bu Trio: 88 Tones of Black and White (Blujazz, 2CD)
The Convergence Quartet: Owl Jacket (NoBusiness): cdr [lp only]
Nick Finzer: The Chase (Origin): July 17
Nick Fraser: Too Many Continents (Clean Feed)
Chico Freeman/Heiri Känzig: The Arrival (Intakt)
Bret Higgins: Atlas Revolt (Tzadik): advance, July 21
Hoodoo Blues & Roots Magic (Clean Feed)
Paul Hubweber/Frank Paul Schubert/Alexander von Schlippenbach/Clayton Thomas/Willi Kellers: Intricacies (NoBusiness)
Stefan Keune/Dominic Lash/Steve Noble: Fractions (NoBusiness): cdr [LP only]
Daniel Levin Quartet: Friction (Clean Feed)
Frantz Loriot/Manuel Perovic Notebook Large Ensemble: Urban Furrow (Clean Feed)
Simon Nabatov/Mark Dresser: Projections (Clean Feed)
OZO: A Kind of Zo (Clean Feed)
Evan Parker/Joe Morris/Nate Wooley: Ninth Square (Clean Feed)
Matt Panayides: Conduits (Pacific Coast Jazz)
Jack Perla: Enormous Changes (Origin): July 17
Mason Razavi/Bennett Roth-Newell: After You (First Orbit Sounds Music)
Howard Riley: 10.11.12 (NoBusiness): cdr [lp only]
Jason Roebke: Every Sunday (Clean Feed)
Robert Sabin: Humanity Part II (Ranula Music): July 14
Helen Tzatzimakis: Soulfully (Cobalt Music)
Eyal Vilner Big Band: Almost Sunrise (Gut String)
Bill Warfield and the Hell's Kitchen Funk Orchestra: Mercy Mercy Mercy (Blujazz)
Brad Allen Williams: Lamar (Sojourn): August 7
Mark Winkler: Jazz and Other Four Letter Words (Cafe Pacific)
Omri Ziegele Billiger Bauer: So Viel Schon Hin: 15 Herbstlieder (Intakt)
Purchases:
Burial: Untrue (2007, Hyperdub)
Catherine Russell: Bring It Back (2014, Jazz Village)
Tune-Yards: Bird-Brains (2009, 4AD)
Monday, June 22, 2015
Music Week
Music: Current count 25116 [25116] rated (+0), 439 [439] unrated (+0).
About three days of work here -- less than half a week. On the fourth day I was totally distracted, and on the fifth day I took off for the upper northwest. Although I spent a good deal of time swapping discs out of and into my travel cases, virtually nothing that I'll be taking with me is new work. Rather, I'll have three weeks to listen to things I really liked at some point but haven't had time to play recently.
I don't expect to post much over the next three weeks. I should be reachable via email, at least by the end of the day. Hopefully, I'll get some reading done, and find some time to think about what I want to write about in the future.
---
New records rated this week:
Tiffany Austin: Nothing but Soul (2015, Con Alma): [cd]: B
Kenny Carr: Idle Talk (2014 [2015], self-released): [cd]: B+(**)
Ivo Perelman/Whit Dickey: Tenorhood (2014 [2015], Leo): [cd]: B+(***)
Ivo Perelman/Matthew Shipp: Callas (2015, Leo, 2CD): [cd]: A-
Jamie XX: In Colour (2015, XL/Young Turks): [r]: B+(***)
Old records rated this week:
Boredoms: Super AE (1998, Birdman): [r]: B+(**)
Jimmy Eat World: Bleed American (2001, Grand Royal): [r]: B-
Mastodon: Blood Mountain (2006, Reprise): [r]: B-
Nine Inch Nails: Pretty Hate Machine (1989, TVT): [r]: A-
Nine Inch Nails: The Fragile (1999, Interscope, 2CD): [r]: B+(*)
Nine Inch Nails: With Teeth (2005, Nothing): [r]: B+(**)
Nine Inch Nails: The Slip (2008, The Null Corporation): [r]: B+(**)
Oasis: Be Here Now (1997, Epic): [r]: B+(*)
Teenage Fanclub: Bandwagonesque (1991, DGC): [r]: B+(*)
---
Unpacking: Found in the mail last week:
Dennis Angel: On Track (Timeless Grooves): July 1
Deepa Chari: Patchwork (self-released): August 7
Charlie Dennard: 5 O'Clock Charlie (self-released): August 7
Joyfultalk: Muuixx (Drip Audio): June 30
Michael McNeill Trio: Flight (self-released): August 18
Daniel Smith: Jazz Suite for Bassoon (Summit)
Voicehandler: Song Cycle (Humbler)
Johannes Wallmann: The Town Musicians (Fresh Sounds New Talent): advance, August 4
Tony Wilson 6Tet: A Day's Life (Drip Audio): June 30
Thursday, June 18, 2015
Daily Log
Searching for contact info for Forrest Brown, a cousin living in Washington. Found this obituary:
Forrest "Forry" W. Brown, 88, passed away May 26, 2015 of complications of an aneurysm. He was born to Murph and Nora Brown on March 19, 1927 in Vidette, Arkansas. He married Helen Jacobson August 8, 1947 in Snohomish, Wash. Forry loved playing ball. He put in a basketball court that we all, even the neighborhood, enjoyed. His mom said he always had a ball in his hand. He also liked hunting, fishing and Nascar. Every Sunday he would be on the phone with his son, Doug and brother, Lee, debating over who was the better driver. Jeff Gordon was his favorite. He looked forward to his weekly dinners and cribbage games with his son, Forrest, and granddaughter, Mandy. He loved gardening, especially his tomatoes and dahlias. He retired from Scott Paper (K.C.) after 47 years. Forry was preceded in death by his parents; two grandsons, Jason and Shane; and his great grandson, Drew. He is survived by his wife of 67 years, Helen Jean; three children, Doug (Jeri) Brown, Forrest L. Brown, and Sandy (Greg) Wright; grandchildren, Angie Blankenship and family, Melissa Budig and family, Jeremy Brown and family, Russell Brown and family, Mandy Brown, Stephanie Miller and family, and Nicole Nilson and family; also his two brothers Joe (Betty) Brown and Lee (Linda) Brown. There will be a private graveside burial at a later date. [Published in The Herald (Everett) on June 7, 2015]
Same search also revealed an obituary for Forrest L. "Forry" Brown, my cousin's son, who died four days later:
Forrest L. Brown, nicknamed "Forry," passed away May 30, 2015 after many years of health issues. He was born to Forrest W. and Helen Brown on March 12, 1949 in Everett, Wash. He graduated from Lake Stevens's High School in 1967. Forry worked several jobs during his life time, starting young by riding his bike to the strawberry fields to pick berries. He was a jack of all trades and worked very hard. He loved to play Cribbage with his family and loved the outdoors which included hunting, fishing, and yard work. He was preceded in death by his father, Forrest W. Brown; son, Jason; grandson, Drew Brown. He is survived by his sons, Jeremy (Lyla) Brown and family, Russell Brown and family; daughters, Amanda Brown and Stephanie Miller and family; his mother, Helen J. Brown; his brother, Doug (Jeri) Brown and family; sister, Sandy (Greg) Wright and family. He was loved by all. At Forry's request there will be no services.
Wednesday, June 17, 2015
Book Roundup
I figure enough books of possible interest come out each month to run a little feature noting 40 of them, but for a variety of reasons I've been lax and haven't run one of these since . . . July 3, 2014, so this is way late. I've tried at least to compensate by selecting the most obviously important books (at least as regards politics). I currently have 97 more grafs in the scratch file, and I still have a dozen or more pages of notes I took in bookstores on my NJ trip last fall. Maybe I'll manage to get a second batch together before my big trip northwest starts on Friday. Meanwhile, here's my top 40. Cover illustrations for those I've actually read in the meantime. (I also have, but haven't read yet, Alexander Cockburn, Thomas Geoghegan, Rick Perlstein, Joseph E Stiglitz's The Great Divide, and Astra Taylor.)
---
Christian G Appy: American Reckoning: The Vietnam War and Our National Identity (2015, Viking): In the 1950s we were brought up to believe that America was a force for good in the world. The Vietnam War destroyed that self-conception -- at least it did for me and for many of my generation. Appy's brief history reminds us of how dirty the war got -- he starts with a story of GIs playing "gook hockey" (using Jeeps to run down Vietnamese children) -- and reminds us how even LJB but especially Nixon and Kissinger extended the war beyond any hope of success, just to show the world their resolve, to demonstrate how much punishment we could inflict even in defeat. The book goes on to look at how the postwar memory has been sanitized, not least the propagation of a myth that the war was lost not by our brave soldiers but by the cowardly antiwar movement -- America's own Dolchstosslegende (as with Germany's, a license to resume further wars). Worse than defeat, America seems to have learned nothing from Vietnam. With this book, at least, you might learn something. Appy previously wrote Patriots: The Vietnam War Remembered From All Sides (2004), an oral history.
Karen Armstrong: Fields of Blood: Religion and the History of Violence (2014, Knopf): One of the better writers on the history of religion, a Christian but not limited thereby. Her thesis in The Great Transformation: The Beginning of Our Religious Traditions (2007) was that the religions that emerged in the first millennium BCE (as well as Greek rationalism) were developed primarily to limit and control violence, so it isn't surprising that she argues that wars today are not driven primarily by religion. I see the point, and recognize that religion provides a framework that supports many pacifists, but I doubt that would be my conclusion.
Anthony B Atkinson: Inequality: What Can Be Done? (2015, Harvard University Press): Economist, published his first paper on the subject back in 1970 when the problem seemed less dire, not that there was nothing to study then. Most likely an important book on the subject, not least for a lifetime's thought into how to overcome it.
Kai Bird: The Good Spy: The Life and Death of Robert Ames (2014, Crown): Ames was a CIA operative in Beirut, killed in the 1983 bombing of the US embassy there. He evidently had uncommonly good contacts with Arab political figures as well as the ear of Americans up to president Ronald Reagan, which leaves Bird thinking that had Ames lived longer he might have nudged US policy in the Middle East a bit out of its horrible rut. Bird's memoir Crossing Mandelbaum Gate: Coming of Age Between the Arabs and Israelis shows his own distinctive and idiosyncratic sense of the region.
Steven Brill: America's Bitter Pill: Money, Politics, Backroom Deals, and the Fight to Fix Our Broken Healthcare System (2015, Random House): First significant book on the political struggle to pass the Affordable Care Act (ACA, aka Obamacare). As you know, Obama tried to come up with a solution that would be non-controversial -- at least in the sense that all the interested business groups could buy in, with the hope that the Republicans would recognize the bill as kindred to their own proposals. None of that worked: the result was a system that no one loved or much cared for, a set of expensive compromises that solved some problems and created many more. The book is reportedly good on explaining the underlying problems as well as the backroom deals, but less critical about the act's shortcomings.
Wendy Brown: Undoing the Demos: Neoliberalism's Stealth Revolution (2015, Zone Books Ner Futures): I read Philip Mirowski's Never Let a Serious Crisis Go to Waste in search of an explanation of why the 2008 crash didn't lead to any serious rethinking of what is wrong with conventional economic thought (aka neoliberalism), but that long book didn't get much deeper than pointing out the mental rut no one dared escape. This looks to explain that logic and its grip.
Alexander Cockburn: A Colossal Wreck: A Road Trip Through Political Scandal, Corruption and American Culture (2013; paperback, 2014, Verso): A journal of sorts, from 1995 to his death in 2012, offers a sharp (and often shrill) rewind of history, but reading samples here one finds much broader range than his fondness for slagging the Clintons.
Andrew Cockburn: Kill Chain: The Rise of the High-Tech Assassins (2015, Henry Holt): This is the Cockburn brother who previously wrote Rumsfeld: His Rise, Fall, and Catastrophic Legacy, as opposed to Patrick (writes mostly about Iraq) and Alexander (until his death one of the new left's most prolific essayists). This is about the US drone program, which makes it possible for the US to surgically assassinate its enemies with unprecedented precision. Of course, the reality is a bit messier than the theory, but the logic of the process is more dangerous. Drone killing is remote, unilateral, shrouded in secrecy. Once a nation decides it can kill its way to victory, that mentality becomes locked in and is impossible to change: after all, victory is only a few notches down your kill list, and you never have to do anything compromising, like negotiating with the real people you've decided are your enemies. Other recent drone books: William M Arkin: Unmanned: Drones, Data, and the Illusion of Perfect Warfare (2015, Little Brown); Peter L Bergen/Daniel Rothenberg, eds: Drone Wars: Transforming Conflict, Law, and Policy (paperback, 2014, Cambridge University Press); Marjorie Cohn, ed: Drones and Targeted Killing: Legal, Moral, and Geopolitical Issues (paperback, 2014, Olive Branch Press); Lloyd C Gardner: Killing Machine: The American Presidency in the Age of Drone Warfare (2013, New Press); Richard Whittle: Predator: The Secret Origins of the Drone Revolution (2014, Henry Holt); Chris Woods: Sudden Justice: America's Secret Drone Wars (2015, Oxford University Press).
Patrick Cockburn: The Rise of Islamic State: ISIS and the New Sunni Revolution (paperback, 2015, Verso): Probably a revised reprint of last year's The Jihadis Return: ISIS and the New Sunni Uprising (paperback, 2014, O/R Books). Cockburn has been one of the most reliable reporters on Iraq, so is probably the first book one should look if you want to learn more about ISIS than the standard news media propaganda. He was close to the first out with a book, but there is lots of competition now, many written to drum up support for US entry in the war. Competing books include (all 2015 except as noted, paperback = pb): Carter Andress: Victory Undone: The Defeat of al-Qaeda in Iraq and Its Resurrection as ISIS (2014, Regnery); Charles H Dyer/Mark Tobey: The ISIS Crisis: What You Really Need to Know (pb, Moody); Benjamin Hall: Inside ISIS: The Brutal Rise of a Terrorist Army (Center Street); Loretta Napoleoni: The Islamist Phoenix: The Islamic State (ISIS) and the Redrawing of the Middle East (pb, 2014, Seven Stories Press); Jay Sekulow: Rise of ISIS: A Threat We Can't Ignore (pb, 2014, Howard Books); Andrew Sharp: The Rise of ISIS: The West's New Crusade (pb, 2014, Create Space); Jessica Stern/JM Berger: Isis: The State of Terror (Ecco). Of these, only Stern's book is particularly substantial -- she was on Bill Clinton's NSC and wrote the book Terror in the Name of God: Why Religious Militants Kill (2004), so she's built her career on the War on Terror, while co-author Berger wrote Jihad Joe: Americans Who Go to War in the Name of Islam (2011). Napoleoni is the only leftist in the bunch. She writes about global capitalism as well as about terrorism, and has close to a dozen books: one intriguing title is Maonomics: Why Chinese Communists Make Better Capitalists Than We Do (2012).
David S Cohen/Krysten Connon: Living in the Crosshairs: The Untold Stories of Anti-Abortion Terrorism (2015, Oxford University Press): The anti-abortion movement is unusual (although not unprecedented) in the violence its supporters have directed against its supposed enemies -- chiefly doctors and health care professionals. By violence I don't just mean the occasional murder or threat, but the whole range of harrassment directed against providers and clients.
Juan Cole: The New Arabs: How the Millennial Generation Is Changing the Middle East (2014, Simon & Schuster): A view of the Arab Spring, at least before it went sour, when it first seemed like an opening for secular progressives. Cole is an expert on Iraq's Shiites, and has written one of the most informative blogs on the Middle East for more than a decade.
Angus Deaton: The Great Escape: Health, Wealth, and the Origins of Inequality (2013, Princeton University Press): The "escape" seems to have been from the hardships that plagued life only a few centuries ago in "the developed world," more recently and sometimes still elsewhere. Deaton lists out such progress but also finds many setbacks -- I suspect that the persistance of inequality has much to do with these.
William Deresiewicz: Excellent Sheep: The Miseducation of the American Elite and the Way to a Meaningful Life (2014; paperback, 2015, Free Press): Yale professor, sees America's top universities "turning young people into tunnel-visioned careerists, adept at padding their resumes and filling their bank accounts but unprepared to confront life's most important questions." How old-fashioned not to think that careerism isn't the point of college? After all, exactly that education has long been held up as the answer to inequality -- if not for everyone, at least for the select few who give the system a gloss of meritocracy. Jane Jacobs, in Dark Ages Ahead, argued one of the key signs was "credentialism" -- an aspect of this same problem. Of course, that's a more general problem. This book seems to focus on elite universities, hence on future elites. That they're dumbing down is interesting, but only part of the problem.
G William Domhoff: The Myth of Liberal Ascendancy: Corporate Dominance From the Great Depression to the Great Recession (paperback, 2013, Paradigm): Sociologist, wrote one of the classic books on the distribution of wealth in America, Who Rules America? The Triumph of the Corporate Rich (1967, latest revision 2013). He shows how even during periods when liberals were able to reduce inequality (roughly 1933-69) business remained under the firm control of an upper class that never compromise their own power and were always poised to launch the conservative counterrevolution of the 1980s (once they lost their fear of revolution). Domhoff also wrote Class and Power in the New Deal: Corporate Moderates, Southern Democrats, and the Liberal-Labor Coalition (paperback, 2011, Stanford University Press).
Greg J Duncan/Richard I Murnane: Restoring Opportunity: The Crisis of Inequality and the Challenge for American Education (paperback, 2014, Harvard Education Press): It's long been felt that equal opportunity is more important than equal outcomes, and that the key to equal opportunity lies in improving the public schools system. However, as the economy becomes ever more inequal, the public schools have an ever harder time compensating on the opportunity front, and it isn't clear to me that they're even getting the chance. I don't know how the authors proposed to overcome this but it looks to me like they're trying to solve the symptom rather than the cause: only by reversing the overall economic picture can you start to get some traction from reforming the schools. Duncan/Murnane previously edited: Whither Opportunity? Rising Inequality, Schools, and Children's Life Chances (paperback, 2011, Russell Sage Foundation).
Stephen Emmott: Ten Billion (paperback, 2013, Vintage): The number is the projected near future population, raising the question of how such a population can be supported by available resources and technology -- basically an updated broadside along the lines of Paul Ehrlich's The Population Bomb. Ehrlich's book made short-term predictions of doom that didn't come true, so it's become much easier to deny the concern, but there can be no infinite trendlines, at least in a finite world: sooner or later something has to break. On the same subject: Danny Dorling: Population 10 Billion: The Coming Demographic Crisis and How to Survive It (paperback, 2013, Constable). On Ehrlich, see Paul Sabin: The Bet: Paul Ehrlich, Julian Simon, and Our Gamble Over Earth's Future (2013, Yale University Press).
Tom Engelhardt: Shadow Government: Surveillance, Secret Wars, and a Global Security State in a Single-Superpower World (paperback, 2014, Haymarket Books): Probably just a collection of TomDispatch posts, worth tracking although a bit more effort into turning them into a current book would be nice. The focus on the so-called intelligence agencies is more relevant than ever as they seem to be driving US military intervention around the world -- the recent discovery and bombardment of the Khorasan group in Syria is a prime example. Then there is the broader issue of how those agencies manage to suck up so much money for doing mischief that has so little value to the American people. Secrecy is a big part of their recipe for success, so any exposure is welcome.
Steve Fraser: The Age of Acquiescence: The Life and Death of American Resistance to Organized Wealth and Power (2015, Little Brown): Throughout much of US history most Americans were quick to blame the rich for the inequities all around us, but in recent years that has changed -- giving the rich a free pass, which they have used to great political advantage.
James K Galbraith: The End of Normal: The Great Crisis and the Future of Growth (2014, Simon & Schuster): Important book, argues that the economic growth of much of the 20th century was inflated by a tendency to replace household work (not counted as GDP) with commercial outsourcing (counted as GDP), a trend that more recently has been if anything reversed. What this means is that economic growth will be harder to achieve in the future, so policies which depend on growth to work (like slowing down the increase of inequality) will be harder to achieve or fail completely. I should say this again: I thought Galbraith's The Predator State: How Conservatives Abandoned the Free Market and Why Liberals Should Too (2008) was the best political book of the last decade.
Thomas Geoghegan: Only One Thing Can Save Us: Why America Needs a New Kind of Labor Movement (2014, New Press): Labor lawyer, first book was a fine memoir -- Which Side Are You On? Trying to Be for Labor When It's Flat on Its Back (1991) -- then a few books more narrowly on law before he wrote an eye-opening book on the German welfare state, Were You Born on the Wrong Continent? (2011). This seems to be more of a political manifesto, and while I'm skeptical that unions are going to save us, I'm not going to reject any of his arguments out of hand. Next up on my reading table.
Marie Gottschalk: Caught: The Prison State and the Lockdown of American Politics (2014, Princeton University Press): This so-called "bastion of freedom" is the world's largest jailer, its justice system trapped in a spiral where the only fixes for past mistakes it can conceive of are more mistakes of the same sort. One blurb: "sheds new light on the relationship between criminal justice and the ideological shape, material conditions, and institutional structure of the broader political economy." Looks like an important book.
David Graeber: The Utopia of Rules: On Technology, Stupidity, and the Secret Joys of Bureaucracy (2015, Melville House): Radical anthropologist, best known for Debt: The First 5,000 Years (2011), but more recently wrote The Democracy Project: A History, a Crisis, a Movement (2013) based on his involvement with Occupy Wall Street. The focus here is on bureaucracy, how it actually works, and how that affects our perceptions of how the world works (hint: not very well).
Johann Hari: Chasing the Scream: The First and Last Days of the War on Drugs (2015, Bloomsbury USA): Wide-ranging history of the world's futile efforts to ban drug use, starting with the first prohibition one hundred years ago and leading up to at least one country that sensibly legalized the whole gamut. Lessons: "Drugs are not what we think they are. Addiction is not what we think it is. And the drug war has very different motives to the ones we have seen on our TV screens for so long."
Chris Hedges: Wages of Rebellion: The Moral Imperative of Revolt (2015, Nation Books): Extended screed on the many wrongs of the American state, and a call for resistance, rebellion, revolution. Hedges is such a skilled journalist he has little trouble filling out the critique and making it seem reasonable. Harder to gauge as an action manual, but that's always the hard part.
David Cay Johnston, ed: Divided: The Perls of Our Growing Inequality (2014, New Press): Various papers, with overviews by Barrack Obama, Elizabeth Warren, and Adam Smith, and more topical papers, most pretty basic -- focusing perhaps more on the fallout at the bottom of the scale rather than the real action at the top.
Jonathan M Katz: The Big Truck That Went By: How the World Came to Save Haiti and Left Behind a Disaster (2013; paperback, 2014, Palgrave Macmillan): The only American news correspondent based in Haiti at the time of the 2010 earthquake, details the international relief effort ($16.3 billion in pledges) and how little it relieved.
Harvey J Kaye: The Fight for the Four Freedoms: What Made FDR and the Greatest Generation Truly Great (2014, Simon & Schuster): Everyone knows that the US fought WWII for freedom, but hardly anyone knows about FDR's inspiring definition of what freedom means, probably because two of those four freedoms got junked almost immediately in America's postwar fight to oppose communism and (under more favorable terms to the US) to restore imperialism. I read Cass R Sunstein, who's hardly my idea of a visionary political thinker, The Second Bill of Rights: FDR's Unfinished Revolution -- and Why We Need It more Than Ever (2004), so I have an idea what Kaye is pushing for. I always saw FDR as a man of the upper class, whose aim was always to save capitalism from its own contradictions. But one thing all the Calvin Coolidge worship in the Republican Party has done is to make FDR relevant -- indeed, necessary -- again. These days, those four freedoms look like a pretty good deal.
Naomi Klein: This Changes Everything: Capitalism vs. the Climate (2014, Simon & Schuster): Canadian political writer, has written a series of bestselling books which seem to sum up the left's thinking about the rot of capitalism -- No Logo: Taking Aim at the Brand Bullies (2000) on globalization, The Shock Doctrine: The Rise of Disaster Capitalism (2007) factoring in the terrorism wars, and now this one taking notice of climate change.
Jeff Madrick: Seven Bad Ideas: How Mainstream Economists Have Damaged the World (2014, Knopf): Author of one of the best historical context books on the recent crash -- Age of Greed: The Triumph of Finance and the Decline of America, 1970 to the Present (2011, Knopf) -- broadens his critique to include a number of key ideas in economics. The ideas range from established zombies to key insights that are often misunderstood and misapplied (like Adam Smith's "invisible hand"). Some economists, like Alan Blinder, were not amused.
John Micklethwait/Adrian Wooldridge: The Fourth Revolution: The Global Race to Reinvent the State (2014, Penguin): Journalists for The Economist, they've written upbeat books on globalization (A Future Perfect: The Challenge and Hidden Promise of Globalization), conservatism (The Right Nation: Conservative Power in America, and fundamentalism (God Is Back: How the Global Revival of Faith Is Changing the World). Their new riff is that the future belongs to the elites that are most effectively to usurp the power of the state. In this, they're more impressed by Singapore and China than the US, where the rich are trying to destroy democracy lest it ever yield to the masses.
Sendhil Mullainathan/Eldar Shafir: Scarcity: Why Having Too Little Means So Much (2013, Times Books): A piece on behavioral economics, answering much with little: "scarcity creates a similar psychology for everyone struggling to manage with less than they need." Of course, without scarcity there would be no economics, which is a big part of the reason businesses and economists work so hard to enforce scarcity. Also why so much changes when you imagine a transition to post-scarcity conditions. I doubt the authors will go there, but they should give you lots of reasons why you should.
Rick Perlstein: The Invisible Bridge: The Fall of Nixon and the Rise of Reagan (2014, Simon & Schuster): Third huge volume in the author's history of the right-wing in America, following Before the Storm: Barry Goldwater and the Unmaking of the American Consensus and Nixonland: The Rise of a President and the Fracturing of America. Not a flashy period for the rise of the US right, but unless you believe Reagan was some sort of deus ex machina, the shift found some kind of traction in the half-decade's turmoil.
Robert D Putnam: Our Kids: The American Dream in Crisis (2015, Simon & Schuster): Sociologist, most famous for his study of the breakdown in social bonds in Bowling Alone: The Collapse and Revival of American Community (2000). He returns to his lower middle class home town here, tracks down what happened to his high school class, and finds that fate has been tough, with fewer and fewer Americans enjoying the opportunity for upward mobility. This won't come as a surprise to anyone who can unpack statistics, but the case examples may make an impression where numbers numb.
James Risen: Pay Any Price: Greed, Power, and Endless War (2014, Houghton Mifflin): "War corrupts. Endless war corrupts absolutely." Risen has broken several major stories about that corruption, and adds a few more here. I'm not sure it rises to the level of synthesis of the above quote, but it should contribute to one.
Shira Robinson: Citizen Strangers: Palestinians and the Birth of Israel's Liberal Settler State (paperback, 2013, Stanford University Press): After 700,000 Palestinians fled the war zone in what became Israel, the remainder (now 15% of Israel's population) were offered a peculiar form of citizenship ("how to bind indigenous Arab voters to the state while denying them access to its resources"), setting up a tension that continues to the present day. This looks to be one of the few books to address this topic.
Joseph E Stiglitz/Bruce C Greenwald: Creating a Learning Society: A New Approach to Growth, Development, and Social Progress (2014, Columbia University Press): Lectures from a series named for Kenneth J. Arrow, focusing on the role of learning throughout the economy and society, but "lectures" sells this short -- this is a substantial book, well over 500 pages, and likely an important one (not least given how little regard the right has for learning).
Joseph E Stiglitz: The Great Divide: Unequal Societies and What We Can Do About Them (2015, WW Norton): Another volume on inequality, following the author's The Price of Inequality: How Today's Divided Society Endangers Our Future (2012). This is probably a second choice in that it's built from essays written over several years, but Stiglitz is a brilliant economist and the problem is so huge and sweeping you have to come at it from many angles.
Astra Taylor: The People's Platform: Taking Back Power and Culture in the Digital Age (2014, Metropolitan Books): Looks like this creates a strawman argument about what a democratic marvel the internet is then knocks it down showing how "a handful of giants" have cornered it and usurped it for their own nefarious ends. Then she tries to rescue the strawman from the giants. She has made documentary films before, including one on Slavoj Zizek and one she converted into the book, Examined Life: Excursions With Contemporary Thinkers (paperback, 2009, New Press).
Zephyr Teachout: Corruption in America: From Benjamin Franklin's Snuff Box to Citizens United (2014, Harvard University Press): For a variety of reasons, American politics has always been easy to tempt with corruption. The founding fathers struggled with the problem: George Washington famously strived to counter any suggestion that he might put his personal interests above the public's, while Aaron Burr was possibly the most notorious of many who sought office as a path to seeking riches. So there's a lot to write about here, especially lately. As is often the case, the problem may exist perpetually, but it only becomes really severe when we let our guard down, either by losing the sense of public interest or by glorifying the naked greed of self-interest. Both are flagrant problems these days.
Martin Wolf: The Shifts and the Shocks: What We've Learned -- and Have Still to Learn -- From the Financial Crisis (2014, Penguin): Chief economics commentator at the Financial Times in London; previously wrote Why Globalization Works (2005) and Fixing Global Finance (2008), which now seem to be part of the problem. At least he recognizes that there are problems, and Krugman sees value in most of his proposed reforms.
Chinese Dinner in Arkansas
My sister and I went to Arkansas recently to see our cousin Elsie Lee and some of her family (e.g., daughters Brenda and Rhonda). I brought my "magic" ingredients and some tools along and whipped up some Chinese:
Monday, June 15, 2015
Music Week
Music: Current count 25103 [25069] rated (+34), 429 [432] unrated (-3).
Most of this week's report was scooped by last week's Rhapsody Streamnotes. Since then I've kept going down the Spin list, picking up Raekwon, Yo La Tengo (hey), and moving into Oasis (ugh). On the new jazz front, I've played all three new Ivo Perelman records, but only rated one (the most marginal; the others need another play or two). I almost have a full basket of unrated new jazz. Not much mail this week. (So little I added Monday's mail to Unpacking but it's not yet factored into the current count above.)
Sorry to say I didn't get any time last week to work on the book blurbs. Two days were taken up with people working on the big elm tree in the backyard. (If I recall correctly, Google has an aerial view of the neighborhood where the tree dwarfs the house we live in.) Then there was the Ornette Coleman post, Rhapsody Streamnotes, and a little thing on building a music website.
As you may know, Terminal Zone was a one-shot magazine Don Malcolm and I put together in 1977. A few years back I registered the terminalzone.net domain name with the idea of building a music website there. It's gone through three or four (or five or six) design iterations since then, but still isn't anything substantial. But every time Robert Christgau's blog hits the shoals of web-media indifference, I think there might be some value to dusting it off. (Cuepoint failed to post Christgau's June 5 and 12 columns. No word on whether this hiatus is permanent or just a temporary blip.) So I spent a couple days last week touching up the Terminal Zone Website RFC (request for comments, common jargon for Internet specs). I sent it around to a couple people last week but didn't get any response, so I figured I'd mention it here ("run it up the flagpole to see who salutes").
I see two pieces to the website. One is a ratings database, where some number of invited critics file and track record ratings (although in principle it could be used to track non-participating critic ratings, such as Metacritic does). A while back Chuck Eddy suggested that "you" (this was addressed to the Expert Witness Facebook Group) should put together something like the Pazz & Jop Product Report that the Village Voice ran in 1976-77. At the time, I wrote these notes, which of course resemble the new RFC -- PJPR is really just one view into the ratings database. This all requires a fairly substantial amount of programming, which I am interested in doing. In addition to supporting the website, the software could be used for other niche-oriented websites, and could be tailored as an ap for anyone who wants to keep their own personal ratings list. This could be developed as free software, or could have some value if someone wants to build a business around it (and, of course, there are various hybrid options).
The other piece would be a blog which mostly consists of diary entries from critics briefly describing what they've been listening to and what they think of it. I'm thinking of something sort of midway between my Music Week and Rhapsody Streamnotes posts, occurring more or less weekly. These wouldn't be full-fledged record reviews, even in the "ultra-brief" sense of CG reviews. But they would have links to the ratings database, so one could scan the diary entries for mention of an interesting record, then click on the link to get more information on the record (including more critics' views). One of the better examples of the diary format is the pieces collected in Philip Larkin's All That Jazz: A Record Diary.
My guess is that the minimal thresholds for a useful website would be close to ten diarists and 20-30 raters, and it could scale up to much more. We would need a team of editors to keep the copy flowing and clean. (I'm not looking to be one of the people involved in day-to-day content management.) We might come up with a board of "executive editors" to add some prestige and overall direction. (That's more my speed, although at least initially I'm offering to do software development, provide a server free of charge, and the domain name.) The blog part could be created almost immediately. My own database and writings can be freely plundered for initial content. Initially I don't expect to make any money on this, and assume that contributions would have to be gratis (non-exclusive license granted but all other rights retained). I'm open to other business proposals.
By the way, earlier draft were oriented toward doing something more Wikipedia-ish: building a more extensive reference database. Recently I've been looking for something more manageable, easier to do, more simply useful for a certain community -- music fans like you and me who don't find timely information and guidance from the usual music media resources.
Write me if you want more info, or to kick this thing around. Especially if you have editing, writing, rating, sysadmin, and/or engineering skills you'd be interested in contributing.
---
My own time is likely to be disrupted over the next 3-4 weeks. I'm planning on taking a long car trip starting Friday (Oregon and Washington, if that makes any difference). Most places are connected, so I should have email pretty much everywhere (if not all the time). I do hope to get some writing done along the way, but I imagine things like website updates will be few and far between. And historically I've never managed to do much music rating/reviewing on the road.
---
New records rated this week:
Built to Spill: Untethered Moon (2015, Warner Brothers): [r]: B+(*)
Hugo Carvalhais: Grand Valis (2014 [2015], Clean Feed): [cd]: B+(**)
Joe Hertenstein/Pascal Niggenkemper/Thomas Heberer: HNH2 (2013 [2015], Clean Feed): [cd]: B+(**)
Ivo Perelman/Mat Maneri/Joe Morris: Counterpoint (2015, Leo): [cd]: B+(**)
Slutever: Almost Famous (2015, self-released, EP): [bc]: B+(**)
Universal Indians w/Joe McPhee: Skullduggery (2014 [2015], Clean Feed): [cd]: B+(***)
Juan Wauters: Who Me? (Captured Tracks): [r]: B+(*)
Recent reissues, compilations, and vault discoveries rated this week:
The Ornette Coleman Quartet: The 1987 Hamburg Concert (1987 [2011], Domino, 2CD): [r]: A-
Old records rated this week:
Beyoncé: B-Day (2006, Columbia): [r]: B+(*)
Beyoncé: I Am . . . Sasha Fierce (2008, Music World/Columbia, 2CD): [r]: C+
Broken Social Scene: You Forgot It in People (2002, Arts & Crafts): [r]: B+(***)
Broken Social Scene: Broken Social Scene (2005, Arts & Crafts): [r]: B+(**)
Built to Spill: There Is No Enemy (2009, Warner Brothers): [r]: B+(*)
Kate Bush: The Kick Inside (1978, EMI America): [r]: B+(**)
Kate Bush: Lionheart (1978, EMI America): [r]: B+(**)
Kate Bush: Never for Ever (1980, EMI America): [r]: B+(*)
Kate Bush: The Dreaming (1982, EMI America): [r]: B
Ornette Coleman: Twins (1960-61 [1971], Atlantic): [r]: A-
Destiny's Child: Destiny's Child (1998, Columbia): [r]: B+(*)
Destiny's Child: The Writing's on the Wall (1999, Columbia): [r]: B+(**)
Destiny's Child: Survivor (2001, Columbia): [r]: B+(**)
Rolf Kühn & Friends: Affairs (1997 [1998], Intuition): [r]: A-
John Lewis: Jazz Abstractions (1960, Atlantic): [r]: A-
Oasis: Definitely Maybe (1994, Epic): [r]: B+(*)
Raekwon: Only Built 4 Cuban Linx (1995, Loud): [r]: A-
Slutever: Sorry I'm Not Sorry (2010, self-released, EP): [bc]: B
Slutever: Slutever Demos (2013, self-released, EP): [bc]: B+(*)
The Stone Roses: The Stone Roses (1989, Silvertone): [r]: B+(*)
Sunny Day Real Estate: Diary (1994, Sub Pop): [r]: B
Jamaaladeen Tacuma: Jamaaladeen Tacuma's Coltrane Configurations (2008 [2009], Jazzwerkstatt): [r]: B+(***)
Yo La Tengo: Ride the Tiger (1986 [1996], Matador): [r]: A-
Yo La Tengo: New Wave Hot Dogs (1987, Coyote/Twintone): [r]: B+(**)
Yo La Tengo: President Yo La Tengo (1989, Twin/Tone): [r]: A-
Yo La Tengo: Fakebook (1990, Bar/None): [r]: B+(*)
Yo La Tengo: May I Sing With Me (1992, Alias): [r]: A-
Yo La Tengo: Painful (1993, Matador): [r]: B+(***)
Yo La Tengo: Genius + Love = Yo La Tengo (1988-95 [1996], Matador, 2CD): [r]: B+(**)
Yo La Tengo: And Then Nothing Turned Itself Inside-Out (2000, Matador): [r]: B+(***)
---
Grade changes:
Ornette Coleman: Beauty Is a Rare Thing (1959-61 [1993], Rhino/Atlantic, 6CD): [was A-] A
Yo La Tengo: Electr-O-Pura (1995, Matador): [was: B+] A-
---
Unpacking: Found in the mail last week:
Takeshi Asai: French Trio Vol. 2 (De Trois Cités)
Jeff Denson/Lee Konitz: Jeff Denson Trio + Lee Konitz (Ridgeway)
Laszlo Gardony: Life in Real Time (Sunnyside): July 7
Michael Kocour: Wherever You Go, There You Are (OA2)
Purchases:
Kendrick Lamar: To Pimp a Butterfly (Top Dawg/Aftermath/Interscope)
Huey 'Piano' Smith: Rockin' Pneumonia and the Boogie Woogie Flu ([2012], Hallmark)
Sunday, June 14, 2015
Weekend Roundup
We'll start with Richard Crowson's cartoon this week, since we can't seem to escape Brownbackistan. The Kansas state legislature had to go way into overtime to finally come up with a deal to patch up a $400 million shortfall in state tax revenues opened up by Brownback's 2011 income tax cuts (the one which notoriously exempted businessmen from having to pay any state income tax). It's hard to get Republicans to raise any kind of taxes, but some reconciled themselves by coming up with the most regressive tax increases they could find. And some held out to the bitter end, hoping instead to wreck the government and all the evil it stands for. Brownback himself took both positions at one point or another, and reportedly broke down and wept during one of many hopeless meetings with state legislators. The final scheme they came up with satisfied no one, but Brownback did manage to keep some semblance of his signature programs in place (story here). One downside of keeping the legislature in session so long was that they passed even more dumb and vicious bills than they had time for during the regular session -- see the Rosenberg piece below.
Chuck Powell sent in a link to a piece posted on Tyler Cowen's blog (thankfully not written by Cowen), The political economy of Kansas fiscal policy. The post makes a number of reasonable points, such as the split between rural and urban Kansas, and factors which distort both Wichita and Kansas City from urban/suburban norms. Also that "cutting the size of government was never a serious option," mostly because the costs of education and health care -- the two main expenses of state government -- have been rising much faster than inflation and economic growth. At one point the author says, "Republicans should be wise enough to not depend on luck, and they should be wiser predicting how trend lines go." But he doesn't go into why our current generation of Republicans are so bad at those things. For one thing, past generations were a different story -- you could argue that their priorities were wrong, but you rarely doubted their basic competence: something which Brownback and many others make you wonder about daily. One could write a whole post on this one question, but for now I think there are two main reasons: (1) the Republicans have created a very effective grass roots political organization, largely peopled by gun nuts and anti-abortion fanatics, backed by local chambers of commerce and big money, and they have become very effective at scamming the system; one result of this is that Republicans rarely have to worry about losing to Democrats -- their only meaningful debate is among themselves, which makes them increasingly isolated from and ignorant of other people and their problems; (2) in other words, they live in a bubble, and this bubble is increasingly saturated with Fox News and other right-wing media, which mostly just teaches them to scapegoat while making them stupid and mean. The latter, of course, is a problem with Republicans all over the nation. What makes Kansas worse than the rest is how hard it is to beat them at the game they've rigged. In 2014, Republicans ran 5-8% above the best polls all across the ballot, on top of the gerrymander that guaranteed them legislative majorities. I wouldn't rule out fraud and intimidation, but most likely that's their superior get-out-the-vote organization.
---
Some more scattered links this week:
---
The problem with Reagan's deficits isn't that he created them, and certainly not that we enjoy scolding the Republicans for their spendthrift ways (not to mention hypocrisy), but that Americans got so little of real value out of the extravagance: a lot of worthless military hardware -- the Star Wars-marketed anti-missile system still doesn't work, but the stuff that did work and has since been deployed in wars all around the world has been far more damaging -- and a small number of billionaires with their correspondingly inflated egos. Perhaps even worse, that explosion of debt is now commonly seen as crippling our government -- originally conceived of, by, and for the people as a tool for securing the general welfare -- from doing even relatively simple things that need to be done. The single most damaging thing Reagan ever did was to make a joke about "the scariest words in the English language: I'm from the government and I'm here to help." That such a joke can be turned into a full-blown ideology is a testament to a deeper innovation that Reagan wrought: he liberated American conservatism from the bounds of reality, allowing them to focus on imaginary problems, oblivious to whatever consequences their madness may produce. Back in the 1980s he was said to have "Teflon" -- a non-stick coating that protected him from any of his scandals. Looking back, it now seems that the key to his innocence was his very disconnectedness. Maybe someday a biographer will manage to identify the point when his fantasy gave way to Alzheimer's, but for all practical purposes it hardly matters.
Saturday, June 13, 2015
Rhapsody Streamnotes (June 2015)
Pick up text here.
Daily Log
Posted two tweets to mark the end of the Kansas state legislature session:
The Kansas state legislature's reign of terror finally ended in an orgy of regressive tax hikes, still leaving a hole so Brownback can cut.

Has any state legislature ever passed more dumb and vicious laws than Kansas has this year? Bad as Brownback is, his "helpers" are worse.
Friday, June 12, 2015
Ornette Coleman
As I'm sure you know by now, Ornette Coleman died yestertoday, age 85. He was the first jazz musician I developed a real interest in and affection for. That was in the mid-1970s, at least 15 years after Coleman made his initial big splash, about the time he was inventing a second wave of jazz-rock fusion, one much more radical than the funk-oriented Miles Davis or the prog of John McLaughlin.
Coleman was part of the first wave of jazz avant-gardists, a group which variously sought to explore and find novel sounds, rhythms, and harmonics -- to violate the known rules of jazz, to do things that are wrong and somehow make them sound right. (Mingus put it most succinctly: "It's like organized disorganization, or playing wrong right.") Most of that wave wound up contributing to the postmodern synthesis jazz students today are taught: what we call postbop. Martin Williams was so impressed with Coleman that he concluded his Smithsonian Collection of Classic Jazz with three Coleman pieces (plus a Coltrane), arguing that [early] Coleman was the endpoint of the classic jazz tradition. Yet even today most novices find [early] Coleman puzzling before they are swept away. I saw this at work when my hip-hop-loving nephew wanted to get acquainted with jazz and I handed him The Shape of Jazz to Come.
Later Coleman pushed further and harder, but by the time he cut his last album, 2006's Sound Grammar, all the stars aligned: no jazz record in the past decade (or really, ever -- and I've been involved in a lot of critic polling on such things) has been so universally exclaimed. It even won the Pulitzer Prize that had so notoriously been denied Duke Ellington. Yet it sounded so offhand you could imagine him knocking sequels out every year -- so it seems odd that it came ten years after his previous album, and nine years before his death. He had remained active well into last year -- playing at a tribute concert in his honor in Brooklyn (and suing to keep the ablum from being released). He never got comfortable with the record business as he hopped from label to label, taking long breaks, never settling in -- he didn't even seem to be happy with his own labels, going back to Artist House in the late 1970s. One imagines he has hoards of tapes that greedy heirs will eventually dump onto the market. Or respectful ones, given that his son Denardo has been his preferred drummer ever since puberty in the 1970s. (Denardo first played on an album in 1966 when he was 10, but it took him a while to finally push Ed Blackwell, Billy Higgins, and Shannon Jackson out of the picture.)
---
My semi-obligatory database dump:
Mainline Albums:
Ornette Coleman: Something Else: The Music of Ornette Coleman (1958, Contemporary) -- ([1988], Contemporary/OJC): B+(***)
Ornette Coleman: Tomorrow Is the Question (1959, Contemporary) -- ([1988, Contemporary/OJC): B+(**)
Ornette Coleman: The Shape of Jazz to Come (1959, Atlantic) -- ([1990], Atlantic): A+
Ornette Coleman: Change of the Century (1959 [1960], Atlantic) -- ([1992], Atlantic): A-
The Ornette Coleman Quartet: This Is Our Music (1960 [1961], Atlantic): A-
Ornette Coleman Double Quartet: Free Jazz: A Collective Improvisation (1960 [1961], Atlantic): A-
Ornette Coleman: Ornette! (1961 [1962], Atlantic): A-
Ornette Coleman: Ornette on Tenor (1961 [1962], Atlantic): B+(***)
Ornette Coleman: Town Hall, 1962 (1962 [1965], ESP-Disk): B+(***)
Ornette Coleman: Chappaqua Suite (1965, Columbia): B+
The Ornette Coleman Trio: At the "Golden Circle" Stockholm: Volume One (1965 [1966], Blue Note) -- (1987, Blue Note): A
The Ornette Coleman Trio: At the "Golden Circle" Stockholm: Volume Two (1965 [1966], Blue Note) -- (1987, Blue Note): A-
Ornette Coleman: New York Is Now! (1968, Blue Note) -- ([1989], Blue Note): A-
Ornette Coleman: Love Call (1968 [1971], Blue Note): B+(**)
Ornette Coleman: Friends and Neighbors: Live at Prince Street (1970 [1972], Flying Dutchman) -- ([2013], BGP): A-
Ornette Coleman: Skies of America (1972, Columbia) -- ([2000], Columbia/Legacy): B+
Ornette Coleman: Dancing in Your Head (1973-75 [1977], Verve) -- ([2000], Verve): A
Ornette Coleman/Charlie Haden: Soapsuds, Soapsuds (1977, Artists House) -- ([1996], Verve/Harmolodic): B+
Ornette Coleman: Body Meta (1976 [1978], Artists House) -- ([1996], Verve/Harmolodic): A-
Ornette Coleman: Of Human Feelings (1979 [1982], Antilles): A
Ornette & Prime Time: Opening the Caravan of Dreams (1985, Caravan of Dreams): B+
Ornette Coleman [The Original Quartet & Prime Time]: In All Languages (1985 [1987], Caravan of Dreams, 2LP): A
Ornette Coleman: Virgin Beauty (1988, Portrait): A-
Ornette Coleman & Prime Time: Tone Dialing (1995, Harmolodic/Verve): B+
Ornette Coleman: Sound Museum: Hidden Man (1996, Harmolodic/Verve): B+
Ornette Coleman: Sound Museum: Three Women (1996, Harmologic/Verve): B
Ornette Coleman + Joachim Kühn: Colors: Live From Leipzig (1996 [1997], Verve/Harmolodic): A-
Ornette Coleman: Sound Grammar (2005 [2006], Sound Grammar): A
Miscellaneous Albums: side-credits, compilations, live albums that only appeared much after the fact:
Paul Bley Quintet: The Fabulous Paul Bley Quintet (1958 [], Musidisc) -- also released as Paul Bley/Ornette Coleman/Don Cherry/Charlie Haden/Billy Higgins: Live at the Hilcrest Club 1958 (1958 [1976], Inner City), and Coleman Classics, Vol. 1 (IAI): A-
John Lewis Presents: Contemporary Music 1: Jazz Abstractions (1960 [1961], Atlantic) -- compositions by Gunther Schuller and Jim Hall; other cover names: Coleman, Eddie Costa, Eric Dolphy, Bill Evans, Scott LaFaro: A-
Ornette Coleman: To Whom Who Keeps a Record (1959-60 [1975], Atlantic) -- ([2007], Water): A-
Ornette Coleman: The Art of the Improvisers (1959-61 [1970], Atlantic) -- ([1988], Atlantic): A-
Ornette Coleman: Twins (1959-61 [1971], Atlantic) -- ([2008], Water): A-
Ornette Coleman: Beauty Is a Rare Thing (1959-61 [1993], Rhino/Atlantic, 6CD) -- collects all the Atlantic recordings: A-
Jackie McLean/Ornette Coleman: New and Old Gospel (1967, Blue Note) -- ([2007], Blue Note): Coleman plays trumpet: A-
Alice Coltrane: Universal Consciousness (1971, Impulse): B
Ornette Coleman: The Complete Science Fiction Sessions (1971-72 [2000], Columbia/Legacy, 2CD) -- collects Science Fiction [1972] and the outtakes later issued as Broken Shadows [1982]: A-
Ornette Coleman: Ken Burns Jazz: The Definitive Ornette Coleman (1958-75 [2000], Columbia/Legacy): A-
Charlie Haden: Closeness (1976, Horizon) -- one of four duets: B+
Charlie Haden: The Golden Number (1976 [1977], Horizon) -- one of four duets: B+(***)
James Blood [Ulmer]: Tales of Captain Black (1978 [1979], Artists House) -- ([1979], DIW): A-
Jamaaladeen Tacuma: Renaissance Man (1983 [1984], Gramavision): B
Pat Metheny/Ornette Coleman: Song X (1985 [1986], Geffen): A-; Song X: Twentieth Anniversary ([2005], Nonesuch): A
The Ornette Coleman Quartet: The 1987 Hamburg Concert (1987 [2011], Domino, 2CD): A-
Geri Allen: Eyes in the Back of Your Head (1995-96 [1997], Blue Note): B+
Rolf Kühn & Friends: Affairs (1997, Intuition): Coleman on 1 cut: A-
Lou Reed: The Raven (2003, Sire/Reprise): B+
Jamaaladeen Tacuma: For the Love of Ornette (2010 [2011], Jazzwerkstatt): B+(***)
Sonny Rollins: Road Shows Vol. 2 (2010 [2011], Doxy/Emarcy) -- one cut: A-
The Master Musicians of Jajouka, et al.: The Road to Jajouka: A Benefit Album (2013, Howe): A-
Selected albums I have not heard:
Ornette Coleman: The Empty Foxhole (1966 [1967], Blue Note)
Ornette Coleman: Ornette at 12 (1968 [1969], Impulse!)
Yoko Ono: Plastic Ono Band (1968-70 [1970], Apple) -- Coleman played on the one 1968 track
Ornette Coleman: Crisis (1969 [1972], Impulse!)
Louis Armstrong: Louis Armstrong and His Friends (1970, Flying Dutchman) -- no dream date: Armstrong only sings, and Coleman's credit reads "backing vocals"
Cosmetic With Jamaaladeen Tacuma: So Tranquilizin' (1985, Gramavision)
Ornette Coleman: Prime Design/Time Design (1985, Caravan of Dreams): composition only, played by string quartet + Denardo Coleman
Ornette Coleman: Naked Lunch [Soundtrack] (1988, Portrait)
New Vocabulary: New Vocabulary (2014, System Dialing) -- Coleman sued over this "unauthorized" release.
Miscellaneous unheard live albums:
Ornette Coleman Quintet: Complete Live at the Hillcrest Club (1958 [2007], Gambit) -- see above, usually attributed to Paul Bley Quintet
Ornette Coleman/Don Cherry/Jimmy Giuffre/Kenny Dorham: The Lenox Jazz School Concert: August 29, 1959 (1959 [2009], Free Factory)
Ornette Coleman: The Great London Concert (1960 [1975], Arista/Freedom, 2LP) -- also released as An Evening With Ornette Coleman ([1967], Polydor, 2LP)
Ornette Coleman Trio: Live at the Tivoli (1965 [1992], Magnetic)
Ornette Coleman Trio: Croydon Concert (1965 [2008], Free Factory)
Ornette Coleman: Who's Crazy? (1966 [1982], Affinity, 2LP) -- previously two separate LPs, 1 and 2 ([1979], Atmosphere)
Ornette Coleman: Lonely Woman Trio '66 (1966, no label): Copenhagen, Denmark
Ornette Coleman: Live in Milano (1968 [1989], Jazz Up)
Ornette Coleman: The Unprecedented Music of Ornette Coleman (1968 [1996], Passport)
Ornette Coleman: The Belgrade Concert (1971 [1995], Jazz Door)
Ornette Coleman: European Concert (1971, Unique Jazz): Berlin
Ornette Coleman: Paris Concert (1971 [1977], Trio, 2LP) -- later Live in Paris 1971 (1971 [2008], Gambit)
Ornette Coleman: Lonely Woman Quartet '74 (1974, no label): Italy
Ornette Coleman/Prime Time: Jazzbühne Berlin '88 (1988 [1990], Repertoire)
Ornette Coleman Quartet: Reunion 1990 (1990 [2010], Domino, 2CD): Reggio Emilia, Italy
I expect many more live albums will appear in the future, especially as his estate swings into action, and as Europe's 50-year copyright limit legitimizes more bootlegs.
An informal scan indicates that at least 500 albums have Ornette Coleman compositions on them (maybe more than 600; I couldn't check, but "Lonely Woman" is undoubtedly the song leader). I'd hazard a wild guess that two dozen or more albums are tributes/dedicated to Ornette Coleman: most obviously, everything by Old and New Dreams (Don Cherry, Dewey Redman, Charlie Haden, Ed Blackwell -- note that Coleman outlived all the members of his ghost band); also (hard to check this precisely): Affinity [Joe Rosenberg], Borah Bergman, Paul Bley, Charlie Haden, Dave Liebman, Pat Metheny, Paul Motian, Jamaaladeen Tacuma, John Zorn.
Ornette Coleman was one of the few jazz musicians Robert Christgau continued to review regularly. His own Consumer Guide reviews are here. This reminds me that the first time I heard Dancing in Your Head was when Bob played it for me. The symphony theme was the most deliriously joyful piece of music I had ever heard. That wasn't the first time I heard Coleman, but it pushed my interest to a higher level.
---
Some links as others write about Coleman:
Some older pieces:
For a final word, Sonny Rollins (quoted in Gans, above):
We're all happy that we had an opportunity to witness the work and life of Ornette Coleman, and the human race is better for it.
Daily Log
Had to figure this out and write it down somewhere, so here. Slutever discography (all self-released, on Bandcamp):
Slutever x Girlpool Split Tape (2014.10.14 EP: 4 songs [2 each], 9:14)
White Flag (2014.07.22 digital track: 1 song, 2:26)
1994/Spit (2013.05.21 7" single: 2 songs, 8:41)
Slutever Demos (2013.04.05 EP: 8 songs, 27:53)
Pussycat (2012.04.20 Cassingle: 1 song, 2:10)
Pretend to Be Nice (2011.03.29 EP: 4 songs, 9:11)
Sorry I'm Not Sorry (2010.07.27 EP: 6 songs, 12:22)
Monday, June 08, 2015
Music Week
Music: Current count 25069 [25024] rated (+45), 432 [422] unrated (+10).
When I counted the number of newly rated records below, I found more than my count this week. I went back and rechecked the database, and found four albums listed as unrated that I should have filled in grades for. Then the count exceeded the list, so I went to the Streamnotes draft file and checked what I had written up against the Music Week lists, and found more discrepancies. I added them to the list below, and now the list is longer than the rated count increase again. Most likely that's the Pixies, who probably should have been reported last week. (At least seems to me like it's been a while.) Of course, if I had a system where I didn't have to update my records 4-5 times when I file a grade, I'd make fewer mistakes. But they'd also be harder to fix, so I guess there's that.
The large quantity of old music is due to my attempt to fill in the holes in Spin's Top 300 Albums: 1985-2014 list. I'm a little more than a third of the way through the list. I'm not just doing albums on the list: if I find something else that has a substantial rep and/or looks interesting, I'll slip it in too. Still working on Built to Spill. Next up is Kate Bush (list isn't alphabetical). I'm not spending a lot of time with them, although the A- records get at least two spins, as do some near misses. I'm also not reviewing anything I've graded before, even though some of them look like I may have underrated a bit. It's impossible to keep a list as long as mine in lockstep.
New records include two jazz A-listers from old favorites, albeit of very different stripes. But I have been dragging my feet on the jazz queue, which has been growing at a surprising rate. The main source of new records this week was Spin's 50 Best Albums of 2015 . . . So Far (my comp list is buried in the June 1 notebook). That led me to: American Wrestlers, Cannibal Ox, Dan Deacon, Eye, I Love Makonnen, Knocks, Bassekou Kouyate and Ngoni Ba, Monster Rally & Jay Stone, Colin Stetson/Sarah Neufeld, and Young Thug -- two more A-list records there, with Cannibal Ox real close and nothing real bad. I expected Jason Derulo on that list too -- it was plugged as "Spin album of the week" on the same page, and has gotten rapturous reviews from critics I usually agree with, and I loved Talk Dirty as much as they did. I played it twice and it irritated me more than my low B+ grade reveals. The other two new A-list records were obvious things to listen to (Murs, Willie Nelson/Merle Haggard). For a while last week I was logging so many A- records I wondered if I was going soft.
---
As you may have noticed, Medium's music venture Cuepoint hasn't added any new content since June 2, notably missing last Friday's expected appearance of Robert Christgau's Expert Witness. I don't have any inside info on what's happening, but there's evidently some sort of shakeup going on. The basic idea behind Medium is to sucker people into contributing free content, but Christgau at least has been paid from the start. It wasn't unreasonable at first to seed the free content with some commissioned pieces, but sooner or later some bean counter is going to insist on cutting expenses, and freelancers are easy to stiff. So one possibility is that Medium is tightening the screws. Another is that the "vertical" websites like Cuepoint built on Medium's platform haven't clicked. I think one problem with Cuepoint is that they've never had anyone else doing the sort of thing Christgau does -- either as a columnist with a regular schedule or as a reviewer. Everything else is feature writing, and I only recognize two writers on their current homepage, so they're not exactly trying to build a prestige roster. One result is that I've never found anything other than Christgau worth reading there.
You may recall that something similar happened at the previous home of Christgau's consumer guide, MSN Music. They had a slightly better music site, probably because living off the fat of Microsoft's monopoly they had more money to throw at it. They had a few columnists, although none generated as much as 5% of Christgau's comment traffic. They hired Christgau to write some live reports, and occasionally you could find something else worth reading there, but it was never organized very well. There are other music websites that seem to be successful, but they do so by cultivating a niche audience and covering that niche at considerable depth -- I'm thinking of Pitchfork, PopMatters, All About Jazz, not that I know how much money they really make. But both MSN Music and Cuepoint seemed to have the idea that they could build a mass audience by covering music at the most superficial level. That they failed should not be a big surprise.
Christgau wrote for MSN Music and for Cuepoint for the most pedestrian of reasons: because they paid him to do something he wanted to do anyway. If Cuepoint folds this could be the end of Christgau's Consumer Guide. Or he could find another web angel willing to lose money on him (though it's hard to imagine an infinite chain of them). He could even publish a few CG reviews in a non-paying outlet -- he had written a number of them during his last hiatus just because writing had become an integral part of the way he understands records, and was thinking about giving them to Odyshape (which more or less suspended operations last September). I'd be happy to publish them on his website, where at least they'd add value and interest.
Or he could just hang it up -- something I think about, even after I reconciled myself to writing for free. Could be time to start thinking about a post-Christgau website.
---
Expect a Rhapsody Streamnotes later this week. Current draft has 50 new records, 3 new compilations, and 75 old records, so that should be plenty. I'm also working on a series of book blurb posts. I came back from New Jersey last fall with many pages of notes I took in various bookstores, but technical problems have kept me from working on them. The last Book Roundup was on July 3, 2014, so nearly a year. There should be several hundred books worth mentioning in that time.
---
New records rated this week:
All Included: Satan in Plain Clothes (2014 [2015], Clean Feed): [cd]: B+(***)
American Wrestlers (2014 [2015], Fat Possum): [r]: B
Cannibal Ox: Blade of the Ronin (2015, iHipHop): [r]: B+(***)
François Carrier/Michel Lambert: Io (2013 [2015], FMR): [cd]: B+(***)
François Carrier/Michel Lambert/Rafal Mazur: Unknowable (2014 [2015], Not Two): [cd]: A-
Dan Deacon: Gliss Rifter (2015, Domino): [r]: B+(*)
Jason Derulo: Everything Is 4 (2015, Warner Brothers): [r]: B+(*)
Deux Maisons: For Sale (2013 [2015], Clean Feed): [cd]: B+(**)
Chris Dingman: The Subliminal & the Sublime (2013 [2015], Inner Arts Initiative): [cd]: B+(*)
The Eye: The Future Will Be Repeated (2015, Ba Da Bing): [r]: B+(**)
Scott Hamilton: Scott Hamilton Plays Jule Styne (2015, Blue Duchess): [cd]: A-
I Love Makonnen: Drink More Water 5 (2015, OVO Sound): [dl]: B+(**)
The Knocks: So Classic (2015, Big Beat, EP): [r]: B+(*)
Bassekou Kouyate & Ngoni Ba: Ba Power (2015, Glitterbeat): [r]: A-
Major Lazer: Peace Is the Mission (2015, Mad Decent): [r]: B+(*)
Monster Rally & Jay Stone: Foreign Pedestrians (2014 [2015], Gold Robot): [r]: B+(*)
Murs: Have a Nice Day (2015, Strange Music): [r]: A-
Willie Nelson/Merle Haggard: Django and Jimmie (2015, Legacy): [r]: A-
Pixies: Indie Cindy (2014, Pixiesmusic): [r]: B
Colin Stetson/Sarah Neufeld: Never Were the Way She Was (2015, Constellation): [r]: A-
Davide Tammaro: Ghosts (2014 [2015], self-released): [cd]: B
Frank Vignola & Vinny Raniolo: Swing Zing! (2015, FV): [cd]: B+(**)
Young Thug: Barter 6 (2015, 300/Atlantic): [r]: B+(**)
Recent reissues, compilations, and vault discoveries rated this week:
The Red Line Comp: A DCHC Compilation ([2015], self-released, EP): [bc]: B+(*)
Old records rated this week:
Mary J. Blige: What's the 411? (1992, Uptown/MCA): [r]: B+(**)
Mary J. Blige: No More Drama (2001, MCA): [r]: B+(**)
Built to Spill: Ultimate Alternative Wavers (1992, C/Z): [r]: B+(***)
Built to Spill: There's Nothing Wrong With Love (1994, Up): [r]: A-
Built to Spill: Keep It Like a Secret (1999, Warner Brothers): [r]: A-
Built to Spill: Ancient Melodies of the Future (2001, Warner Brothers): B
Built to Spill: You in Reverse (2006, Warner Brothers): [r]: B+(**)
Depeche Mode: Construction Time Again (1983, Sire): [r]: B
Depeche Mode: Some Great Reward (1984, Sire): [r]: B+(*)
Depeche Mode: Catching Up With Depeche Mode (1980-85 [1985], Sire): [r]: B+(**)
Depeche Mode: Black Celebration (1986, Sire): [r]: B
Depeche Mode: Violator (1990, Sire/Reprise): [r]: B
Depeche Mode: Songs of Faith and Devotion (1993, Sire/Reprise): [r]: B-
Dinosaur Jr.: You're Living All Over Me (1987, SST): [r]: B+(**)
Pixies: Come On Pilgrim (1987, 4AD, EP): [r]: B+(*)
Pixies: Surfer Rosa (1988, 4AD/Elektra): [r]: B+(*)
Primal Scream: XTRMNTR (2000, Astralwerks): [r]: A-
Radiohead: Pablo Honey (1993, Capitol): [r]: B+(**)
Radiohead: The Bends (1995, Capitol): [r]: B
Radiohead: Hail to the Thief (2003, Capitol): [r]: B+(*)
Tears for Fears: The Hurting (1983, Mercury): [r]: B+(*)
Tears for Fears: Songs From the Big Chair (1985, Mercury): [r]: B
Tears for Fears: The Seeds of Love (1989, Mercury): [r]: B-
---
Unpacking: Found in the mail last week:
Stephen Anderson/360° Jazz Initiative: Distracted Society (Summit)
Brett Carson: Quattuor Elephantis (Edgetone)
Casa: Futuro (Clean Feed)
Linda Dachtyl: A Late One (Summit)
Benjamin Duboc/Jean-Luc Petit: Double-Basse: This Is Not Art (Clean Feed)
Satoko Fujii Tobira: Yamiyo Ni Karasu (Libra): July 14
Vance Gilbert: Nearness of You (Disismye Music)
Chris Golinski/Tim McNally/Boaz Roberts: Rodeo (Edgetone)
Dre Hocevar Trio: Coding of Evidentiality (Clean Feed)
Keith Kelly Ask Not: A Grand Apparatus, Discarded (Edgetone)
Lona Kozik/Chris Golinski: Spelaeology (Edgetone)
Lama + Joachim Badenhorst: The Elephant's Journey (Clean Feed)
Marsa Fouty: Concerts (Fou)
Bob Mintzer Big Band: Get Up! (MCG Jazz): June 23
Gard Nilssen's Acoustic Unity: Firehouse (Clean Feed)
Caili O'Doherty: Padme (Odo): July 7
Rent Romus' Life's Blood Ensemble: The Otherworld Cycle (Edgetone)
Wayne Wallace Latin Jazz Quintet: Intercambio (Patois): July 7
Sunday, June 07, 2015
Weekend Roundup
Some scattered links this week:
---
Jason Ditz: Senate Votes to Block Pentagon Paying Millions to NFL to 'Honor Troops': You probably thought (if you thought about it at all) that the NFL was just engaging in patriotic showboating, but it turns out they were on the government dole. Precious quote, from Sens. McCain, Flake, and Blumenthal: "the US cannot afford to give 'scarce defense dollars to wealthy sports teams.'" They're talking about $5.4 million, a tiny drop in the trillion or so dollars the US spends on "defense" each year. Indeed, it's probably only a small fraction of what the Defense Dept. spends on PR, the effect of which is to make war more politically acceptable.

Paul Krugman: Why Am I a Keynesian?

Noah Smith sort-of approvingly quotes Russ Roberts, who views all macroeconomic positions as stalking horses for political goals, and declares in particular that

Krugman is a Keynesian because he wants bigger government. I'm an anti-Keynesian because I want smaller government.

OK, I'm not going to clutch my pearls and ask for the smelling salts. Politics can shape our views, in ways we may not recognize. [ . . . ]

So, am I a Keynesian because I want bigger government? If I were, shouldn't I be advocating permanent expansion rather than temporary measures? Shouldn't I be for stimulus all the time, not only when we're at the zero lower bound? When I do call for bigger government -- universal health care, higher Social Security benefits -- shouldn't I be pushing these things as job-creation measures? (I don't think I ever have). I think if you look at the record, I've always argued for temporary fiscal expansion, and only when monetary policy is constrained. Meanwhile, my advocacy of an expanded welfare state has always been made on its own grounds, not in terms of alleged business cycle benefits.

In other words, I've been making policy arguments the way one would if one sincerely believed that fiscal policy helps fight unemployment under certain conditions, and not at all in the way one would if trying to use the slump as an excuse for permanently bigger government.

But in that case, why am I a Keynesian? Maybe because of convincing evidence?

First of all, the case for viewing most recessions -- and the Great Recession in particular -- as failures of aggregate demand is overwhelming.

Now, this could be a case for using monetary rather than fiscal policy -- and that actually is the policy I advocate in response to garden-variety slumps. But when the slump pushes rates down to zero, and that's still not enough, any simple model I can think of says that fiscal expansion can be a useful supplement, while fiscal austerity makes a bad situation worse.

And while it's true that there was limited direct evidence on the effects of fiscal policy 6 or 7 years ago, there's now a lot, and it's very supportive of a Keynesian view.

Krugman is generally right that Keynesian macro is preferred because it provides a more accurate and efficient understanding of the interaction between government spending and economic growth, and can back that up with evidence, especially of a predictive nature. But whether you want growth and what kind of growth you want are political issues. Those who do, like Krugman (or Nixon, when he wanted to take credit for a robust economy, and had one that often seemed to be on the verge of collapse), will be Keynesians because they want tools that work. But those who don't care about growth (except of business profits) will disparage Keynes -- after all, why acknowledge an analysis that could work when that's not what you want? Keynes wouldn't be controversial but for the purely political desire to slag the economy. You might wonder why Republicans would want to do that -- some combination of making a Democrat in the White House look bad and a preference for increasing inequality over economic growth.

The "big government" association with Keynesianism is, as Krugman shows, misdirection. I'd personally like to trim large segments of government -- especially the biggest one of all, the military. That doing so would be contractionary doesn't bother me. One can always spend more elsewhere, and finding more productive investments than the US military should be easy. Or you can reduce taxes and, as Bush liked to put it, let people spend their own money. Strangely enough, anti-government obsessives rarely worry about the military -- even though from the founding of the republic up to WWII many Americans regarded a standing army as the greatest threat to liberty. Rather, what they object to is that government is subject to democratic rule and as such can be used to rebalance private fortunes, whereas their vaunted private sector tends to exacerbate inequities. They object not to the government which they need to secure private property, but to what that government might do to satisfy the masses. Over the ages they've pulled every trick imaginable to keep the belief that the nation was founded upon -- that all men are created equal -- from becoming reality. Denying the efficacy of Keynesian economics is just one such trick.

Bill McKibben: How mankind blew the fight against climate change: Strange scenes from Exxon Mobil's annual shareholders meeting:

The meeting came two days after Texas smashed old rainfall records -- almost doubled them, in some cases -- and as authorities were still searching for families swept away after rivers crested many feet beyond their previous records. As Exxon Mobil's Rex Tillerson -- the highest-paid chief executive of the richest fossil fuel firm on the planet -- gave his talk, the death toll from India's heat wave mounted and pictures circulated on the Internet of Delhi's pavement literally melting. Meanwhile, satellite images showed Antarctica's Larsen B ice shelf on the edge of disintegration.

And how did Tillerson react? By downplaying climate change and mocking renewable energy. To be specific, he said that "inclement weather" and sea level rise "may or may not be induced by climate change," but in any event technology could be developed to cope with any trouble. "Mankind has this enormous capacity to deal with adversity and those solutions will present themselves as those challenges become clear," he said.

But apparently those solutions don't include, say, the wind and sun. Exxon Mobil wouldn't invest in renewable energy, Tillerson said, because clean technologies don't make enough money and rely on government mandates that were (remarkable choice of words) "not sustainable." He neglected to mention the report a week earlier from the not-very-radical International Monetary Fund detailing $5.3 trillion a year in subsidies for the fossil fuel industry.

All in all, a sneering and sad performance by a man paid nearly $100,000 a day, whose company spends $100 million a day looking for new oil and gas even though scientists say we simply can't burn most of the fossil fuel we've already located without devastating consequences.

The science explaining climate change, like Keynesian economics (above), has become inconvenient for certain well established interests who prefer to think that politics trumps science, or that anything that challenges their personal interests and prejudices must be nothing but propaganda against them. While this is often true, nowhere more so than in the oil industry, where fortunes were built on nothing more than a lottery of land titles, yet every tycoon considers himself a self-made man, not to mention graced by God.

Daniel Strauss: Brownback May Empower Kris Kobach to Prosecute 'Voter Fraud' Cases Himself: Kobach has been lobbying for this power ever since he was elected Secretary of State in 2010, although it's never been clear who he'd prosecute with this -- as he hasn't been able to get a single county to prosecute one of his cases yet. If anyone should be prosecuted for voter fraud it's Kobach, Brownback, and the state legislature, whose ID laws have prevented thousands of otherwise eligible citizens from voting. Josh Marshall comments: "He can just prosecute anyone he wants." Certainly a dream come true for a self-aggrandizing demagogue.

Maybe the GOP Candidates Are Just as Self-Deluding as Their Voter Base: Much discussion with little insight into the plethora of Republicans who are mounting campaigns for president in 2016. This keys off a Kevin Drum piece (title: Why Do So Many Obvious Losers Think They Can Be President?) that, in the most pedestrian tradition of horserace journalism tries to handicap the hopefuls. Both pieces are governed by the idea that only candidates with reasonable chances should bother running -- an idea which in the past has mostly been used to avoid considering the issues that "fringe" candidates (Dennis Kucinich is pretty close to the archetype here) run on and for. But Republicans are so ideologically homogeneous that it's hard to think of a candidate with issues to be silenced. (Drum tries to dismiss Rand Paul as having views "just flatly too far out of the tea party mainstream" -- actually, Paul's tea party bona fides are as strong as any candidate's [Cruz being the only obvious competition], his one major unorthodoxy [opposition to the PATRIOT Act] is quite popular among tea party rank-and-file, and he's shown remarkable willingness to shelve libertarian positions on fetish issues like abortion and Israel.)

Of course, Drum's supposition is fully operative among Democrats. Hillary Clinton's inevitability -- a combination of name, stature, and an almost unique access to a resource base formidable enough to stand up to Republican money power -- doesn't give any other Democrats any real chance at raising the money they'd need to be taken seriously. (This on top of the usual Democratic fundraising disadvantages, such as a lower return on graft.)

On the other hand lots of Republicans seem to be coming up with the money to run, and the fact that they're all saying the same thing just helps reinforce the brand. (One person's may be a crackpot, but three add up to a trend, and nine gives you a new conventional wisdom even if what they're saying still sounds crazed.) And all saying the same thing reduces the contest to one of personality -- something they'd much rather have us talking about than issues, which usually require a thick layer of packaging to be palatable at all. As usual with the Republicans, one suspects that this is just pre-primary dog-and-pony show to drum up interest, with the fix revealed later at an appropriately dramatic moment.

One hint here is the recent demise of the candidacy of Dennis Michael Lynch -- a candidate you never heard of, probably because he doesn't fit the profile of "rising Republican star," maybe because his obsessive issue (anti-immigration) is one Republican powers would rather not talk about. On the other hand, there is a role for the nearly-as-obscure Carly Fiorina. Steve M. writes:

My first impression of [Fiorina's] campaign wasn't that it was a campaign for president or vice president -- it was that, as a candidate, she's like the one female member of a rich accused rapist's defense dream team, the attorney whose principal role is to do a really vicious cross-examination of the victim, because that would come of as sexist if a man did it.
---
Also, a few links for further study:
Chloe Angyal: The Subculture of Embattled Abortion Workers: Abortion is one of the very few political issues today where ordinary debate is shadowed and haunted by one side adopting a network of harrassment and terror. Of course, this is not unprecedented in American history: the civil rights movement was met by even more violence, both in the 1960s and throughout the previous century, with much of that violence orchestrated by the various states. The labor movement up to the 1930s comes in a not-too-distant second. Still, while racism and anti-laborism persist, the level of violence and its chilling effects are far less than that experienced by the people who run and work with clinics that provide abortions. (Part of the reason may be the demagoguery of anti-choice politicians like Sam Brownback, playing the role George Wallace and Lester Maddox did on race.) Angyal reviews a book by David S Cohen and Krysten Connon: Living in the Crosshairs: The Untold Stories of Anti-Abortion Terrorism (2015, Oxford University Press), which details much of this history.

Jared Bernstein/Ben Spielberg: Inequaliity Matters: Lead in:

Lately, one argument that's been making the rounds is that people should worry less about inequality and more about opportunity. Arthur Brooks, head of the conservative American Enterprise Institute, said, "I don't care about income inequality per se; I care about opportunity inequality." Senator and presidential candidate Marco Rubio believes that inequality is but a symptom of immobility and constrained opportunity. Tyler Cowen argued in the New York Times that what matters is not the fact that the top 1 percent is capturing a much larger share of total income growth than they used to, but that the poor are stuck in poverty.

These individuals have identified a worthy goal. Unequal access to opportunity offends deeply held American values, and poverty is not only a matter of near-term material deprivation -- too often, it also robs low-income children of the chance to realize their intellectual and economic potential.

But it's not possible to effectively address either poverty or inadequate opportunity if America hives off its opportunity concerns from the broader problem of inequality (nor, as Senator Rubio intimates, can America reduce inequality by focusing solely on increasing mobility). Boosting mobility will require reductions in wage, income, and wealth inequalities.

The authors back up their initial assertions. One question they don't address is whether opportunity is being deliberately constricted by the rich; e.g., by making elite education both more necessary for advancement and more inaccessible to the unwealthy. It makes sense that a politically aggressive upper class recognizing a stagnant economy with austerity reducing the number of slots near the top would focus more on securing those slots for their own progeny. I don't know that anyone has sorted out the evidence for this, but there are many hints -- e.g., the nepotism boom under the second Bush administration.

Garrett Epps: Out of Spite: The Governor of Nebraska's Threat to Execute Prisoners: Nebraska's state legislature passed a bill to ban capital punishment. Governor Ricketts vetoed the bill, and the legislature overrode the veto, making the bill law. So what does Ricketts do? Follow the law? No. He vows to speed up the executions of ten prisoners already on death row. Epps surveys many of the issues, including the increasing difficulty that states are having obtaining lethal injection drugs.

David Himmelstein/Steffie Woolhandler: The Post-Launch Problem: The Affordable Care Act's Persistently High Administrative Costs:

Insuring 25 million additional Americans, as the CBO projects the ACA will do, is surely worthwhile. But the administrative cost of doing so seems awfully steep, particularly when much cheaper alternatives are available.

Traditional Medicare runs for 2 percent overhead, somewhat higher than insurance overhead in universal single payer systems like Taiwan's or Canada's. Yet traditional Medicare is a bargain compared to the ACA strategy of filtering most of the new dollars through private insurers and private HMOs that subcontract for much of the new Medicaid coverage. Indeed, dropping the overhead figure from 22.5 percent to traditional Medicare's 2 percent would save $249.3 billion by 2022.

The ACA isn't the first time we've seen bloated administrative costs from a federal program that subcontracts for coverage through private insurers. Medicare Advantage plans' overhead averaged 13.7 percent in 2011, about $1,355 per enrollee. But rather than learn from that mistake, both Democrats and Republicans seem intent on tossing more federal dollars to private insurers.

Esther Kaplan: Losing Sparta: The Bitter Truth Behind the Gospel of Productivity: That's Sparta, Tennessee, home of a huge unionized factory owned by Philips and shut down in 2010, the equipment (and business) to be moved to Mexico.

When Philips announced its plans to shut down the plant in Sparta, the firm was in the black, aided by $7.2 million in federal stimulus grants and contracts. Profits were even better the following year as the firm began to lay off the plant's nearly 300 workers. Even Philips's lighting division was doing well. By late 2010, three years into the recovery, corporate profits, in general, had bounced back decisively, reaching record highs. Yet layoffs continued apace -- 1.4 million in 2010, 1.3 million a year in 2011 and 2012 -- well above prerecession levels.

Among other profitable firms -- indeed, Fortune's list of America's most profitable firms in 2012, the year the Philips plant finally closed its gates -- closures and layoffs have been widespread: Chevron lays off 103 from a New Mexico mine; Walmart shuts down a New York office, putting 275 out of work; Ford shuts down two assembly plants in Minnesota, laying off nearly 1,700; IBM lays off 1,790 from its business units; Microsoft lays off 5,000. Exxon, ranked number one in profitability by Fortune in 2012, with $41 billion in profits in 2011, shrank its global workforce by more than 15,000 between 2010 and 2012. Chevron, at number two with profits of $27 billion, added only a thousand US jobs during that period. Apple was the only one of the country's five most profitable firms to add more than 10,000 jobs during that time (and Apple's public disclosures don't specify how many of those jobs were domestic). The latest Commerce Department data show that all US multinationals combined added a net total of only half a million jobs domestically between 2002 and 2011, but added 3.5 million jobs abroad, an indication of offshoring on a very grand scale.
Monday, June 01, 2015
Daily Log
List from Spin's The 50 Best Albums of 2015 . . . So Far (my grades in brackets, red
Action Bronson: Mr. Wonderful (Atlantic/Vice) [***]
Alabama Shakes: Sound & Color (ATO) [*]
American Wrestlers: American Wrestlers (Fat Possum) [B]
Bassekou Kouyate and Ngoni Ba: Ba Power (Glitterbeat) [A-]
Best Coast: California Nights (Harvest) [*]
Björk: Vulnicura (One Little Indian) []
Black Cilice: Mysteries (Iron Bonehead) []
Blur: The Magic Whip (Parlophone) [**]
The Body/Thou: You, Whom I Have Always Hated (Thrill Jockey) []
Cannibal Ox: Blade of the Ronin (IGC) [***]
Chastity Belt: Time to Go Home (Hardly Art) [*]
Ciara: Jackie (Epic) [***]
Colin Stetson/Sarah Neufeld: Never Were the Way She Was (Constellation) [A-]
Colleen Green: I Want to Grow Up (Hardly Art) [B]
Courtney Barnett: Sometimes I Sit and Think, and Sometimes I Just Sit (Mom + Pop) [A-]
Dan Deacon: Gliss Riffer (Domino) [*]
Dawn [Richard]: Blackheart (Our Dawn) [B]
Drake: If You're Reading This It's Too Late (Cash Money) [B]
Dwight Yoakam: Second Hand Heart (Warner Bros) [B]
Earl Sweatshirt: I Don't Like Shit, I Don't Go Outside (Columbia) [*]
Eye: The Future Will Be Repeated (Ba Da Bing) [**]
Father John Misty: I Love You, Honeybear (Sub Pop) [B]
Fifth Harmony: Reflection (Epic) []
Girl Band: The Early Years (Rough Trade) []
Heems: Eat Pray Thug (Megaforce) [A-]
iLoveMakonnen: Drink More Water 5 (self-released) [**]
Jack Ü [Skrillex/Diplo]: Jack Ü (Atlantic/Mad Decent/OWSLA) [***]
Juan Wauters: Who Me? (Captured Tracks) [*]
Kendrick Lamar: To Pimp a Butterfly (Top Dawg/Interscope) [A-]
The Knocks: So Classic (Big Beat, EP) [*]
Laura Marling: Short Movie (Ribbon Music) [A-]
Levon Vincent: Levon Vincent (Novel Sound) []
Liturgy: The Ark Work (Thrill Jockey) []
Marina & the Diamonds: Proof (Atlantic) []
Metz: Metz II (Sub Pop) []
Monster Rally & Jay Stone: Foreign Pedestrians (Gold Robot) [*]
Panda Bear: Panda Bear Meets the Grim Reaper (Domino) [B]
The Paranoid Style: Rock and Roll Just Can't Recall (Worldwide Battle, EP) [***]
Screaming Females: Rose Mountain (Don Giovanni) []
Shamir: Ratchet (XL) [A-]
Sleater-Kinney: No Cities to Love (Sub Pop) [*]
Sufjan Stevens: Carrie & Lowell (Asthmatic Kitty) [***]
Timeghost: Cellular (Load) []
Torche: Restarter (Relapse) []
various artists: PC Music Volume 1 (PC Music) [**]
Viet Cong: Viet Cong (Jagjaguwar) [**]
Waxahatchee: Ivy Tripp (Wichita) [**]
Young Fathers: White Men Are Black Men Too (Big Dada) [**]
Young Guv: Ripe 4 Luv (Slumberland) [***]
Young Thug: Barter 6 (self-released) [**]
Initial list check stats: [A-]: 5 (7); [***]: 6 (7); [**]: 5 (8); [*]: 5 (8); [B]: 6; []: 23 (14).
Top non-jazz records missing here:
James McMurtry: Complicated Game (Complicated Game) **
Low Cut Connie: Hi Honey (Ardent Music/Contender) **
BadBadNotGood & Ghostface Killah: Sour Soul (Lex) **
Tuxedo: Tuxedo (Stones Throw) **
The Mountain Goats: Beat the Champ (Merge) **
Ray Wylie Hubbard: The Ruffian's Misfortune (Bordello) **
The Mowgli's: Kids in Love (Republic) **
Mbongwana Star: From Kinshasa (World Circuit) **
Fabiano Do Nascimento: Dança Dos Tempos (Now-Again) **
Music Week
Music: Current count 25024 [25005] rated (+19), 422 [420] unrated (+2).
Missed four days for my trip to Arkansas. Fortunately, caught a break in the moonsoon on both travelling days, although it rained a lot the two full days at my cousin's house. They let me cook. I opted for comfort food on Friday -- boiled chicken with biscuits with green beans on the side -- and for blowout eight-dish Chinese on Saturday. Still, best meal was probably the standard Arkansas breakfast my second cousin put together Sunday morning -- including the chocolate gravy her grandmother (my aunt) was famous for, although I prefer the sausage gravy on my biscuits.
For "old music" I continue to pick off unheard albums from Spin's 1985-2014 list. Sometimes I go deeper into back catalogs I never paid much attention to back in the day, and sometimes not. In the case of Blur I started with a couple of early unheard albums, then skipped to the one selected (13), then checked out this year's reunion album, but I left a few holes I didn't bother with. I started from the git go with Depeche Mode, but doubt I'll go beyond the list album (1990's Violator). Running across more records not on Rhapsody, like Dr. Dre's The Chronic and Guided by Voices' Bee Thousand.
Didn't get to much new jazz last year, but did find two surprises: a teenaged standards singer from Spain, Andrea Motis, and a tribute album to little-remembered vibraphonist Gary McFarland. I wrote a little tweet-review of the former mostly to share the bandcamp link. The McFarland tribute was an even bigger surprise: I hear a lot of fine mainstream postbop, but almost by definition the genre sticks with ordinary conventions. But after sitting on the fence for a couple plays, the sparkling performances paid off here.
---
New records rated this week:
Priscilla Badhwar: Mademoiselle (2014 [2015], self-released, EP): [cd]: B+(**)
Blur: The Magic Whip (2015, Parlophone): [r]: B+(**)
Joan Chamorro & Andrea Motis: Feeling Good (2012 [2015], Whaling City Sound): [cd]: B+(***)
Lorin Cohen: Home (2014 [2015], Origin): [cd]: B
Colours Jazz Orchestra: Home Away From Home: Plays the Music of Ayn Inserto (2013 [2015], Neu Klang): [cd]: B+(*)
The Gary McFarland Legacy Ensemble: Circulation: The Music of Gary McFarland (2015, Planet Arts): [cd]: A-
Old records rated this week:
Blur: Leisure (1991, SBK): [r]: B
Blur: Modern Life Is Rubbish (1993, SBK): [r]: B-
Blur: 13 (1999, Virgin): [r]: B+(**)
Daft Punk: Homework (1997, Virgin): [r]: B
Depeche Mode: Speak & Spell (1981, Sire): [r]: B
Depeche Mode: A Broken Frame (1982, Sire): [r]: B-
J Dilla: Donuts (2006, Stones Throw): [r]: B
Slayer: Reign in Blood (1986, Def American): [r]: B
TLC: CrazySexyCool (1994, La Face): [r]: B+(**)
TLC: Fanmail (1999, La Face): [r]: B+(***)
A Tribe Called Quest: Midnight Marauders (1993, Jive): [r]: A-
A Tribe Called Quest: Beats, Rhymes and Life (1996, Jive): [r]: A-
A Tribe Called Quest: The Love Movement (1998, Jive): [r]: B+(**)
---
Unpacking: Found in the mail last week:
Tiffany Austin: Nothing but Soul (Con Alma): June 2
Kevin Bachelder/Jason Lee Bruns: Cherry Avenue (Panout Music Group)
Kenny Carr: Idle Talk (self-released)
Jerry Granelli Trio + 3: What I Hear Now (Addo)
Brianna Thomas: You Must Believe in Love (Sound On Purpose)
John Yao and His 17-Piece Instrument: Flip-Flop (See Tao): June 9
---
One thing that inevitably comes up when I visit Arkansas was the political legacy of the Clintons. My cousin expressed her belief that Bill Clinton was a pretty good president. But rather than agree, at least relative to other recent presidents, I detailed a list of things that I thought Clinton did that were bad:
Clinton failed to control the US military, starting with his cave-in on "don't ask, don't tell" and his failure to force any real post-Cold War cuts. This led to an expansion of military actions, especially where a liberal/humanitarian excuse could be cooked up (e.g., Haiti, Kosovo). Clinton himself found ad hoc bombing attacks useful, expecially in Iraq. His failure to resolve Iraq made Bush's 2003 invasion possible.
Clinton was a sponsor or at least a willing collaborator in several pieces of banking deregulation (including repeal of Glass-Steagall) that led to, perhaps inevitably, the 2008 crash.
Clinton pushed various "free trade" measure, starting with NAFTA, which have had exported jobs and weakened the American working class.
Clinton (and Hillary deserves a fair amount of blame here) bungled his health care system fix, delaying any reform by two decades, leaving us even today short of a system that works fairly.
I suppose I could have added something about jail sentences and something about welfare "reform" but I have less of a handle on exactly how Clinton screwed those things up. There's also question as to what extend Clinton was responsible for the Democrats' loss of Congress in 1994, and beyond that the damage he did to the party by his hoarding and squandering of party resources -- problems which Obama recapitulated with remarkable indifference.
All that said, sure, Clinton was a much better president than either the Bush before or the Bush after him; even more so compared to Reagan. Possibly even compared to Obama, although in many respects the Obama administration we got more closely resembles the Hillary administration we voted for Obama to improve on. Obama certainly has a better thought out approach to foreign policy (aka war), banking, health care, etc., although he's had to make deeper compromises given the situation he inherited (and was so reluctant to complain about).
Wednesday, May 27, 2015
The Bully Pulpit
Ed Kilgore quotes Mike Huckabee on, well, I guess you'd call this defense doctrine, though I'm not sure you can do that with a straight face:
I'm not a war monger, let me be very clear -- I think the best way to avoid war is to have the most robust military in the history of mankind and the kind of military nobody ever wants to wake up and find on the other end of the fight.

I learned this on the playground as a kid, all of you did. If there is a bully in your school, who does he pick on? He picks on who he thinks he can whip his butt. He never picks on a kid who he thinks can whip his butt. And the day that he picks on the wrong kid, and that kid beats his butt, he never does it again.
This reminds me of a lot of things, but let's start with Robert Fulghum's slim 1989 bestseller, All I Really Need to Know I Learned in Kindergarten. Fulghum was a minister, so that may explain why he never needed to know anything about geometry or chemistry or, more generally, history and arts and sciences. Even so, I doubt he really meant to deprecate post-kindergarten learning. Rather, he wanted to make a point about the value of certain things that can be learned in kindergarten. A Wikipedia summary:
The title of the book is taken from the first essay in the volume, in which Fulghum lists lessons normally learned in American kindergarten classrooms and explains how the world would be improved if adults adhered to the same basic rules as children, i.e. sharing, being kind to one another, cleaning up after themselves, and living "a balanced life" of work, play, and learning.
I never read the book, but got the gist from the blurb, and it always struck me as a clever idea with a kernel of wisdom. I thought of it because Huckabee is also a minister, so that got me wondering whether a kindergarten frame of mind is endemic to the profession. On the other hand, I don't recall Fulghum's list -- as I recall, 21 short items (the shortest: "Flush.") -- including anything on the importance of beating down bullies. Maybe that's a Baptist thing? (Fulghum's ministry was Unitarian Universalist.)
Still, there's more wrong with Huckabee's bully analogy than his infantilist mindset. I suppose it's possible that bullies are more of a problem today than they were when I went to grade school -- I knew a couple but I'd characterize them more as thugs than bullies. But while Huckabee is probably right that bullies tend to pick on kids weaker than themselves, what distinguishes them more is their isolation from social norms and their willingness to cross authority. As usual, the best defense was to keep the problem from appearing, which has more to do with good management than stern policing. But one thing I never saw was a "sheepdog" (to use Chris Kyle's term) who would defend the weak (the "sheep") by beating down the bullies (the "wolves"). But then, had one appeared, he would have gotten nabbed by the authorities: bullying is intimidation, so it makes sense that intimidating "bullies" is bullying too.
In Kyle's mind what distinguishes the sheepdog from the wolf is the purity of his intentions. One thing that means is that it is hard, perhaps impossible, for an independent observer to tell the difference. For the US Army, pure intentions are a given -- not something any American politician, least of all a simpleton like Huckabee, would dare examine. If the US Army whips your butt, you had it coming. Still, there are at least four problems with this assumption: one is that pure intentions are real hard to come to and maintain (especially in an individualist/capitalist society which puts so much motivational weight on self-interest); second, even if your intentions are pure, the information you act on is often faulty (which is the main reason we keep killing people we didn't intend to); third, power is seductive and addictive, so as you build it you'll be tempted to flaunt it (cf. Madeleine Albright's tease: "What's the point of having this superb military that you're always talking about if we can't use it?" ); fourth, no one else can see (or trust) your intentions, so all they have to go on is your acts.
If the last paragraph seems theoretical, remember that what Huckabee is proposing isn't a hypothetical. The US has had the world's most dominant, most expensive, most far-reaching military in the world at least since 1945, so we have seventy years of history we can reflect upon. No one can doubt that the US had the power to destroy any nation that tried to bully it. As a first approximation, you might even think that strategy worked: no other nation has directly attacked US soil, nor the soil of any nation the US has a multilateral defense treaty with. On the other hand, that hasn't meant 70 years of secure peace. In fact, the US has engaged in dozens of overt and/or covert wars throughout the period. I'm not going to run down the list. The point is that being able to "whip butts" isn't a formula for peace. As practiced by the US for seventy years, it's a formula for perpetual war.
One reason is that lots of people have come to view the US as the bully. After all, what do bullies do? They use the threat of violence, demonstrated on occasion, to intimidate weaker folks, to take advantage of them, to limit their freedom. Arguably the US has done this many times. Bullying doesn't explain every US war -- US support for the Contras in Nicaragua and the Muhajedin in Afghanistan was more malicious, meant not to impose order but to tear down an order we didn't like -- but it is a pattern, and is more often than not never comes to war, the merest of threats sufficing. On the other hand, the bully pose is most explicit when faced with possible defeat: the Bush response to 9/11 was obsessed with reasserting American global domination, while the Nixon response to impending defeat in Vietnam was to raise the stakes, to show the world how much anyone who challenged us could be made to suffer.
On the other hand, the calculus of bullying is more complex, as Todd Snider points out in his song, Is This Thing On?, where he describes a kid who stands up to a bully, not by beating him down but by letting the bully disgrace himself:
Well, that bully just laughed and laughed
Of course, and so did all of his friends
And he beat that kid unmercifully
For days and days on end

Only less and less impressively
To that girl and all his friends
Who would eventually, secretly
Start hoping, the kid might win
You can see this dynamic most clearly with Israel and Palestine, where the former's periodic wars, no matter how overwhelming the result, only generate more sympathy for the latter. But even where the tide of public opinion never turns, overwhelming intimidation may be met not with submission but with greater resolve to find other, more asymmetric, forms of resistance. Guerrilla warfare and terrorism are two such forms, but the range of options is myriad. And while the US has weapons sufficient to kill virtually every living thing on earth, all that power has proven impossible to use with much precision. (The central problem of the "war on terror" is to distinguish friend from foe, but inability to exclusively target the latter has actually led to a multiplication of foes, a trend that portends failure.)
One more point: In the early post-WWII (post-New Deal) period, the US enjoyed a full range of options for dealing with the rest of the world, backed by an ideology which for the most part was democratic, progressive, and anti-colonial. In particular, the US supported international organizations, especially the UN, to provide a diplomatic framework for resolving conflicts, based on a broad and universal declaration of human rights, much as law provides a framework for resolving civil conflicts. The US also had the wherewithal to provide extensive economic aid to other countries. The military only became a significant factor with the Berlin Blockade (1948) and the Korean War (1950), and has become increasingly hegemonic in American thinking, with the CIA gaining ground in the 1950s. This shift in approaches was locked into an ideological sea change, as the US came to side with capitalism against labor, and as such with crony dictators against popular movements. This shift not only makes it harder to justify America's "pure intentions" -- it has led Americans to take an increasingly brutal view of the rest of the world, and indeed of ourselves. One tiny example is the hero worship accorded a stone cold killer like Chris Kyle (the SEAL hero of American Sniper), but you find it everywhere, not least in Huckabee's passion for whipping butt.
---
I have a little quote from Linda Robinson's review of Bill Russell Edmonds: God Is Not Here:
All that said, Edmonds's time in Iraq did give him an opportunity to capture an essential lesson about the war: Americans' behavior toward ordinary Iraqis contributed actively to frictions, discontent, anger and ultimately a population that was less inclined to assist the United States-backed government than to aid the insurgency -- or at least stay silent. As the violence grew, American soldiers became more aggressive, which, coupled with the protective measures they took and their general ignorance of Iraqi culture, created a highly dysfunctional atmosphere. Edmonds's book is full of Iraqi voices expressing outrage at the Americans. As an adviser, he had to deal with almost daily invective. He concludes: "Our actions, our tactics and our one-on-one American and Iraqi interactions are causing a few civilians to turn insurgent and the majority to look away when the few insurgents act."
Edmonds was stationed in Mosul in 2005-06, and was working as an advisor to Iraqi intelligence officers, so was involved in interrogating Iraqi civilians (the key word in the subtitle is "Torture") He later suffered some sort of mental breakdown, something this book attempts to reckon with. Just one case, but this sheds some light on how the bully army breaks down at the individual level. Many other soldier reports don't show this because most soldiers are more isolated from the people they harrass and kill -- contained within their units, fearing the unknown.
---
| | | | |
| --- | --- | --- | --- |
| | | Mar 2001 | |